Hillary does People: How to unofficially run for president (and soften your image)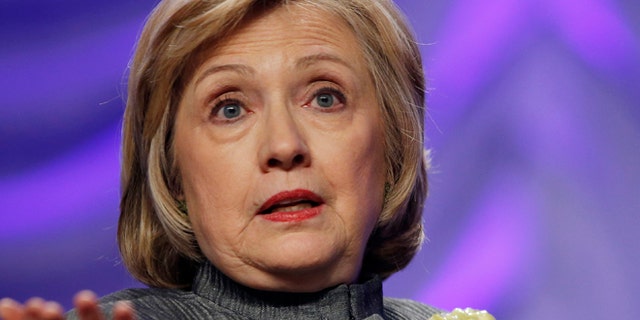 Well, any sense of mystery is fading away: Hillary must be running.
"I'm certainly in the camp that says we need to break down that highest, hardest glass ceiling in American politics," she tells People magazine.
Aha! Hillary Clinton, having failed to crack that ceiling in 2008, hears the calling. But then comes the inevitable wiggle room:
"To have a woman president is something I would love to see happen, but I'll just have to make my own decision about what I think is right for me."
And there's this: "I know I have a decision to make. With the extra joy of 'I'm about to become a grandmother,' I want to live in the moment. At the same time I am concerned about what I see happening in the country and in the world."
The People interview with Sandra Sobieraj Westfall is an interesting test run for Hillary's "Hard Choices" book blitz as she gently deflects questions she doesn't want to answer. It's a precursor of her television sitdowns in the next two weeks with Diane Sawyer, Robin Roberts, Bret Baier, Greta Van Susteren, Christiane Amanpour, Cynthia McFadden and Jane Pauley. (A nod to the sisterhood? Bret, who will share the session with Greta, is the only dude so far.
Hillary is staying a million miles away from Monica Lewinsky and didn't read her Vanity Fair essay. Does she regret having once called her a "narcissistic looney toon"? "I'm not going to comment on what did and didn't happen. I think everybody needs to look to the future." Move on, nothing to see here.
(Monica is not so reticent, of course; having declared her intention to bury the blue dress, she'll be giving an interview to National Geographic TV.)
It's easy to dismiss this as mostly fluff, but that would be a mistake. In fact, People magazine played a key role in her husband's 1992 election. By presenting a smiling Bill, Hillary and Chelsea on the cover at a time when many voters didn't even know the candidate had a daughter, the magazine reintroduced him to the country as a family man.
Thus we learn from People that Hillary organizes her closets, does yoga, and that she and Bill binged on "House of Cards." Hey, talking about Kevin Spacey beats Benghazi, from her point of view.
More substantively, Clinton addresses the health questions stemming from the 2012 incident in which she fell and hit her head: "I did have a concussion and some effects in the aftermath of it, mostly dizziness, double vision. Those all dissipated." When it comes up in future interviews, she can say: Asked and answered.
Time's Joe Klein, for one, questions the "myth of inevitability":
"For the sake of magazine sales, let's say she's running. She's got it locked, right? She's the Democratic nominee at the very least, right?...
"But wait a minute. Aren't the Clintons approaching their sell-by date too? Aren't we about to become tired of their personal and policy baggage and retinue of overcaffeinated too-loyal aides spewing talking points on cable news?"
Not to mention pundits spewing talking points about Hillary on cable news.
I'm going to adopt the approach of Fox's Chris Stirewalt: Hillary Clinton is now running for president. She may at some point decide to stop running for president, but for now she's running. And this book tour will (almost definitely) prove to be her opening salvo for 2016.
Click for more from Media Buzz