Helen Thomas to Retire 'Effective Immediately' Following Uproar Over 'Palestine' Comments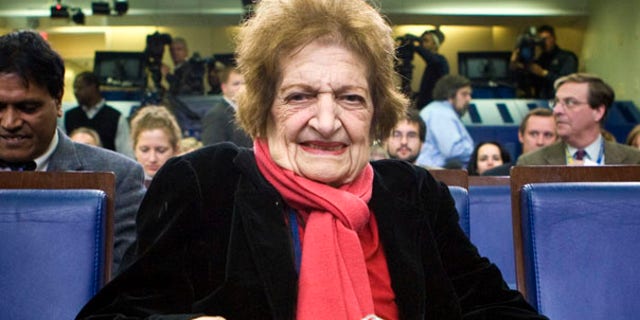 NEWYou can now listen to Fox News articles!
Veteran White House correspondent Helen Thomas announced her retirement Monday following an uproar over comments she made last month about Jews in Israel.
Hearst Corporation, which employed Thomas as a columnist, put out a brief story via Hearst News Service announcing the retirement "effective immediately."
The announcement came after the White House Correspondents Association decried her remarks as "indefensible" and began to consider whether Thomas should continue to have the privilege of a front-row seat in the briefing room. White House Press Secretary Robert Gibbs called her remarks "offensive and reprehensible" on Monday, as other former White House spokesmen called for Thomas to be fired.
The announcement Monday marked an abrupt end to a career that has spanned decades. Thomas, known as the dean of the White House press corps, has covered every president since Dwight Eisenhower. Her 90th birthday is Aug. 4.
The controversy escalated quickly over the weekend after the video surfaced online showing Thomas last month saying Jews should "get the hell out of Palestine," suggesting they go instead to Germany, Poland and the United States. The video, shot by New York Rabbi David Nesenoff, was posted on several prominent websites and prompted a swift apology from Thomas on Friday.
"I deeply regret my comments," she said in the statement, claiming they "do not reflect my heart-felt belief that peace will come to the Middle East only when all parties recognize the need for mutual respect and tolerance."
The apology did not satisfy her critics.
Lanny Davis, former special counsel to and White House spokesman for President Bill Clinton, said the apology "was not direct and didn't address the merits of her belief in the stereotype that Jews are aliens in Israel and don't belong there."
Calling for Hearst to at least suspend her White House privileges, Davis said Thomas had revealed herself to be "an anti-Semitic bigot."
Ari Fleischer, President George W. Bush's press secretary, said her comments amounted to a call for "religious cleansing." He told Fox News before the announcement that Thomas should lose her job over the comments.
"This goes beyond all boundaries," Fleischer said. "When you advocate that people need to be separated on the basis of their religion ... this is hatred, this is bigotry, this is prejudice."
Abraham Foxman, national director of the Anti-Defamation League, said her comments were "outrageous" and urged her to make a "more forceful" apology.
"Her suggestion that Israelis should go back to Poland and Germany is bigoted and shows a profound ignorance of history," he said in a written statement.
The repercussions for the videotaped remarks built rapidly over the past three days. The speaking agency that represents Thomas dropped her over the weekend. Then a Washington-area high school canceled a graduation speech she was scheduled to deliver.
Thomas came to write as a columnist for Hearst after working for decades as a correspondent for UPI. Dana Perino, White House press secretary during the George W. Bush administration, said earlier Monday that her comments should call her privileges in the briefing room into question.
"Her comments were so offensive to so many, so personally hurtful, and they would not have been tolerated by anybody else," she said.
Just minutes before Hearst announced Thomas' retirement, the White House Correspondents Association issued a statement saying the organization "firmly dissociates from (her remarks)."
The statement noted that the WHCA has no authority over issuing credentials but would be reviewing whether she should keep her front-row seat at a meeting scheduled for Thursday.
"The incident does revive the issue of whether it is appropriate for an opinion columnist to have a front row seat in the WH briefing room," the statement said. "We are actively seeking input from our association members on this important matter."
Thomas' remarks were recorded near the White House on May 27 during a Jewish American Heritage Month celebration. Thomas, who is of Lebanese descent, said the Palestinian people "are occupied and it's their land" and that Israelis should "go home" to Poland, Germany, America "and everywhere else."
Thomas has a long history of anti-Israel rhetoric at White House press briefings. Last week at a briefing with Gibbs that followed a flotilla raid by Israeli commandos, Thomas called the raid a "deliberate massacre" and "an international crime."
"What is the sacrosanct, iron-clad relationship where a country that deliberately kills people and boycotts -- and we aid and abet the boycott?" she asked.
Nesenoff told FoxNews.com on Monday that he was in Washington to cover the Heritage Month event for rabbilive.com. He said he had no intention of cornering Thomas at the time and was not thinking about her stance on Israel when he approached her.
"It wasn't like I was singling her out," he said. Nesenoff said he was "shocked" at her response, saying it was so "relaxed" it was "like asking Arafat 'Gee what do you think of Jewish people?'"
The rabbi said he plans to release another one-minute video clip showing the rest of the exchange with Thomas.