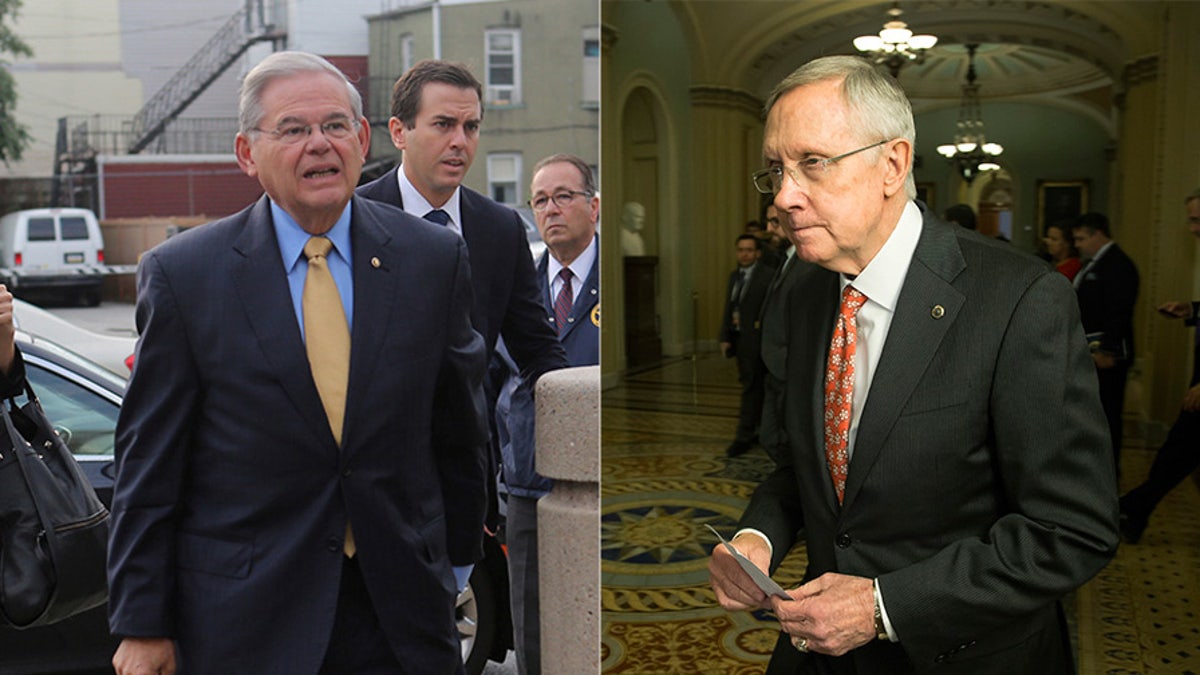 Former Senate Democratic Leader Harry Reid is expected to be called to testify in the corruption trial of Sen. Robert Menendez, a source with knowledge of the situation told Fox News on Friday.
Menendez is accused of accepting campaign donations, gifts and vacations from Florida ophthalmologist Dr. Salomon Melgen. In return, Menendez, D-N.J., allegedly used his Senate powers to lobby on behalf of Melgen's business interests.
Reid's name re-emerged weeks ago in the case, when prosecutors said the former congressional leader was "first enlisted" by Menendez in November 2011 to advocate for Melgen in the ongoing dispute the doctor had with the Centers for Medicare and Medicaid Services (CMS).
Speculation has focused on a possible trial appearance by Reid following testimony this week from another former senator, Democrat Tom Harkin. The former Iowa senator said he attended a meeting in 2011 facilitated by Menendez, in which he and Melgen discussed an $8.9 million Medicare dispute.
Reid, D-Nev., already has met with the Justice Department and the FBI in connection with the investigation, back in 2015.
MENENDEZ CORRUPTION AND BRIBERY TRIAL: WHAT TO KNOW
Should Reid be called, prosecutors have already hinted at what they might want to ask about.
Court documents claim that Reid reached out to the White House deputy chief of staff in 2011 about Menendez being "upset about how a Florida ophthalmologist was being treated" by CMS. Prosecutors said the White House deputy chief of staff "demurred" as it involved a "dispute between a single doctor and an administrative agency, not a policy matter."
In June 2012, Melgen also flew Reid on his company's private plane from Washington to Boston and back, but Menendez was not present, according to a source with knowledge of the situation.
MENENDEZ SET UP MEETING ABOUT PAL'S MEDICARE DISPUTE, EX-SENATOR HARKIN TESTIFIES
According to a trial brief filed by federal prosecutors last month, on Aug. 2, 2012, Reid and Menendez met with then-Health and Human Services Secretary Kathleen Sebelius in Reid's office on Capitol Hill, where, according to witnesses in the meeting, Menendez allegedly "argued vehemently" for Melgen's position on the billing dispute between Melgen's company, Vitreo-Retinal Consultants, and the federal government.
The documents said Menendez "personally pressured" Sebelius to "intervene in the billing dispute."
JUDGE DENIES 'SPECIAL TREATMENT' FOR SEN. MENENDEZ AS CORRUPTION TRIAL SET TO BEGIN
"Harry Reid's been implicated, as has Kathleen Sebelius, so it's clear the corruption extended beyond Menendez's office," Republican National Committee spokesman Michael Ahrens told Fox News. "Who knows exactly who else will testify, but it's just as stunning that no Senate Democrat has said Menendez should resign immediately if convicted."
Menendez has proclaimed his innocence in the case. When the trial opened earlier this month, his lawyers said the case is not about corruption or bribery but about a long-term friendship.
The Justice Department declined to comment on whether Reid will testify.
A message left on Reid's voicemail was not immediately returned. Fox News has also reached out to a representative for Reid for comment.
The source also suggested to Fox News that prosecutors could seek Sebelius' testimony as well. According to a Politico report in 2015, Sebelius met with federal investigators to discuss the meeting in 2014.