Gowdy names Capitol Hill veteran to Benghazi probe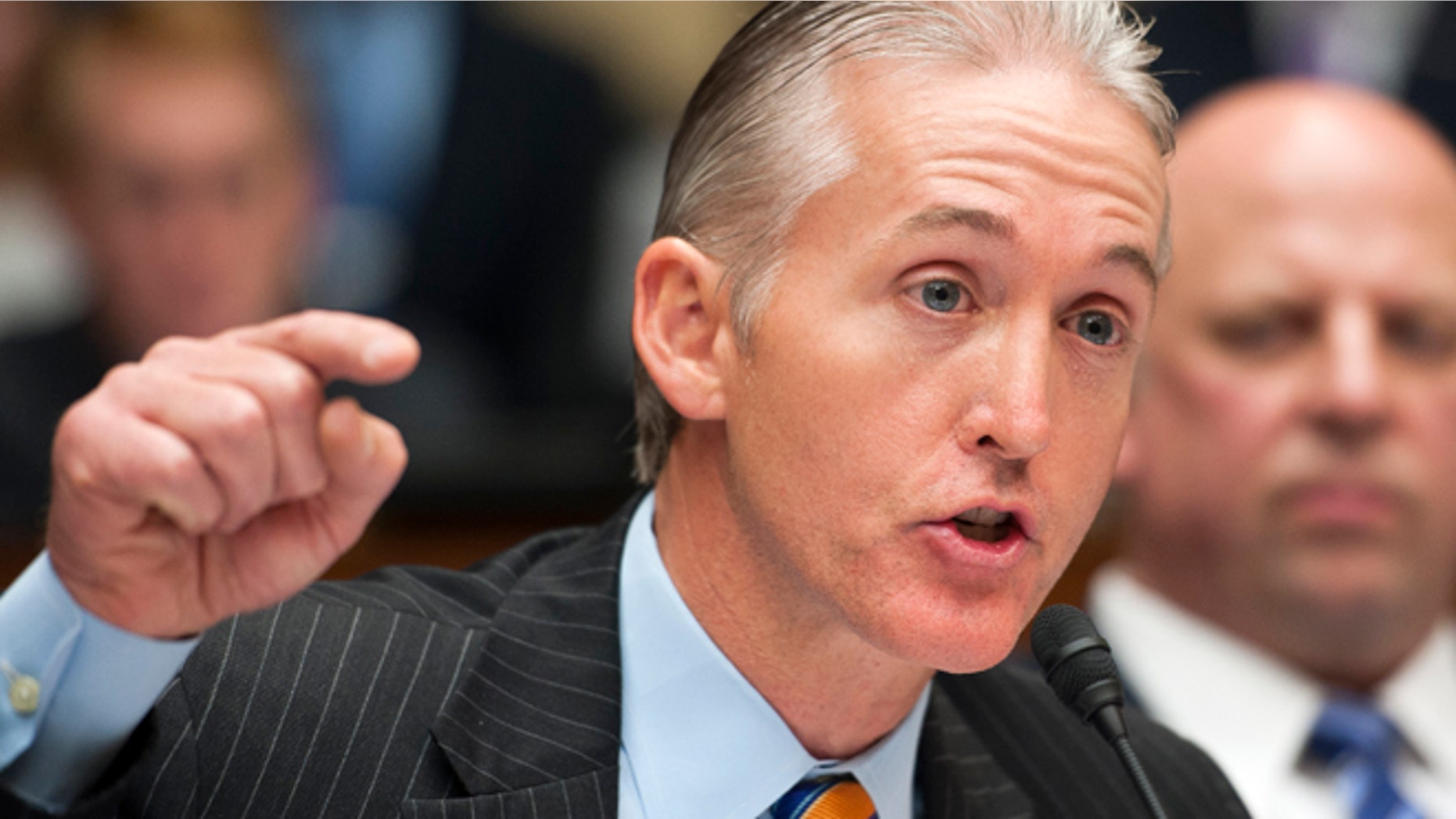 House Benghazi committee chairman Rep. Trey Gowdy, R-S.C., tapped a veteran of Capitol Hill and the K Street lobbying world as majority staff director of the controversial panel, amid indications that opponents – both of the new staff director and of the committee's mandate – are ramping up their efforts.
To lead the Republican majority staff, Gowdy selected Philip Kiko, a key aide to Rep. James Sensenbrenner, R-Wis., when the latter served as chairman of the House Judiciary Committee, and more recently a registered lobbyist for the Smith-Free Group, a K Street lobbying firm with a diverse roster of clients.
House Speaker John Boehner, R-Ohio, swiftly welcomed Gowdy's choice, calling Kiko "a man of unquestioned integrity with a record of distinguished service" in and out of Congress. "His appointment today is further proof of Chairman Gowdy's commitment to an investigation that is serious, fact-based, and professional," Boehner said in a statement, adding: "There is no better person to help lead this effort than Phil."
However, emails obtained by Fox News show that some conservatives are unhappy with Kiko's appointment, chiefly because of his recent lobbying activities. Emails circulating among a large group of conservative lawyers and former Capitol Hill staffers late Thursday, after Kiko's selection became known, included sharp criticism of Kiko for having represented the American Civil Liberties Union (ACLU) and the Leadership Conference on Civil and Human Rights (LCCHR), among other clients.
In response to the criticism, Kiko told Fox News late Friday, "I understand my job is to find the facts through a fair process."
Conservative activist Barbara Ledeen, a former top aide at the Senate Republican Conference, kicked off the email thread with an alert about Kiko's selection and links to websites showing that the former general counsel to the House Judiciary Committee had lobbied for ACLU and LCCHR.
The links steered readers to, among other websites, freerepublic.com, a conservative chat room, where some writers had previously expressed displeasure with Kiko's lobbying activities, including a reference to him as "a self-described conservative." One writer reminded readers that LCCHR lists among its member organizations ACLU, People for the American Way, the Service Employees International Union, and the Southern Poverty Law Center.
Within hours of Ledeen's otherwise neutral email – and among an elite email readership that numbered in the dozens and included prominent conservative intellectuals and activists like Alfred Regnery, C. Boyden Gray, Gary Bauer, Leonard Leo, Marjorie Dannenfelser, and David Addington – a defense of Kiko was mounted.
Makan Delrahim, a former deputy assistant attorney general in the administration of President George W. Bush, replied to Ledeen to say that he had worked closely with Kiko on the Patriot Act and other issues and to vouch for Kiko's conservative credentials.
"He is a solid R and more importantly a solid conservative, "Delrahim wrote to the group. "He is professional and had a reputation of being procedurally fair and thus respected by the Dems.  I don't know about his or his firm's work for the far left groups…But one thing I am hopeful for is that his reputation for being fair and his tenure on House Judiciary will at least lessen the ability of [D]emocrats to dismiss the work of the committee as a political exercise, though they will still do that…"
Larry Hart, director of government relations for the American Conservative Union, seconded Delrahim's opinion to the group: "In addition to being a solid conservative, Phil will not blink under the tremendous pressure the media fueled by the White House will put on this committee."
Others chimed in along similar lines. But Hans von Spakovsky, the senior fellow at the Heritage Foundation who formerly served on the Federal Election Commission under Bush, was unconvinced.
"Perhaps someone can explain [Kiko's] pushing the proposed Voting Rights Act amendment that would reimpose [Attorney General Eric] Holder's control over elections in key Southern states and give the AG greatly expanded authority to intervene in almost any election dispute including election contests," von Spakovsky emailed the group on Friday.
"The bill he is lobbying in favor of is in essence the wish list for every radical group from MALDEF [the Mexican American Legal Defense and Educational Fund] to the Brennan Center."
Federal records show Kiko's lobbying clients have also included Time Warner Cable, the Biotechnology Industry Organization, and the Financial Services Roundtable, among many others.
At the same time, Washington lawyer and lobbyist Lanny Davis has announced that he will lead a "truth squad" on the work of the Benghazi committee. The former lawyer for President Bill Clinton during the Monica Lewinsky scandal – who has since served as a Fox News contributor and a lobbyist for foreign leaders with dubious human rights records – told WMAL radio hosts Larry O'Connor and  Brian Wilson on Thursday that he intends to stand outside the door when the Benghazi panel holds its hearings, responding in real time to what he perceived as any Republican distortions about the terrorist attacks that killed four Americans, including the U.S. ambassador to Libya, in Benghazi on the night of September 11, 2012.
Davis disclosed that his efforts will be aided by Correct The Record, an advocacy group funded by the American Bridge 21st Century PAC, itself a super-PAC founded by liberal activist David Brock and funded in part by billionaire investor George Soros. The group lists top Democratic operatives as its key officers, and can accept unlimited donations from its donors, which also include major labor unions.
The formal name of the House panel is the Select Committee on the Events Surrounding the 2012 Terrorist Attack in Benghazi.