Gov. Perry: Gay Marriage Is States' Rights Issue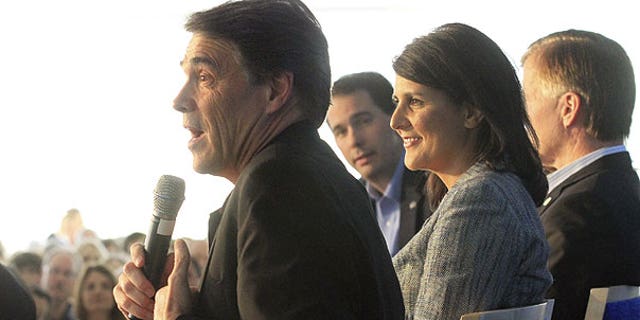 ASPEN, Colo – Texas Gov. Rick Perry, a potential Republican presidential candidate, said Friday he supports state rights so much that he's fine with New York's approval of gay marriage but still called himself an "unapologetic social conservative."
Perry, who has been weighing a presidential run, said he opposes gay marriage -- but that he's also a firm believer of the 10th Amendment.
"Our friends in New York six weeks ago passed a statute that said marriage can be between two people of the same sex. And you know what? That's New York, and that's their business, and that's fine with me," he said to applause from several hundred GOP donors in Aspen, Colo. "That is their call. If you believe in the 10th Amendment, stay out of their business."
It's not the first time Perry has expressed strong feelings on state rights. He said he didn't think Arizona's divisive immigration law would be the best course for Texas but supported Arizona's right to push for its law.
His comments may further stoke tea party groups that have criticized Perry's record on issues like immigration and public health and his ties to the Democratic party before he became a Republican in 1989, around the same time as other conservative Democrats.
Perry was speaking Friday at a forum held by the Aspen Institute as the Republican Governors Association held a fundraiser and convention in Aspen, a glitzy resort town with heated sidewalks about four hours southwest of Denver.
Republican Govs. Scott Walker of Wisconsin, Nikki Haley of South Carolina, Susana Martinez of New Mexico, and Bob McDonnell of Virginia also attended the forum.
Perry has been strongly hinting that he'll run for president and said during the forum that he'll make an announcement in three to four weeks. He said he believes being Texas governor is "the best job in America" but that his wife has encouraged him to aim for the presidency.
He said his wife told him he should tackle the issues of the new health care law and the national debt.
"And she says, `You need to get out of your comfort zone. Your country is in trouble and you need to do your duty.' I listen to my wife," Perry said.
He took shots at President Barack Obama, questioning his announcement last month to pull 33,000 troops from Afghanistan by the summer of 2012. Perry said Obama should listen to his military commanders "and not his political advisers."
The forum moderator pressed Perry about his presidential ambitions a couple of times, but the governor didn't budge, saying only that he's "going through a thoughtful process."
"I'm asking the right questions," he said. "I'm basically asking people, `Do you think there's room in this presidential election for a full-throated, unapologetic fiscal conservative? And if you do think there's room, are you going to help?"'
But it was clear Perry had the presidency on his mind Friday. At one point, he made the crowd laugh when he started answering a question with a slip: "As the president ... As the governor of the state of Texas ...."