GOP lawmakers bring Afghanistan veterans to State of the Union, say 'answers' still needed on 2021 withdrawal
Lawmakers call Afghanistan withdrawal 'disastrous,' say there are ways to work with Biden on veterans issues
House Republicans Reps. Ashley Hinson and Young Kim are bringing two Afghanistan veterans to President Joe Biden's State of the Union address Tuesday night, and they say that the Biden administration still needs to provide answers on the deadly withdrawal from Afghanistan in 2021.
Hinson's guest is retired Army Sgt. Trent Dirks and his service dog companion, Tracer. Dirks served in Afghanistan and has suffered from post-traumatic stress disorder (PTSD). The former sergeant is focused on helping other veterans receive the mental health care they need; he first met Hinson through an organization called Retrieving Freedom, which pairs veterans with service dogs to help them overcome PTSD.
"There are programs that can provide you with that assistance, and you can come out of the darkness and live a great life," said Hinson, R-Iowa. "And we want to express that gratitude to our veterans."
LIVE UPDATES: STATE OF THE UNION ADDRESS 2023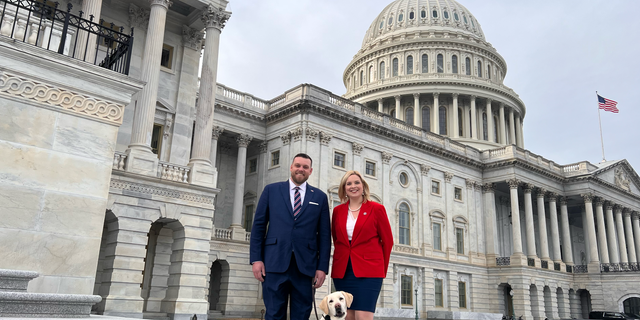 Dirks said his service dog, Tracer, has helped him live his life without succumbing to panic attacks.
"My journey has been two opposite sides of the spectrum. I went from hardly leaving my house or not being able to go out into public without having a panic attack, let alone have a conversation with people or look anybody in the eye, to coming to Capitol Hill and speaking publicly about what I've been through," Dirks told Fox News Digital. "So, it's just been an incredible experience. And Tracer and Retrieving Freedom has helped me get here."
Hinson said that while the 2021 withdrawal from Afghanistan was a "disaster," she appreciates Biden for signing her veteran mental health bill into law.
"I do believe that the withdrawal from Afghanistan was a disaster. We have 13 new Gold Star families because of this administration's policies and how they chose to withdraw. So, I do think we need some answers there for us to be able to move forward as a country and make sure that that doesn't happen again," said Hinson. "That said, I want to express my gratitude to the Biden administration for moving forward with the bill that we introduced last year."
AFGHANS FLEEING TALIBAN FORCED TO MAKE 11-COUNTRY TREK AMID SLOW US ASYLUM PROCESS: REPORT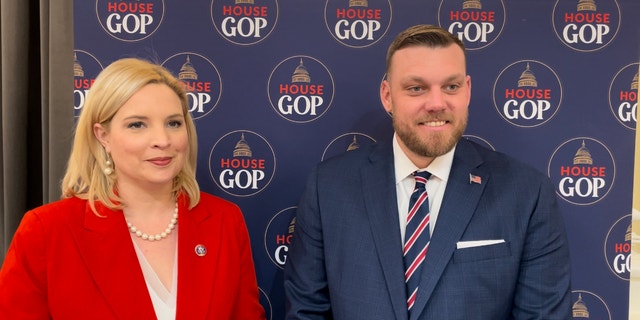 Kim's guest, former Marine Capt. Andrew Darlington, deployed twice to Afghanistan and worked closely with the congresswoman's office to help rescue U.S. allies following the chaotic withdrawal from the country.
He received the Purple Heart and other accolades for his service, and he worked to evacuate U.S. translator and ally Sayed Obaidullah Amin. Amin and his wife died at the Abbey Gate entrance during the Kabul airport attack on Aug. 26, 2021, while trying to get his family safely out of Afghanistan.
"I'm really, really excited to have Andrew Darlington, who is a captain who served during the Afghanistan war. He has worked very closely with my office to help evacuate the Afghan refugees and even the Americans that we served with," said Kim. "And so I really wanted to thank him. This is a small way of making sure that our country, not just me and my team, but our country say thank you to the veterans who were heroes, especially during the Afghanistan withdrawal when our government failed to bring everybody out."
Darlington told Fox News Digital that it's one of the "honors of my life" to attend the State of the Union, although his story is "very painful" to tell.
9 AFGHAN MEN LASHED IN PUBLIC FOR CRIMES UNDER COUNTRY'S NEW RULERS
"It's really a tragic reality of Biden's withdrawal of Afghanistan. So, it's incredibly painful because, as Congresswoman Kim has said time and time again, we failed our moral obligation to these men and women," said the former captain. "And it's not that anyone is advocating for some sort of open-door policy where everyone comes in. But especially Afghan interpreters who have fought with folks in her district and my Marines who we vouch for and say they deserve to be here. They [earned] the American dream. It's been very painful to tell that story moving forward in the last few years."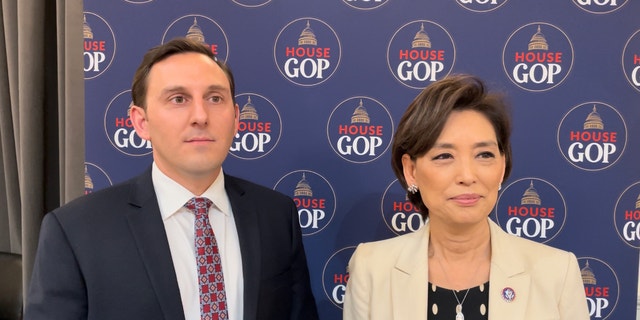 Kim, a California Republican who sits on the House Foreign Affairs Committee and was just appointed head of the subcommittee on the Indo-Pacific, has continued to press the Biden administration for answers on the Afghanistan withdrawal. Her bill, the Rescue Endangered SIVs and Citizens and Urgently Evacuate to Safety (RESCUES) Act, would create strict oversight of the State Department's evacuation operations in Afghanistan.
"So, moving forward, I simply hope the American people can get answers to understand what happens that we never do it again," said Darlington.
CLICK HERE TO GET THE FOX NEWS APP
As for what message he would have for other veterans, Dirks told Fox News Digital: "Get help."
"Don't be afraid to ask for help. And there's help out there," he said. "Don't give up. Just do not give up."