GOP Capitulated On Shutdown Fight, But Ted Cruz Doesn't Rule Out Going For It Again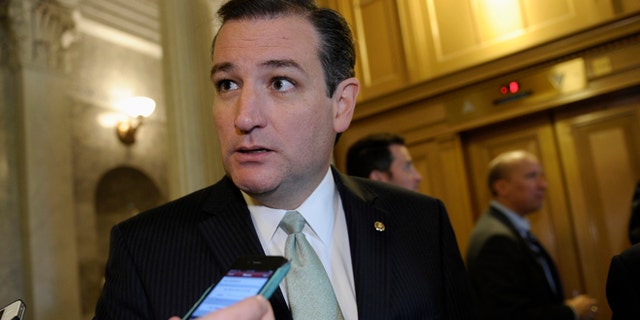 The ever-mounting criticism of Sen. Ted Cruz from all sides – Democrats, Republicans and Independents – is apparently not giving the Texas Republican, the Tea Party darling du jour, much pause.
In an interview with ABC News on Thursday, the libertarian lawmaker said he would be willing to see another government shutdown if it meant de-funding the Affordable Care Act, commonly known as Obamacare.
"I would do anything, and I will continue to do anything I can, to stop the train wreck that is Obamacare," Cruz said in the ABC interview. "The test that matters. . .is are we doing anything for all the people that are getting hurt from Obamacare?"
On Wednesday, Congress approved a deal that funds government agencies through January and raises the debt limit. The agreement followed a bitter fight between Republicans and the Obama administration, but it also brought to light exasperation that many Republicans have been feeling with Cruz and his take-it-or-leave-it approach to many issues.
The impasse led to a partial government shutdown that lasted 16 days and threatened to put the United States in default.
Obama said on Thursday: "There are no winners here. These last few weeks have inflicted completely unnecessary damage on our economy."
Cruz waged a highly public fight against making concessions with Democrats, and even took shots at Republicans in the Senate, in essence calling them sell-outs. He held a 21-hour talkathon and tried to rally House Republicans to take up the fight against the Affordable Care Act.
"Imagine a different world," Cruz said in a Senate speech. "If all 46 Senate Republicans had stood together and said, we are united against the train wreck that is Obamacare."
"What I intend to do is continue to stand with the American people working to stop Obamacare," Cruz said. "Washington focuses on the politics all day long. That's what this town does, but what we saw in the deal last night, is that the U.S. Senate is not concerned about all the people out of a job, all the people in part-time work, all the people whose health insurance premiums are skyrocketing, all the people who are losing their health insurance, and that's happening because of Obamacare."
Senate Republicans were publicly outraged by Cruz's attacks, and said they in fact opposed parts of the Affordable Care Act, but did not agree with how Cruz and others were choosing to deal with it.
Cruz is waging other wars against the Obama administration. He has blocked the Senate from voting on Obama's nomination of Tom Wheeler to be Federal Communications Commission chairman.
The Senate was scheduled to vote on Wheeler, a Democrat and telecom industry veteran, later on Wednesday. Cruz held up the vote over questions about the FCC's power to enforce disclosures of who sponsors political television advertising.
"Mr. Wheeler had previously declined to give specific answers, but as he's now expressed his readiness to revisit the Senator's questions, the Senator hopes to communicate with him soon," said Cruz spokesman Sean Rushton.
If Wheeler cannot resolve Cruz's concerns, Senate Democrats could force a vote on the nomination. Majority Leader Harry Reid would decide whether to take that action.
Clearing the Texas' se procedural roadblock would require 60 votes in the 100-member chamber, meaning the support of some Republicans would be needed. Democrats currently hold 52 seats and usually have the support of two independent Senators.
Reuters contributed to this report.