GOP Blasts Detention Policy in Afghanistan, Saudi 'Rehab' Program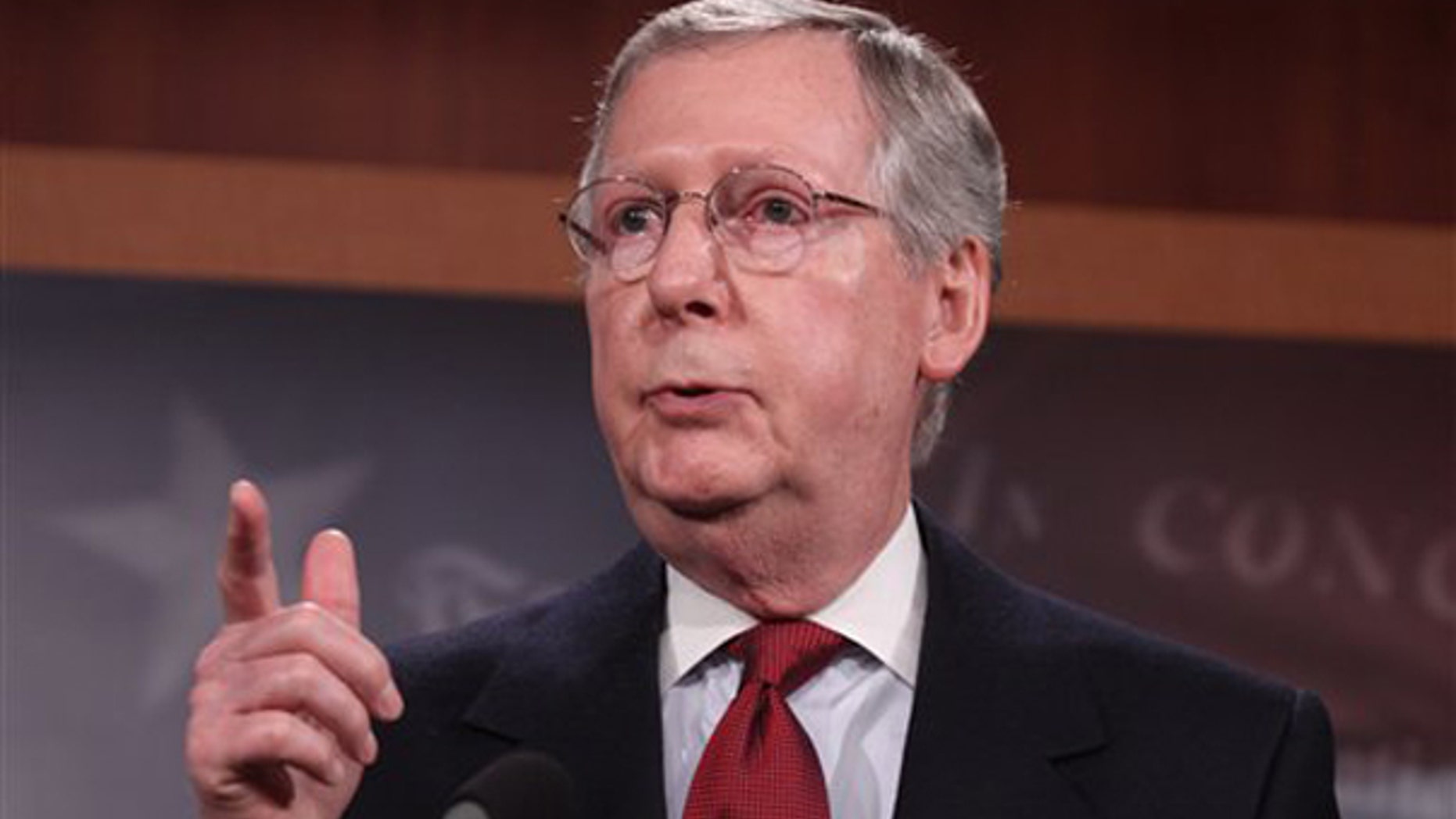 Senate Minority Leader Mitch McConnell accused the Obama administration Tuesday of creating a "state of confusion" in Afghanistan over U.S. detention policy, saying the administration's has a "preoccupation" with giving terrorists legal rights Americans enjoy.
McConnell, who recently returned from a trip to Afghanistan and Pakistan with other lawmakers, said military officers there indicated to him confusion about what to do when a terrorist suspect is detained.
"In fact, there are at least two standards of detention," he said, explaining NATO forces followed a different policy than their U.S. counterparts.
"To not be allowed to properly interrogate and to detain without some of the concerns that you might have if you were an American citizen here in the United States who is under arrest for robbing a convenience store…strikes me as a pretty wrongheaded way to conduct the war," he said.
"I hope that the administration will move in the direction of clearing up this confusion because I found from top to bottom in Afghanistan concern among the military people about this state of confusion with regard to detention and detainment," McConnell added.
McConnell's broadside comes as the administration struggles to find new homes for the roughly 200 detainees remaining at the Guantanamo Bay prison as it misses its self-imposed deadline to close the facility this month.
The administration's planned closure has been complicated by a number of factors, most recently the outbreak of violence in Yemen, which is battling a resurgent Al Qaeda. The administration suspended transfers of detainees to Yemen since the Christmas Day failed bombing attack of a Northwest flight on its way to Detroit from Amsterdam.
Controversy has also surrounded the "rehabilitation" program for detainees sent to Saudi Arabia that claims to be able to turn around detainee's radical beliefs in a matter of months.
Two of the program's graduates now lead Al Qaeda in Yemen. Separately, new figures from the Pentagon show that at least one in five detainees are suspected or confirmed to have returned to the battlefield -- a jump of 50 percent since April.
A senior administration official insisted to Fox News Tuesday that no transfers to Saudi Arabia are planned in the near term and that this has been the administration's position for some time.
The administration's position is not reflective of intense pressure from Capitol Hill to suspend the detainee transfers to unstable countries, the official said, nor is it a response to the failed Christmas Day airliner attack.
Asked what is to become of the remaining dozen Saudis in Guantanamo Bay detention facility, the administration official would not characterize any plans except to say each case is subject to judicial review. The official also would not discuss the effectiveness of the Saudi rehab program.
Sen. Jeff Sessions, who expressed his concerns about the Saudi program in a letter to the administration more than a month ago, criticized the administration for not announcing a review of the program or plans to suspend future transfers to the facility.
"This suggests that the administration still plans to use the Saudi program in its rush to close Gitmo," Sessions said in a written statement. "Why won't the administration acknowledge that the jihadist rehab program has been anything but 'successful?'"
At the news conference Tuesday, McConnell called the administration's decision to grant a civilian trial to the Nigerian suspect in the failed Christmas Day attack -- rather than subjecting him to military interrogators -- part of a "mentality that I think is very dangerous in the War on Terror."
Fox News' Catherine Herridge and Trish Turner contributed to this report.