From Paris to Washington, love triangles (real or imagined) are news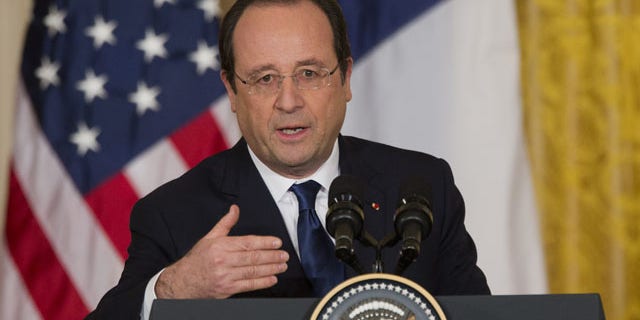 Monogamy is sooo boring, at least according to the mainstream media.
Francois Hollande, who attended the State Dinner on Tuesday night, has been playing dial-a-date lately.
President Obama, according to some in the French media trumpeting an utterly irresponsible rumor, has his own celebrity squeeze on the side.
The Bill-Hillary-Monica melodrama was a long-running hit back in the day, revived by the private papers of Hillary's pal Diane Blair. Narcissistic loony toons never go out of style.
And it was sad to see the aftermath of Philip Seymour Hoffman's death by drugs devolve into tabloid "love triangle" territory.
People staying happily married for decades is a big yawn for the press. Fooling around means ratings and clicks.
Of course, Hollywood marriages have become so much like disposable Kleenex that each new affair barely raises an eyebrow. In fact, when I see a pair of photos under the Huffington Post headline "SPLIT?", I often don't know who's breaking up.
But combine a whiff of infidelity with politics and voila, you've got buzz.
We've long known that the French take a laissez-faire view of extramarital activities. Francois Mitterand's mistress, the mother of one of his daughters, showed up at his funeral. Jacques Chirac admitted to numerous dalliances before leaving office.
And now Hollande shows up solo in Washington because he has split with Valerie Trierweiler, his unmarried partner. She, you may recall, met Hollande while he was living with Segolene Royal, who became the Socialist candidate for president. And he donned a motorcycle helmet and sped off to see his actress girlfriend until a French magazine published photos of one such presidential excursion.
Perhaps Paris was a little miffed at all the attention to Hollande's personal life. So a cheap little rumor got started that Obama was carrying on with Beyonce.
This appeared in no less a newspaper than Le Figaro, quoting photographer Pascal Rostain as saying:
"You know, at this time, in the United States, there is something big that is happening. It'll go out tomorrow in the Washington Post — we can say that it is not the gutter press — an alleged affair between President Barack Obama and Beyoncé."
Except there is no affair, and the Post quickly denied that any such story was in the works. And the shameful part is that lots of American websites were quick to run with le garbage — not quite taking it seriously, but not regarding it as fit to print, either.
The saddest part involves Hoffman, the heroin addict, who had left the Manhattan apartment he shared with his girlfriend and three young children before his death. Now police are examining a diary of sorts that he left behind.
"The Oscar winner was 'caught in between' his relationship with longtime girlfriend Mimi O'Donnell and a woman with whom he'd recently hooked up, according to his journals, law-enforcement sources told the [New York] Post on Tuesday.
"Hoffman implied that his new gal pal was one reason O'Donnell — the mother of his three young children — might have bounced him from their Jane Street pad about three months ago, sources said."
I know Hoffman was a huge star and this stuff is catnip for the tabloids. But this is one love triangle I'd just as soon have passed on.
Olympic fail
It's usually like clockwork: During the Olympics, the "Today" show boosts its ratings by capitalizing on NBC's rights to the game and broadcasting from the host city.
On Tuesday, however, "Today" lost to "Good Morning America." And it lost by a lot, with the ABC program drawing 800,000 more viewers than Savannah Guthrie and Matt Lauer (who also did double duty by filling in for the ailing Bob Costas).
Now this may underscore how "GMA" has seized the mantle since taking the top spot, although it did lose on Monday. During the past few Olympics, "Today" was already No. 1.
Or it may just mean there is far less interest in the troubled Sochi games and that is reflected in the "Today" numbers.
Top Twitter Talk
John McCain tweets horrific Syria pictures