Fox News Poll: Approval of Obama up, US weaker under his leadership
NEWYou can now listen to Fox News articles!
For the first time since 2012, over half of voters approve of the job Barack Obama is doing as president.
At the same time, more voters than not think his administration has made the country weaker, and views are mixed over whether the president's policies have helped the economy.
These are some of the findings from the latest Fox News poll. The poll was conducted before Sunday's mass shooting in Orlando.
While 37 percent of voters think Obama administration policies have helped the economy, nearly as many -- 35 percent -- say they've hurt. Another 27 percent say they haven't made much difference.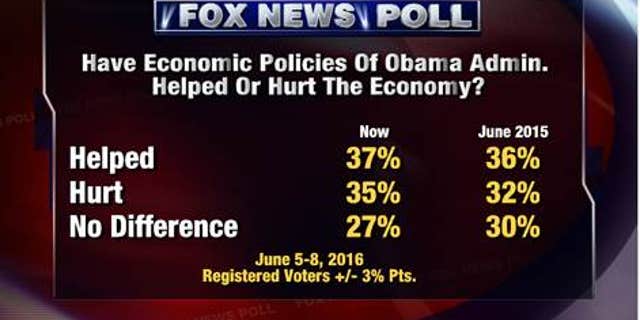 CLICK TO READ THE POLL RESULTS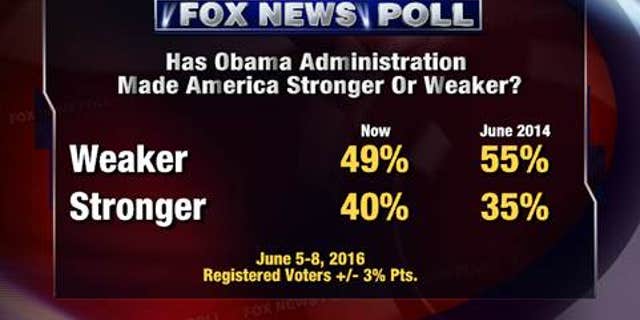 In addition, by a nine-point margin (49-40 percent), more think the country is weaker under Obama's leadership. That's a significant improvement from two years ago, when it was a 20-point margin: 55 percent weaker vs. 35 percent stronger (June 1-3, 2014).
Meanwhile, 51 percent of voters approve of Obama's job performance and 46 percent disapprove. Last month it was 48-49 percent.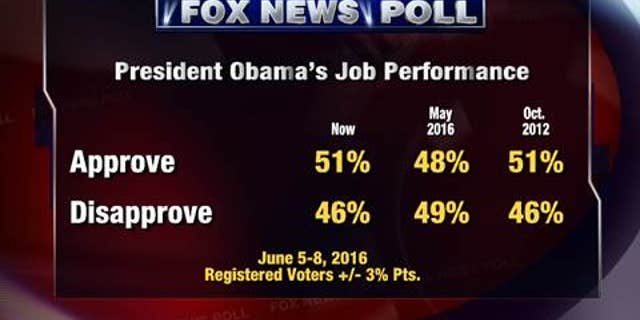 The last time Obama's approval rating was at 50 percent or better was late October 2012. In that survey, conducted right before he won re-election, 51 percent approved and 46 percent disapproved (October 28-30, 2012).
Most Republicans (86 percent) think the administration has made America weaker, as do 49 percent of independents and 17 percent of Democrats. Two years ago, 89 percent of Republicans, 59 percent of independents and 22 percent of Democrats felt that way.
Those most likely to feel Obama's policies have helped the economy include blacks (68 percent), Democrats (65 percent), voters under age 30 (48 percent), Westerners (44 percent), and those in households earning less than $30,000 annually (41 percent).
The Fox News poll is based on landline and cellphone interviews with 1,004 randomly chosen registered voters nationwide and was conducted under the joint direction of Anderson Robbins Research (D) and Shaw & Company Research (R) from June 5-8, 2016. The poll has a margin of sampling error of plus or minus three percentage points for all registered voters.