Former Rep. Joe Walsh explains how 'Who Is America?' star Sacha Baron Cohen duped him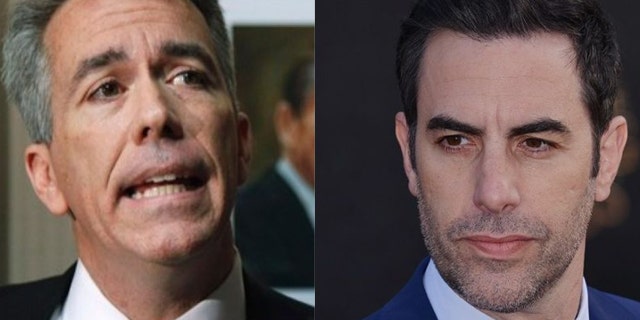 Former Illinois congressman Joe Walsh joined a growing list of conservative politicians blasting comedian Sacha Baron Cohen's new Showtime series "Who Is America?" after Walsh said he got duped into supporting a fake program in Israel providing firearms to 4-year-old children.
Cohen is "a funny guy because he gets people to say stupid things," Walsh told CNN on Saturday. "He gets people to say stupid things because he lies to them."
In a clip released by Showtime, Cohen disguised himself as Colonel Erran Morad, a so-called anti-terrorism expert, and did an "exploration" into America's issue with school shootings where he mockingly advocated for arming children as young as four.
Cohen apparently tricked Walsh, along with Reps. Dana Rohrabacher, R-Calif., and Joe Wilson, R-S.C., along with former Senate Majority Leader Trent Lott, R-Miss., into voicing their support for the prankster's fake program "Kinderguardians," a fictional three-week program that boasted giving toddlers training with firearms.
"The intensive three-week Kinderguardian course introduces specially selected children from 12 to 4 years old to pistols, rifles, semiautomatics and a rudimentary knowledge of mortars," Walsh said directly into the camera. "In less than a month — less than a month — a first-grader can become a first grenade-er."
"Happy shooting, kids," he added.
Walsh said that Cohen tricked him into appearing on the show by telling the former lawmaker he was "getting an award from some Israeli TV station because I'm a great supporter of Israel."
"After they conducted an interview, they had me read off of a teleprompter talking about some of the innovative products that Israel invented," Walsh explained. "Then they had me read about this 4-year-old child in Israel who, when a terrorist entered his classroom, somehow he grabbed the terrorist's gun and held the terrorist at bay. And that was an example of how Israel trains and arms preschool kids on how to use firearms, and boy shouldn't we do that in America?"
Walsh said that as he read it, he thought, "Well, this is kind of crazy, but it is Israel and Israel is strong on defense."
Walsh took to Twitter in recent days to reaffirm that he didn't believe in training or arming kindergartners and urged people on social media to use the hashtag #BoycottShowtime.
Still, Larry Pratt, executive director emeritus of gun-rights group Gun Owners of America, may have been even more fooled. At the end of the video, he recited language -- apparently from a teleprompter -- citing fake facts that included the misused names of pop culture figures such as Cardi B, Wiz Khalifa and Blink-182.
"Toddlers are pure, uncorrupted by fake news or homosexuality," Pratt read in the video. "They don't worry if it's politically correct to shoot a mentally deranged gunman, they'll just do it."
Pratt continued: "The science behind this program is proven. At age 4, a child processes images 80 percent faster than an adult, meaning that essentially, like owls, they can see in slow motion. Children under five also have elevated levels of the pheromone 'Blink-182,' produced by the part of the liver known as the Rita Ora. This allows nerve reflexes to travel along the Cardi B neural pathway to the Wiz Khalifa 30 percent faster, saving time and saving lives."
In addition, Cohen purportedly tricked former Alaska Gov. Sarah Palin, former Vice President Dick Cheney, veteran broadcaster Ted Koppel, former Alabama Senate candidate Roy Moore and Arizona ex-sheriff Joe Arpaio.
Fox News' Tyler McCarthy contributed to this report.