Florida governor race heats up with Trump endorsement, FBI probe: A look at the candidates
With Florida Gov. Rick Scott leaving office due to term limits, a crowded field of Republicans and Democrats have jumped into the race to replace him.
President Trump endorsed Republican Rep. Rick DeSantis ahead of the August 28 GOP primary. Democrats, too, will hold a primary election for the party's candidates on that date.
Trump narrowly defeated Democrat Hillary Clinton in the 2016 presidential race by less than 2 percentage points, according to Fox News' election results.
Read on for a look at the candidates.
Republicans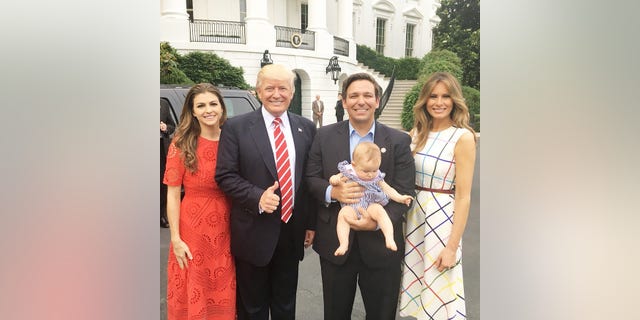 There's a crowded field of Republicans vying for the GOP nomination for governor in Florida, and Trump has already made his endorsement. The president picked Florida Rep. Ron DeSantis, saying he would be "strong on borders, tough on crime [and] big on cutting taxes."
Trump said DeSantis would be a great governor before DeSantis officially jumped into the race.
DeSantis, 39, is an Iraq War veteran and decorated military lawyer who has served in the U.S. House since 2013. He is a graduate of Yale University and Harvard Law School. Especially during committee hearings on the controversial dossier used in the ongoing Russia investigation, DeSantis has remained steadfast in his support and defense of Trump.
FOX NEWS MIDTERMS HEADQUARTERS
Ahead of Trump's endorsement, a Fox News poll found 32 percent of likely GOP primary voters in the state to pick Adam Putnam, the Florida agriculture commissioner. DeSantis was polling in second place with 17 percent. However, 39 percent of likely voters remained undecided.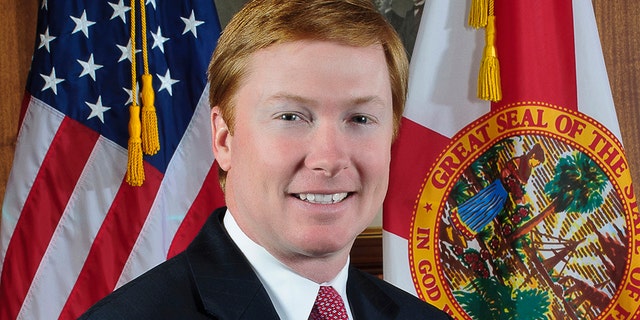 Putnam, 44, was elected as the state's agriculture commissioner in 2010. He grew up on a cattle ranch and citrus grove, according to his campaign website, and has gotten the support of many Florida sheriffs. He's taken shots at DeSantis, saying, "If you want to be governor of Florida, you should be focused on Florida issues and be willing to roll out your positions on things that matter to Floridians." His campaign has also released a caricature of DeSantis with a "Where's Waldo" hat that says, "Where's Ron," the Tampa Tay Times reported.
GOP HOPES TO CONTINUE PARTY DOMINANCE IN FLORIDA GOVERNOR RACE
Putnam was backed by Publix, but the supermarket chain said it suspended contributions to the Republican after facing public outcry.
Other Republican candidates include: Don Baldauf, Timothy Devine, John Mercadante, Bruce Nathan and Bob White.
Democrats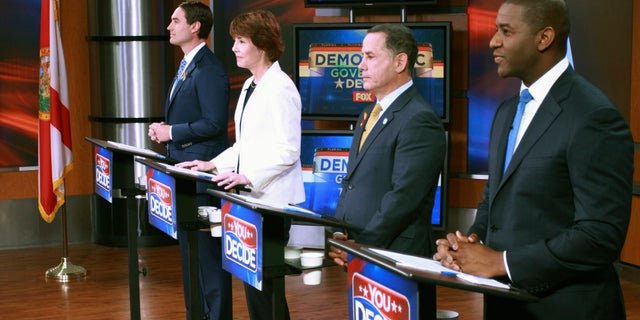 Like Republicans, the Democratic field of candidates running for governor is vast. In fact, Mike Abrams, the former chair of the Dade Democratic Party, said the suite of candidates was so "stellar" that it could "give the Republicans fits."
Tallahassee Mayor Andrew Gillum, 39, has secured endorsements from the Progressive Change Campaign Committee and the Working Families Party, two major progressive groups, the Tampa Bay Times reported.
As mayor, Gillum touts his efforts for greater gun control, particularly in the wake of the Parkland school shooting, and promises to "never back down from common sense solutions to keep our streets, parks and schools safe from gun violence," he said on his campaign website.
FLORIDA SENATE RACE BETWEEN RICK SCOTT, BILL NELSON EXPECTED TO BE COMPETITIVE, COSTLY
He is also caught up in a public corruption investigation by the FBI involving a lobbyist who is a close friend of the mayor, according to the Tallahassee Democrat. Gillum has maintained that he is not the target of the investigation and has promised to cooperate.
From 2015 to 2017, former Rep. Gwen Graham represented Florida in the U.S. House. She was only one of two Democrats in the U.S. to beat an incumbent Republican when she won her seat, she said on her campaign website.
Graham, 55, was heavily criticized by her Democratic opponents during an April debate for not voting with former President Barack Obama enough when she was in Congress.
"We sent a Democrat to Congress to defend the president … to move a more progressive agenda," Gillum said, according to the Tampa Bay Times. "Her votes … 54 percent of the time against Obama was not what I wanted from my member of Congress."
As mayor of Miami Beach from 2013 to 2017, Philip Levine had his focus on the rising sea levels, according to his campaign website. But the $24 million plan to protect Miami Beach, which included raising roads and installing industrial pumps, has hit a snag, according to the Miami Herald. Some residents and activists, while praising Levine for tackling the issue, have called his plan "ill-conceived" and turned citizens into unwilling "guinea pigs."
PUBLIX HALTS DONATIONS TO NRA-ALIGNED CANDIDATE FOLLOWING PROTESTS LED BY PARKLAND SURVIVORS
"When you become mayor of a city that's being attacked by sea level rise, there's no book to buy, no course to take, no guide to follow," he told the Miami Herald. "We had to literally write the book ourselves. We have learned as we went along. We, of course, realize that everything we did could have been better and everything we've done can certainly be improved."
Along with support from various other former mayors, Levine, 56, has gotten the endorsement of former Miami Heat basketball star Ray Allen.
Also running in the Democratic primary is billionaire Jeff Greene, philanthropist Chris King, Alex "Lundy" Lundmark and John Wetherbee.
Greene has made headlines during the race as he's promised to contribute $5 million to help other Democrats if he wins. He also accused the National Rifle Association of turning "our kids into targets" in a July mailer.
Fox News' Kathleen Joyce and The Associated Press contributed to this report.