Florida Gov. Rick Scott signs gun bill following Parkland massacre, in break with NRA allies
Florida Gov. Rick Scott on Friday publicly broke with his longtime allies at the National Rifle Association to sign new gun regulations into law.
The move comes three weeks after a grisly school shooting that claimed the lives of 17 people.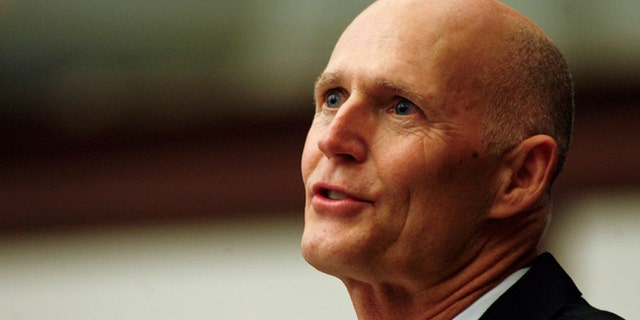 Scott, a Republican who has received high praise from the NRA in the past, said he was signing the legislation because it's a "time for all of us to come together, roll up our sleeves and get it done."
The law raises the minimum purchasing age for buying a rifle from 18 to 21, invokes a three-day waiting period on purchases and enables school employees and many teachers to be armed.
It also allows law enforcement to temporarily seize guns from the mentally ill and fund measures like bulletproof glass and metal detectors at schools.
In a bid to appease Scott, who voiced opposition to arming teachers, the State Senate later amended the bill to no longer include arming most teachers in a "guardian" program, but instead would train up to 10 school personnel to carry weapons in every school.
Student activists from the school where the shootings took place have closely followed the bill's progress.
Though they called it "a baby step," many agree that Scott signing the bill into law sends a strong message to the NRA.
Scott started to distance himself from the NRA following last month's massacre at Marjory Stoneman Douglas High School – even creating a $500 million proposal to place an armed officer in every school.
As for the NRA, the organization opposes raising the age limit as well as imposing new waiting periods, with NRA and Unified Sportsmen of Florida lobbyist Marion Hammer on Thursday calling the Legislature's bill "a display of bullying and coercion" that would punishes law-abiding citizens and infringe on Second Amendment rights.
President Trump congratulated Florida on its legislation, saying state lawmakers "passed a lot of very good legislation last night."
Fox News' Benjamin Brown and The Associated Press contributed to this report.