Federal court rejects Sen. Menendez's request to dismiss corruption case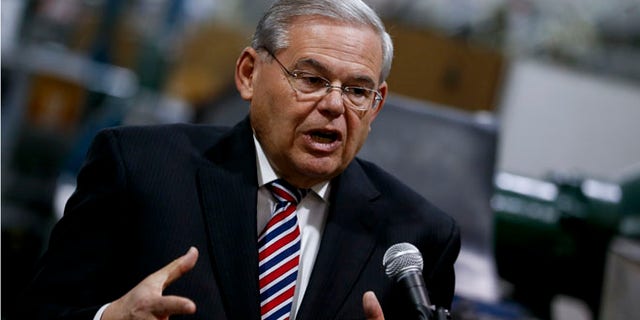 NEWYou can now listen to Fox News articles!
Once again, Sen. Robert Menendez has struck out in his effort to get a federal court to dismiss bribery and corruption charges against him.
His next step after Tuesday's adverse ruling is to turn to the U.S. Supreme Court, reports Politico. He can also choose to have a jury consider his case, reports the Newark Star Ledger.
The U.S. Court of Appeals for the Third Circuit in Philadelphia ruled that it will not hold a hearing on Menendez's request to reconsider an earlier decision rejecting his argument that his constitutional rights were violated when the government brought bribery charges against him.
Menendez was indicted last year for allegedly accepted hundreds of thousands of dollars illegally from a Florida doctor, Salomon Melgen. In July, the appeals court allowed the charges to stand.
Melgen is a co-defendant in the case.
"As he has said from the outset, Sen. Menendez has always acted in accordance with the law and that, once all of the facts are presented in court, he is confident that he will be exonerated," Politico quoted the New Jersey Democrat's attorney, Abbe Lowell, as saying in a statement.
"He believes the legal issues in his case are important enough to seek review from the trial court, the appeals court and the Supreme Court. These are the steps he has pursued and will continue to show that the allegations against him are wrong."
The Justice Department wants the trial to proceed without further delay.
"It has been 17 months since a grand jury sitting in the District of New Jersey indicted Senator Menendez and Dr. Melgen for numerous counts of corruption," federal prosecutors said in court documents, Politico reported. "Accordingly, the Government respectfully requests that the Court schedule a status conference and set this case for trial at the earliest possible date."
The charges claim that Menendez accepted money and gifts from Melgen and, in turn, used his political influence to bring about policies and laws to benefit the Florida doctor of Dominican descent.
Menendez has said that Melgen, who is a campaign donor, is a personal friend and claims that he did not act improperly.
The indictment alleges that Menendez received nearly $1 million worth of gifts and campaign contributions from Melgen at a time when the senator's office intervened in a billing dispute that Melgen had with the Centers for Medicare and Medicaid Services, and that he also helped some of Melgen's girlfriends get visas, among other things.
Menendez maintains that he is protected by a constitutional privilege that spares congressmen from legal action over legislative activities.
Like us on Facebook