Family of Suspect in Arkansas Military Center Shooting Says Gov't Knew He Was Dangerous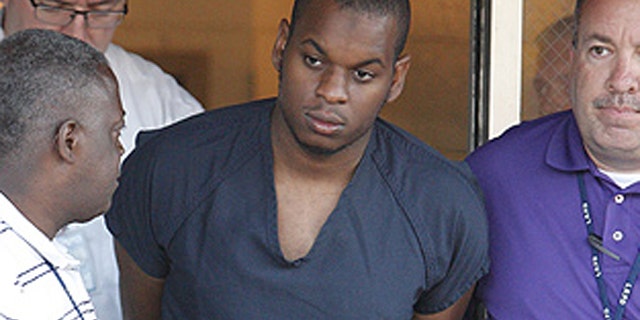 NEWYou can now listen to Fox News articles!
The family of Carlos Bledsoe, who is accused of shooting and killing an Army private and injuring another outside a military recruitment center in Arkansas in June 2009, says the FBI has a lot to answer for in the case -- suggesting the federal government was aware that Bledsoe was a jihadist in training even before the shooting.
"We're asking for (Attorney General) Eric Holder ... to give my son a fair trial, and the only way he can get a fair trial is in federal court," Melvin Bledsoe, the suspect's father, said in a recent interview. "I think it's not in federal court because the FBI and the federal government knows that the FBI dropped the ball – point blank."
Melvin Bledsoe alleges that his son was radicalized at a mosque in Nashville, Tenn., before he travelled to Yemen in September 2007. His family says the young man, who once praised Martin Luther King Jr. as his hero, attended at least two training camps for extremists in Yemen.
Carlos Bledsoe, who also goes by the convert name Abdulhakim Mujahid Muhammad, was picked up in Yemen in October 2008 because he had overstayed his visa, and he was carrying a fake Somali passport. His father says he was held in a Yemeni jail, and within days, the family was told by Bledsoe's wife that the "U.S. government" had sent someone to talk to him.
Melvin Bledsoe said his son married the woman as part of an arranged marriage that was set up by the scholars at an Islamic school in Yemen. "It was like the agent was following Carlos into the jail," he said.
He said he later confirmed it was an FBI agent from the Nashville office. Once Carlos Bledsoe was released from prison and returned to Memphis, where his family runs a tour bus company, Melvin Bledsoe says his son was interviewed again by the same FBI agent in Nashville. It was February 2009 – just four months before the suspect allegedly opened fire on the recruitment center in Little Rock.
Some counterterrorism analysts say the case is the first known domestic attack linked to Al Qaeda in Yemen, whose leadership includes the American cleric Anwar al-Awlaki, the first American on the CIA's kill or capture list. Al Qaeda in Yemen, or Al Qaeda in the Arabian Peninsula, was behind the failed underwear bomber on Christmas day 2009 and the cargo printer bombs that were meant to explode over U.S. airspace in October 2010.
Though he has entered a plea of not guilty in court, Carlos Bledsoe said in a letter to the judge, "I'm affiliated with al-Qaeda in the Arabian Peninsula (al Qaeda in Yemen)…This was a Jihadi attack on infidel forces."
After meeting with the FBI agent in February 2009, Melvin Bledsoe says his son "was withdrawn, very different, angry. Asked what happened in Nashville, Carlos didn't want to talk about it."
Bledsoe says FBI knew his son was moving to Arkansas to open a new office for his family's business. In early June, his son allegedly shot and killed Pvt. William Long and injured another.
The family's position is that keeping the case out of federal court will make it harder to bring in the FBI agent who questioned their son in Yemen and in Tennessee. Professor Jeffrey F. Addicott, a professor of law and the director of the Center for Terrorism Law at St. Mary's University School of Law, San Antonio, Texas, agrees.
"This is unprecedented. If you have a terrorist in this country that commits a crime and a murder, every other case I can think of it always goes to a federal court. ... This is clearly terrorist activity," Addicott told Fox News. "The Department of Justice and FBI knew that this guy was a suspected terrorist because he had gone to Yemen, and they had actually intervened to get him released and back into the United States. So it's not like they didn't know who he was and what his proclivity was towards radical jihad."
As for getting the federal evidence into court, Addicott thinks it's possible. "They [defense attorneys] are entitled to see all of the information that the government has associated with this person and his crimes. If the judge allowed it and said, 'Yeah, I think it's relevant,' then it would come into state court as it would come into a federal court."
Melvin Bledsoe thinks a state court will treat the case as a drive-by shooting and not terrorism. "So much won't be shown in this trial, what happened in Yemen or what happened in Nashville."
Asked to explain why the case was being prosecuted in state court, a Justice Department spokesman issued this statement: "Given that the capital murder case against Carlos Bledsoe, aka Abdulhakim Muhammad, is a matter of pending litigation in Arkansas, we refer you to the prosecutors handing the case in Arkansas for any comments on this matter."