Emanuel's exit heats up crowded, chaotic Chicago mayoral race
Rahm Emanuel's abrupt announcement that he won't be seeking re-election as Chicago's mayor turned an already crowded and chaotic race to lead City Hall on its head earlier this week.
Without Emanuel, whose political machine and controversial terms in office provided easy fodder for his rivals, the dozen or so other candidates currently in the race have lost their main foil. So candidates already in the race now face the challenge of standing out in a field that only figures to get more crowded.
"At the moment, it is definitely a free-for-all," Christopher Mooney, a professor of political science at the University of Illinois at Chicago, told Fox News. "You could list a dozen or even two dozen people who have a chance to make it to the run-off election. It's going to be a big messy race, and you don't know who will win."
Much speculation swirls around the question of who might emerge as a favorite, now that the mayor has stepped aside.
In an attempt to dissuade newcomers from joining an already congested field, former Police Board president and federal prosecutor Lori Lightfoot took the offensive at a news conference earlier this week.
"To be the mayor of this city, you need to have courage, you need to have strength and you need to be able to bring people together," Lightfoot said, according to the Chicago Tribune. "Many of us have been out here for months, making our case to Chicagoans. Anyone who decides to jump in to take advantage of today's political news, I think a fair question to ask them is 'Where have they been?' "
Lightfoot has been one of Emanuel's sharpest critics, lambasting him for the city's urban blight, high taxes, soaring violent crime rate and handling of the police shooting of black teenager Laquan McDonald.
"He's the mayor, and our city is facing a public health crisis," Lightfoot said in August, following a bloody weekend that left a dozen people dead and another 62 wounded. "Taking on gun violence goes far beyond policing: it's about ending poverty and reversing decades of disinvestment through quality schools, career training, social services, and jobs in neighborhoods that have been ignored for too long."
A flash poll conducted by the Chicago Sun Times shortly after Emanuel made his announcement on Tuesday gave Lightfoot 9.6 percent support among Chicagoans. That put her behind former Chicago Police Superintendent Garry McCarthy's 16.8 percent, businessman Willie Wilson with 15.1 percent, and former Chicago Public Schools CEO Paul Vallas with 10.1 percent.
The poll's 3 percentage point margin of error has McCarthy and Wilson essentially tied, as were Vallas and Lightfoot.
But there is enough time for new candidates to join the race before the November filing deadline, in advance of February's open primary election.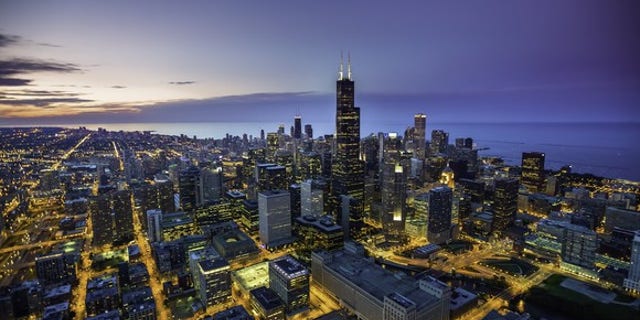 A name that was immediately circulated on social media in the moments after Emanuel's announcement was Carlos Ramirez-Sosa, a feisty democratic socialist alderman who represents the 35th Ward, on the city's Northwest Side. Ramirez-Sosa, who earlier this year was expelled from the Chicago City Council's Latino Caucus for "lack of attendance and lack of participation," has already considered running for the congressional seat that Democratic Rep. Luis Gutierrez is vacating.
Gutierrez himself has not ruled out a bid for mayor – telling reporters, "I think I owe it to the Chicagoans that are calling and I am having conversations with."
Among the politically connected names being tossed around are many from former President Barack Obama's staff, including former Secretary of Education Arne Duncan, White House ex-chief of staff Bill Daley, and Obama senior adviser Valerie Jarrett – all of whom could benefit from the former president's support and the big donors who bankrolled Emanuel's campaigns.
While Daley has made some tentative moves to judge his political viability, neither Duncan nor Jarrett has publicly expressed interest in running for mayor.
The Chicago Tribune reported that Cook County Board President Toni Preckwinkle was already making calls on Tuesday to gauge support. Gery Chico, a 2011 mayoral candidate, and city Treasurer Kurt Summers are also rumored to be considering the race.
Experts say the mayor's seat is particularly enticing because of the outsized importance of the office in Illinois' political landscape.
"The mayoralty in Chicago is legendary," Mooney said. "In Illinois, there are only two elected positions that really matter and that is governor and the mayor of Chicago. Nobody really cares about senators or who is in Congress."