Donald Trump Jr. plays down report he met with Gulf emissary in 2016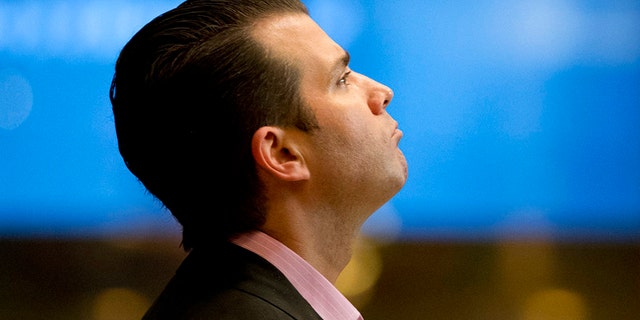 NEWYou can now listen to Fox News articles!
Donald Trump Jr. on Saturday played down a report that he attended a meeting in August 2016 that included an emissary for two wealthy Arab princes who were keen to help Trump win the election.
The New York Times reported that Trump Jr. met with Lebanese-American businessman George Nader -- representing princes from Saudi Arabia and the United Arab Emirates -- along with Israeli social media specialist Joel Zamel and Republican donor and private security contractor Erik Prince.

The meeting, which took place in August, reportedly included a multimillion-dollar proposal for a "social media manipulation effort" to help Trump beat Democratic rival Hillary Clinton in November.

An attorney for Trump Jr. said in a statement that his client recalled the meeting, but was not interested in the pitch.

"Prior to the 2016 election, Donald Trump Jr. recalls a meeting with Eric Prince, George Nader, and another individual who may be Joel Zamel," Alan Futerfas said in a statement.
"They pitched Mr. Trump Jr. on a social media platform or marketing strategy. He was not interested and that was the end of it."

The Times reports that, after the election, Nader paid Zamel up to $2 million, although the exact reason was not clear. Nader is now reportedly cooperating with FBI Special Counsel Robert Mueller's probe into Russian interference in the 2016 election.

Trump Jr.'s meeting is the second to draw the attention of Mueller's probe. In June 2016, Trump Jr. met with a Russian lawyer with ties to the Kremlin after he said he was promised incriminating information about Clinton.

In transcripts released by the Senate Judiciary Committee this week, Trump Jr. played down that meeting, too, telling lawmakers he was "skeptical" about the gathering.

"My skepticism was justified. The meeting provided no meaningful information and turned out to be not about what was represented," Trump Jr. said. "The meeting was instead primarily focused on Russian adoptions, which is exactly what I said over a year later in my statement of July 8, 2017."

Fox News' Jennifer Bowman and Brooke Singman contributed to this report.