DOJ official Bruce Ohr communicated with Trump dossier author Steele after FBI cut ties: report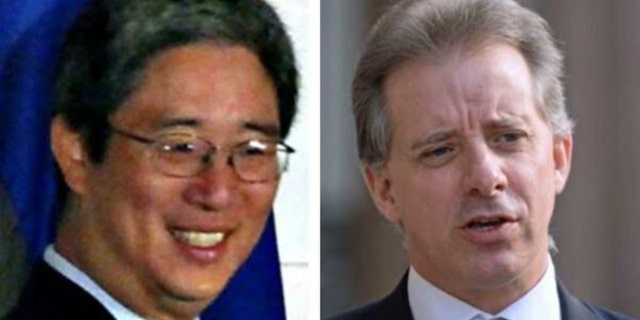 Long after the FBI cut ties with former British spy and Trump dossier author Christopher Steele, senior Justice Department official Bruce Ohr continued to maintain extensive contact with him, according to newly reported emails.
The emails, first reported by The Hill, reveal Steele even continued to send information to Ohr after the election.
The FBI "suspended and then terminated" Steele as a source in early November 2016 for what the bureau defined as "the most serious of violations" – an "unauthorized disclosure to the media of his relationship with the FBI," according to a House Republican memo earlier this year. The FBI reportedly told Steele at the time he could no longer "operate to obtain any intelligence whatsoever on behalf of the FBI."
Yet the emails show Ohr, a former associate deputy attorney general, and Steele communicated extensively from 2002 all the way into 2017.
One text message from Steele to Ohr on Jan. 31, 2017 reportedly said: "B, doubtless a sad and crazy day for you re-SY." The text is an apparent reference to President Trump's firing of Acting Attorney General Sally Yates.
The text continued: "Just want to check you are OK, still in the situ and able to help locally as discussed, along with your Bureau colleagues."
Ohr reportedly replied: "I'm still here and able to help as discussed….I'll let you know if that changes."
Steele reportedly said: "If you end up out though, I really need another (bureau?) contact point/number who is briefed. We can't allow our guy to be forced to go back home. It would be disastrous."
It is unclear what and whom Steele was referring to in that exchange.
The Hill reported that FBI officials admitted they continued to receive information from Steele through Ohr.
The FBI declined to comment when asked by Fox News whether the bureau relied on Steele's intelligence after their working relationship was terminated.
Steele also sent one email to Ohr on July 1, 2016, obtained by The Hill, making an apparent reference to Trump.
"I am seeing [redacted] in London next week to discuss ongoing business, but there is something separate I wanted to discuss with you informally and separately," Steele wrote. "It concerns out favourite business tycoon!"
Ohr and Steele reportedly had a call on the morning of July 7, 2016.
Steele authored and compiled information for the controversial and unverified anti-Trump dossier on behalf of Fusion GPS, which was hired to conduct opposition research funded by the Democratic National Committee and the Hillary Clinton campaign through law firm Perkins Coie.
Last year, Fox News confirmed that Ohr's wife, Nellie Ohr, worked for Fusion GPS during the 2016 election. According to court documents obtained by Fox News last year, Fusion GPS hired Mrs. Ohr to help investigate Trump. A separate Fox News review of her previous published works reveal she wrote extensively on Russia-related subjects.
The dossier "formed an essential part" of the Foreign Intelligence Surveillance Act (FISA) warrants approved to surveil then-Trump campaign associate Carter Page, according to the House GOP memo alleging government surveillance abuse during 2016.
According to new documents obtained this week by The Washington Examiner, Ohr also continued communicating with Fusion co-founder Glenn Simpson before, during and after the election.
Other emails obtained by the Examiner reveal Steele's communications with Russian aluminum financier Oleg Deripaska. Steele emailed with Ohr about Deripaska, who was seeking a visa to attend a meeting in the U.S. According to the Examiner, the U.S. revoked Deripaska's visa based on alleged involvement with Russian organized crime.
Deripaska was reportedly close to former Trump campaign chairman Paul Manafort. Those communications raised questions of whether Steele was working with Deripaska while working on the dossier, and whether Fusion GPS and the Justice Department were involved.