Florida Gov. Ron DeSantis blasted the Biden White House on Thursday for displaying the pride flag more prominently than the American flag at a weekend event, and said "inappropriate" behavior at that event validates his state's parental rights bill.
"When they had at the White House, you know, this transgender flag as the precedence over the American flag, that's wrong, that is not how you display the American flag," the Florida Republican said during a press conference on Thursday, prompting applause from the crowd.
"I think when you have the inappropriate conduct at the White House with like these transgenders flashing people nude and all this stuff, it's just totally inappropriate," DeSantis continued. "And I think even the White House had to acknowledge it was inappropriate.
"But I would ask them: If it's inappropriate to do that at the White House — which I certainly think it is — why do you want to have that curriculum jammed into a second-grader's classroom?"
WHITE HOUSE FLEW CONTROVERSIAL NEW TRANSGENDER FLAG THAT TROUBLES SOME CRITICS IN THE GAY COMMUNITY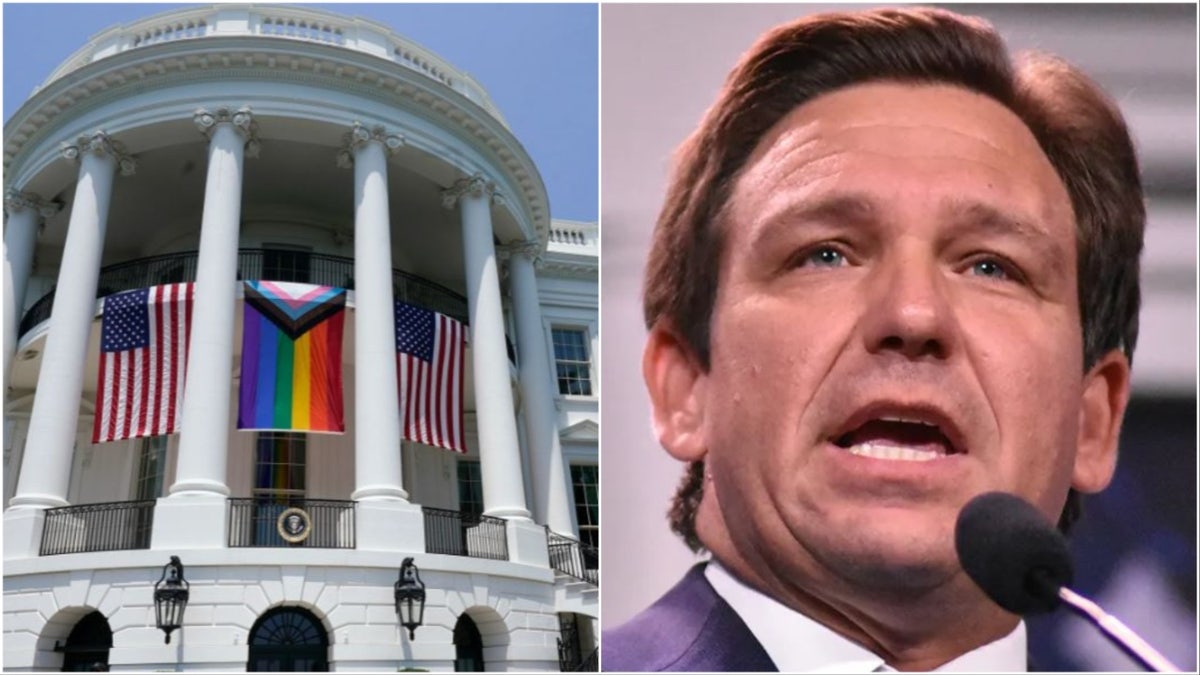 DeSantis has been widely criticized by Democrats for signing a parental rights law last year that states "classroom instruction by school personnel or third parties on sexual orientation or gender identity may not occur in kindergarten through grade 3 or in a manner that is not age-appropriate or developmentally appropriate for students in accordance with state standards."
That legislation has been labeled the "Don't Say Gay" bill by Democrats, even though those words do not appear anywhere in its text.
The Florida governor and presidential candidate was responding to controversy over the weekend stemming from an event where the pride flag was flown in the middle of two American flags, sparking a firestorm on social media.
NAVY OFFICIALS CALLED CRITICS OF LGBTQ+ PRIDE EFFORTS 'BIGOTS' AND 'A**HOLES,' EMAILS SHOW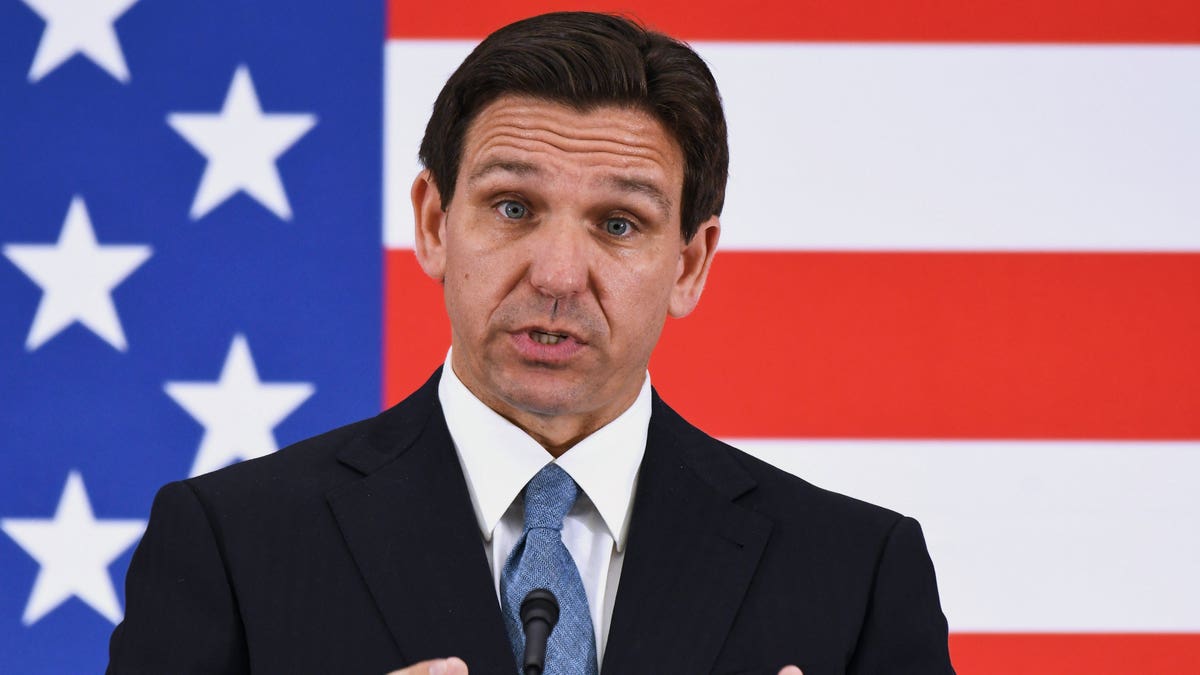 The incident also inspired Sen. Roger Marshall, R-Kan., to introduce a bill that would prevent federal buildings from flying any flag besides the United States flag, with a few exceptions.
Additionally, the White House was hammered by Republicans after video surfaced from the event showing two transgender activists topless at the event in videos posted on social media.
The White House on Tuesday acknowledged that the behavior of the activists was over the line.
CLICK HERE TO GET THE FOX NEWS APP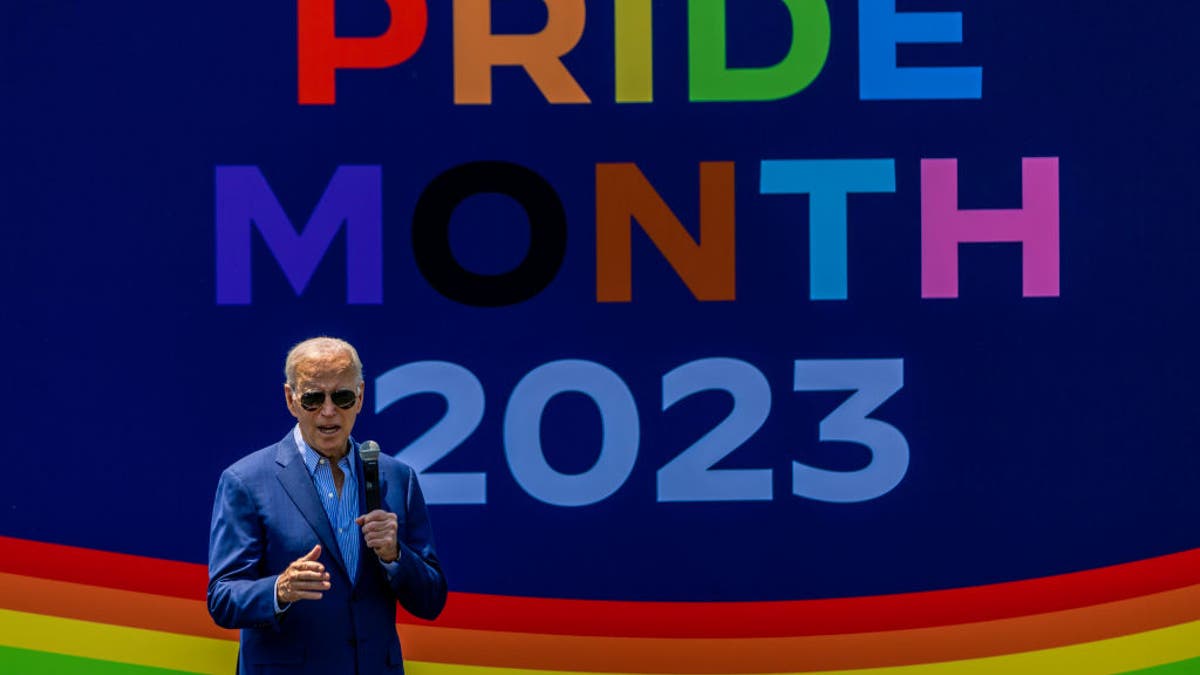 "The behavior was simply unacceptable," White House press secretary Karine Jean-Pierre said Tuesday. "It was unfair to the hundreds of attendees who were there to celebrate their families."
Speaking at a White House press briefing, Jean-Pierre said, "Individuals in the video certainly will not be invited to future events." The White House spokeswoman said the bare-chested display "was not a normal thing that has happened under this administration."
The Associated Press contributed to this report.