For the 11 million illegal immigrants in the U.S. who otherwise stay out of trouble, the chances of being deported are less than 1 percent, according to new figures released by the Department of Homeland Security.
The new figures show a dramatic four-year decline in the number of deportations carried out by the Obama administration, from more than 409,000 in 2012 to just 235,000 in fiscal 2015.
The numbers represent the fewest deportations since 2006.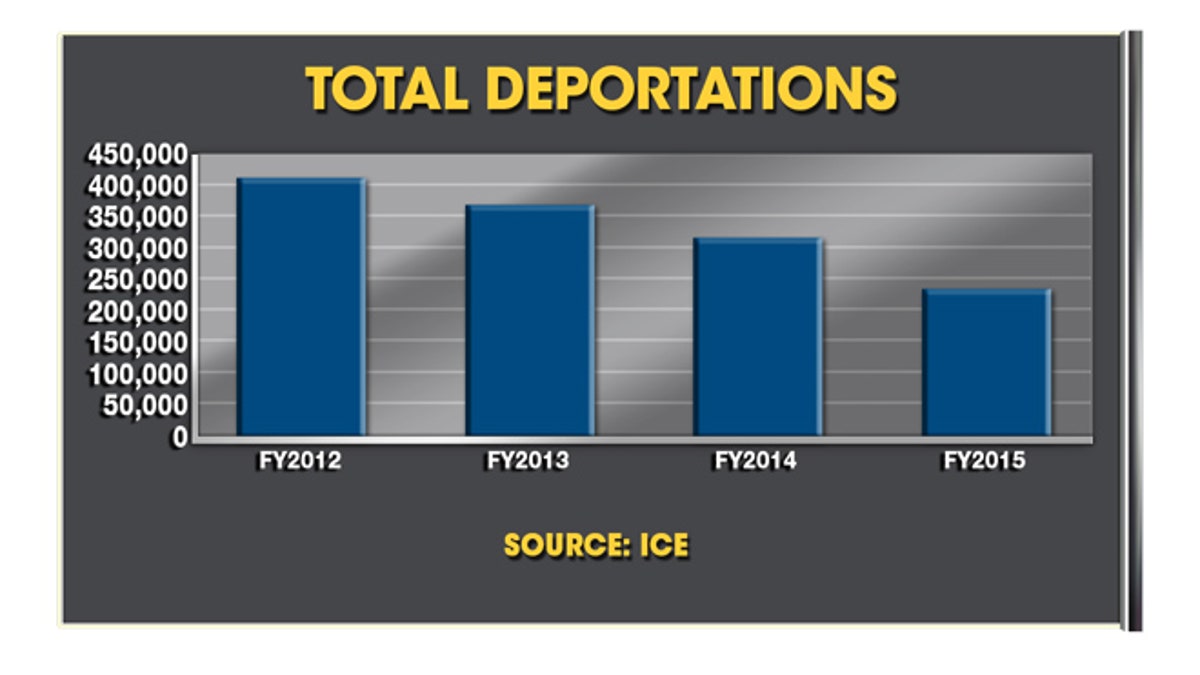 During President Obama's first term, some Latino groups branded him the "deporter in chief" – yet other critics of the administration's enforcement approach say the second-term figures show he's anything but, as his executive actions and other policies take effect.
"It's a way to reduce your immigration enforcement without going through the legislative process of changing the law," said Claude Arnold, former Immigration and Customs Enforcement agent in charge of Southern California, referring to those policies. "It's a way of doing a pseudo-amnesty without legislatively doing an amnesty."
Arnold stressed that deportation numbers are down in two key categories: criminals and interior enforcement.
On the first, Obama has emphasized throughout his two terms that he is focused on deporting "criminal aliens." Yet the new numbers show criminal alien deportations declined 27 percent from last year, from 86,923 to 63,127 in 2015.
Interior enforcement refers to immigrants arrested away from the border or a port of entry. But of the 69,478 deported under that category, 91 percent were previously convicted of a crime. That means just 5,939 illegal immigrants – who had not otherwise committed a crime -- were deported from U.S. cities and towns in all of 2015.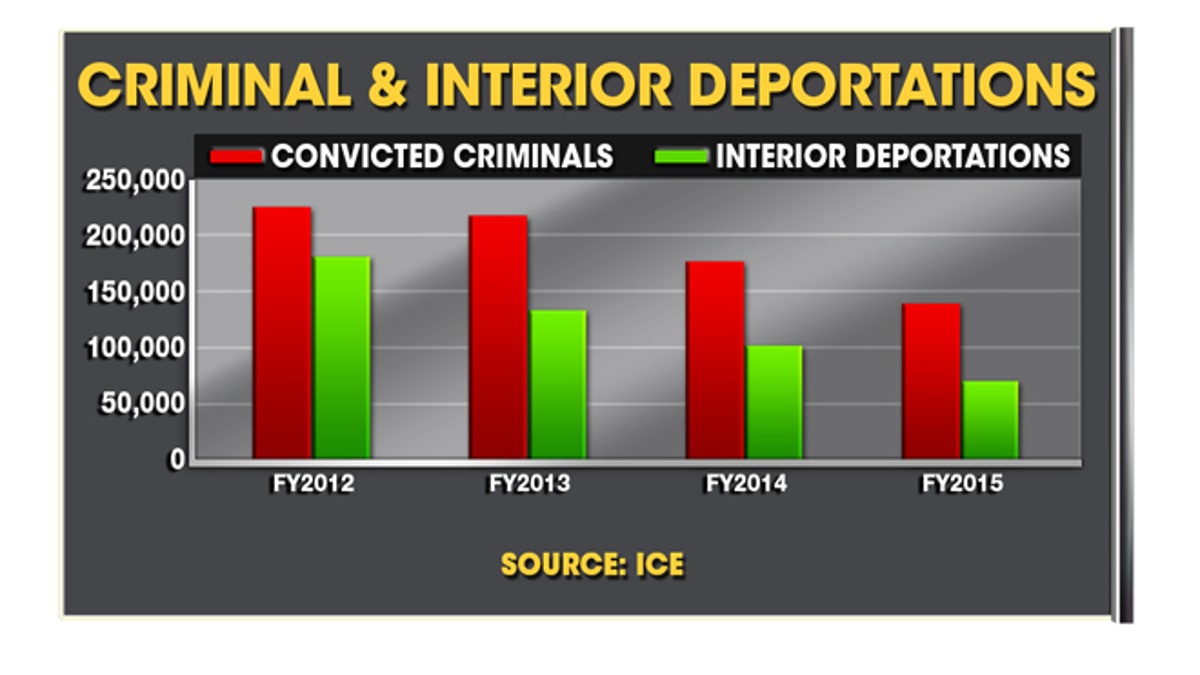 That represents fewer than .5 percent of the 11 million living in the U.S., underscoring critics' contention that most illegal immigrants do not have to fear deportation.
"You have the resources to do it, those resources should be dedicated to not just removing criminal aliens but anyone else," said Arnold, who spent 27 years at ICE. "The fact is, someone doesn't want those laws enforced and it's plain to see."
Arnold said the new figures date back to 2012, when the administration announced a policy of "prosecutorial discretion," saying it would pick and choose who to deport based on a number of factors rather than broadly enforce immigration law against any violator.
Homeland Security Secretary Jeh Johnson, in a written statement, referred to those changes. "Last year's removal numbers reflect this department's increased focus on prioritizing convicted criminals and threats to public safety, border security and national security," he said.
In testimony before a Senate Judiciary Committee hearing on Dec. 2, ICE Director Sarah Saldana said that she was "proud of the numbers."
However, Jessica Vaughan, director of policy with the pro-enforcement Center for Immigration Studies, told the committee, "These abysmal deportation numbers are the result of deliberate policy choices made by President Obama to dismantle immigration enforcement, all the while telling Congress and the public that he was accomplishing 'record' deportations."
Despite the latest statistics, DHS reportedly is planning to launch deportation raids against families who have entered the U.S. since the start of last year. The Washington Post reported that the proposed raids do not yet have final approval and have been a focus of fierce debate inside the Obama administration.