Debt Limit Deal Needed by Mid-July to Avoid Default, Democratic Source Says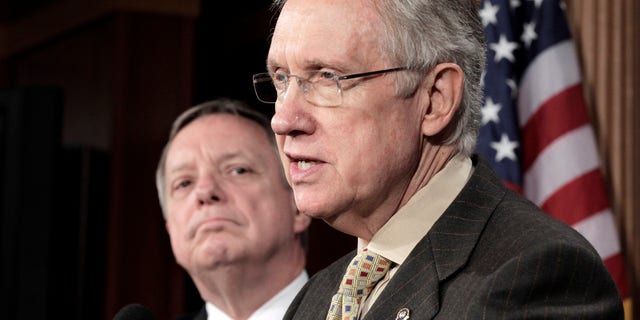 NEWYou can now listen to Fox News articles!
With the Obama administration warning that the U.S. could default on its debt for the first time if Congress doesn't raise the the nation's $14.3 trillion borrowing limit by Aug. 2, a Democratic official with knowledge of the debt talks says a deal is needed in the next two to three weeks to allow time for procedural hurdles.
"If the markets start to react, then we've waited a day too long," the official told Fox News, noting that the GOP-led House has a three-day rule for passing bills.
This official said a deal is needed by July 22, nearly two weeks earlier than the Treasury deadline, though some on Capitol Hill have called the Treasury's date a scare tactic to push a deal. Treasury Secretary Tim Geithner has extended the deadline three times in the past.
Republican lawmakers have said they had received indications that Aug. 2 isn't a firm a deadline, something the White House disputes.
Talks between the White House and Republicans leaders stalled last week over tax hikes that Democrats want to impose on the highest-earning Americans. The White House wants to raise about $400 billion by collecting more tax revenues by eliminating some subsidies and high-end tax breaks, but Republicans are opposed to anything that can be perceived as a tax increase.
President Obama on Wednesday chided Republicans for taking so many breaks in negotiations with a debt crisis hanging in the balance, prompting Senate Majority Leader Harry Reid to cancel next week's July 4 recess.
Senate Republican leader Mitch McConnell on Thursday invited the president to meet with him at the Capitol.
"That way, he can hear directly from Republicans why what he's proposing won't pass," he said on the Senate floor. "And we can start talking about what's actually possible."
But Obama was headed to Philadelphia to attend Democratic fundraising events. White House spokesman Jay Carney defended Obama's no-show, saying McConnell had merely "invited the president to hear what would not pass. That's not a conversation worth having."
The president has proposed nearly $900 billion in spending cuts while Republicans want $1.7 trillion. Obama's proposal amounts to roughly a 10 percent decrease because current discretionary spending is $1.05 trillion, half of which is defense, the official said.
Increasing the current borrowing limit by about $2.4 trillion would carry the government until the end of 2012 -- thereby avoiding another congressional vote on the issue until after the next presidential and congressional elections. Republicans have insisted on coupling any extension with at least an equal amount of budget savings.
A senior Senate Democratic source told Fox News, "There is definitely an extension through 2012 up for discussion."
A number of Democratic senators have said anything shorter is not yet being seriously considered.
"We have to look at something longer term, like through 2012, which gets it right out of presidential politics," said one senior Democratic senator who agreed to talk about strategy only on background. "The window for action is really closing fast.
The stakes of the debate were underscored when a Standard & Poor's executive said the credit-rating agency would give the government its lowest rating should lawmakers fail to agree on raising the borrowing limit and cause a federal default.
Should that occur, S&P would drop the U.S. rating of AAA to D, John Chambers, managing director of sovereign ratings for the company, said on Bloomberg Television.
The United States pays an average of about 3 percent on its existing debt, according to the Treasury Department. In 2010, that added up to $197 billion in interest payments.
The nonpartisan Congressional Budget Office projects interest paid will rise to $463 billion by 2015. That's under the assumption that the U.S. keeps its AAA credit rating. A D rating would force the government to pay sharply higher interest rates.
Lou Crandall, chief economist at Wrightson ICAP, noted that one of the biggest challenges if the U.S. defaults would be finding enough investors who could buy junk-rated bonds. Pension funds and other institutional investors who buy a large number of Treasurys aren't generally allowed to buy securities with such low credit ratings.
Fox News' Wendell Goler, Mike Emanuel, Trish Turner and The Associated Press contributed to this report.