D.C. officials gear up for weekend of protests as Friday rallies turn violent
While the protests on Inauguration Day turned violent – police in riot gear were called out to disperse angry crowds that were smashing the window of downtown businesses – the number of people on the streets protesting the Trump administration on Friday is far smaller than what is expected on Saturday.
Mega-rallies are being planned in the District of Columbia and across the country the day after the inauguration. One, the Millennials March, is hoping to round up at least 1 million protesters.
But that rally is likely to be dwarfed by the Women's March, which is being billed as a rally to defend women's rights after what organizers described as an election cycle filled with offensive rhetoric. Organizers say that the march, which will have tandem events in over 250 cities across the country, is in opposition to the new administration's potential impact on women's rights.
"As witnessed by the recent election, there has been a profound deepening of the divisions in our country," said a statement from organizers of the Women's March on Washington. "Etched in history; these divisions cleave us from one another across the lines of racial, ethnic, religious, and sexual identity. We seek to address these divisions and stand together in the face of injustice. Together, we will raise our voices in the service of all people."
Hollywood celebrities, who largely shunned President Donald Trump's inauguration, are expected to show up in big numbers to jump on the protest bandwagon.
Big names expected to attend include singers Katy Perry and Cher, comedian Amy Schumer and actresses Scarlett Johansson, Julianne Moore, Debra Messing and Patricia Arquette, among others.
Organizers estimate that at least 200,000 people will attend the march, though Washington, D.C. officials say they anticipate at least double that amount. Some estimates say as many as 900,000 protesters could clog the streets on Saturday.
"D.C. does First Amendment events every day, so we're ready," D.C. Director of Homeland Security Christopher T. Geldart told FoxNews.com on Monday. "Many times when we have groups running First Amendment events, we have other groups coming to counter them – but they're also exercising their First Amendment rights."
Geldart said the District has had its entire police department on 12-hour shifts since Thursday, along with 5,000 National Guardsmen and 3,000 additional law enforcement officials from across the country.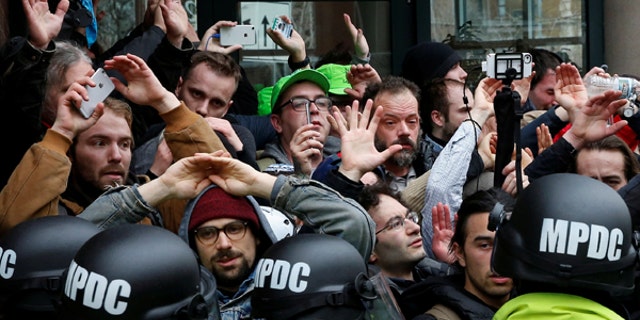 The Women's March is set to start near the U.S. Capitol on Saturday morning and is meant to send what organizers describe as "a bold message" to the 115th Congress and Trump that "women's rights are human rights."
Satellite events will be held at the same time in 270 cities across the globe. All 50 states and Puerto Rico are confirmed to have at least one grassroots-led march that day, as well as cities around the world, including Tokyo and Paris, according to Women's March on Washington organizers.
One of the 300 "sister marches" across the country and world will be led by comedian Chelsea Handler in Park City, Utah.
Scores of people were arrested on Friday for vandalizing businesses and even torching a car, a police official said. Spectators reported being attacked, the official said.
DisruptJ20 held rallies for a majority of the day at McPherson Square and other locations. The group vowed to "paralyze" Washington D.C. and shut down security checkpoints to disrupt the inaugural parade.
A supporter of President Trump said he was not letting the protesters ruin the historic day.
"They're just here to stir up trouble," Brett Ecker, a public school teacher, told The Associated Press. "It upsets me a little bit that people choose to do this, but yet again, it's one of the things I love about this country."