Complex Medicaid And Medicare Eligibility Issues Mired In Controversial Immigration Debate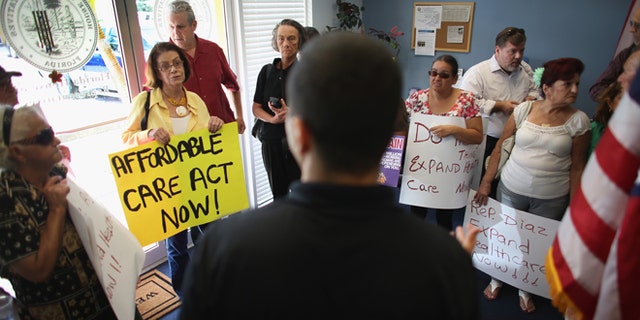 People typically mix up Medicare and Medicaid, the former guarantees access to health care insurance for senior citizens, while the latter provides health care to low-income families.
As if that's complicated enough, the fact that both programs are now getting entangled in the ever-thorny national immigration debate is likely to muddy the waters even more.
In its latest budget proposal unveiled Tuesday, the Obama administration is attempting to crack down on older people in the country illegally who are improperly receiving Medicare benefits. Even if they've worked and paid taxes, the government isn't supposed to pay the medical bills of undocumented immigrants.
Daniel R. Levinson, inspector general of the Department of Health and Human Services, told the New York Times this week that having undocumented immigrants "involuntarily disenrolled" will save $67 million over the next five years.
The administration also wants to reduce Medicare payments to nursing homes and home health agencies, which generally have higher profit margins than doctors and hospitals do.
But a potentially more explosive issue, politically, is playing out in states that declined to expand their Medicaid coverage.
Legal immigrants to the United States whose income is under the federal poverty level – $11,400 for individuals and $19,530 for a family of three – have to wait five years before they can enroll in Medicaid, so the Affordable Care Act, commonly known as Obamacare, grants them subsidies to sign up through the state and federal health care marketplaces.
Trouble is, U.S. citizens don't get that discount made available to legal immigrants.
Under Obamacare, they would qualify for Medicaid instead, but not necessarily in the dozen states that opted out of the expanded Medicaid provision.
In Florida, for instance, according to the Miami Herald, the Medicaid cutoff for a family of three is 38 percent of the poverty level ($7,421), and no low-income non-parent qualifies.
"It doesn't matter where you are on the immigration issue," Republican state senator Rene García from Hialeah told the Herald. "It's a fairness issue."
Garcia introduced a bill into the Florida senate to reverse course and accept Medicaid expansion. Similar measures are being introduced in Arkansas and Iowa.
In Arizona, the Republican governor, Jan Brewer, a vociferous opponent of Obamacare, opted to accept the Medicaid expansion last year. According to documents obtained by the Associated Press, the decision was based at least in part because she was alerted by budget advisers to the fact that "only legal immigrants, but not citizens [below the federal poverty line] would be eligible for subsidies."
"Very few are aware of that component of the law," Florida state senator García told the Herald. "When they realize it is there, it may change some mindsets."
Not everyone agrees.
"It's hard to see there would be any traction for anyone on this issue," Joseph Antos of the American Enterprise Institute, a conservative think tank, told the newspaper. "There's a lot of sensitivity, not just about immigration but there is also an element of racial issues and discrimination."
Critics of the expansion argue that the federal government will stop paying 100 percent of the Medicaid payments after three years, leaving states in an impossible financial situation.
And the bugs that have afflicted healthcare.gov, the online portal for Obamacare, are also contributing to the problem.
"If you are in a non-expansion state," Shelby Gonzales, senior policy analyst with the Center for Budget and Policy Priorities, said, "[the website] will say you are not eligible for Medicaid or the subsidies."
Follow us on twitter.com/foxnewslatino
Like us at facebook.com/foxnewslatino