Comey memos shared more broadly than previously thought
The James Comey memos that leaked to the media and were a catalyst for the appointment of Special Counsel Robert Mueller were more widely shared than previously known, three sources familiar with the matter tell Fox News.
Sources identified former U.S. Attorney and special counsel Patrick Fitzgerald as the likely recipient, and did not rule out a third individual, in addition to Columbia law professor Daniel Richman, who shared contents with the media. The memos documenting Comey's private conversations with the president are now the subject of a Justice Department Inspector General review over the presence of classified information.
Patrick Fitzgerald is a longtime friend of Comey's and now his lawyer, as first reported by Talking Points Memo. Fitzgerald did not respond to emails or a voicemail seeking comment.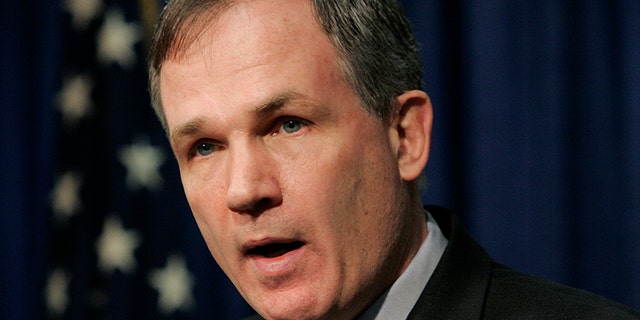 Fox News asked Fitzgerald how many memos he received, if Comey, Richman or a third party provided them, whether they were stored securely because of classified contents, and whether the FBI took steps -- to include his personal and business electronics -- to mitigate the spill of classified information.  In the event he did not receive any Comey memos, Fitzgerald was invited to provide an on the record statement to Fox News.
The publisher of Comey's book, "A Higher Loyalty," did not respond to Fox News' questions. An FBI spokesperson offered no comment.
During his June 2017 Senate testimony, after President Trump fired him, Comey did not describe Richman as an FBI employee, and seemed to give no public indication the memos were shared more broadly. The former FBI director testified that he gave the memos, documenting conversations with the president, to Richman to kick-start what is now the Mueller probe.
"I asked a friend of mine to share the content of the memo with a reporter. Didn't do it myself, for a variety of reasons. But I asked him to, because I thought that might prompt the appointment of a special counsel," Comey told Sen. Susan Collins, R-Maine, who asked who it was. "A good friend of mine who's a professor at Columbia Law School."
On Tuesday, Richman confirmed to Fox News he worked for Comey at the FBI as a "special government employee" -- known by the shorthand SGE -- on an unpaid basis. Sources familiar with Richman's FBI work said Comey assigned him to  "special projects." Richman had a security clearance and badge access to the FBI building. Richman's employment was formalized through a memorandum of understanding.
COMEY'S MEMO LEAK CONTACT HAD 'SPECIAL GOVERNMENT EMPLOYEE' STATUS AT FBI
In his book, Comey wrote about Fitzgerald, his "close friend since our days in law school," and about appointing Fitzgerald as special counsel to investigate the leak of CIA operative Valerie Plame's identity.
Comey wrote that on the day Trump fired him, "All I knew was what was reported in the media.  After much scrambling, we learned that a White House employee was on Pennsylvania Avenue in Washington, trying to deliver a letter to me from the president.  I took a call from my wife, who said she and kids had seen the news.  I replied that I didn't know whether it was true and we were trying to find out what was going on.  Pat Fitzgerald called and I told him the same thing."
He also wrote, "The reasons for that firing were lies, but the letter was real. I felt sick to my stomach and slightly dazed."
Patrick Fitzgerald's name also was brought up during the Hillary Clinton email investigation in cryptic text messages between FBI agent Peter Strzok and FBI attorney Lisa Page.
On March 18, 2016, Strzok wrote --  "Thought of the perfect person D (Director Comey) can bounce this off of."
Page: "Who?"
Strzok: "Pat (redacted) You gotta give me credit if we go with him. (redacted) And delay briefing him on until I can get back and do it. Late next week or later."
Page: "We talked about him last night, not for this, but how great he is.  He's in private practice though, right? Suppose you could still bring him back.  And yes, I'll hold."
Strozk identifies Fitzgerald's law firm as "Skadden in Chicago", and then continues "Don't forget that Dad Comey appointed him as special counsel in the Plame matter, and that he was there for Comey's investiture. I could work with him again (redacted) And damn we'd get sh*t DONE.
Page: "I know. Like I said, we discussed boss and him yesterday."