James Comey's cryptic reference in his new book to "a development still unknown to the American public" involving then-Attorney General Loretta Lynch and the Hillary Clinton email probe is sparking furious speculation inside and outside the Beltway.
According to ABC News, Comey writes in "A Higher Loyalty: Truth, Lies and Leadership," that he became the public face of the investigation partly because of the mysterious development which he felt could cast "serious doubt" on Lynch's independence.
"Had it become public, the unverified material would undoubtedly have been used by political opponents to cast serious doubt on the attorney general's independence in connection with the Clinton investigation," Comey writes, according to ABC. He calls the material a "development still unknown to the American public to this day."
Any revelation that Lynch might have been biased in favor of Clinton won't surprise Trump supporters, but what exactly Comey means is a tantalizing mystery. The only details Comey offers is that the U.S. government became aware of information from a classified source in earlier 2016 -- both the source and the information is still classified.
Lynch fueled speculation she was running interference for Clinton when she met with former President Bill Clinton on her plane on the tarmac of a Phoenix airport in July 2016, just days before Comey announced that he would not be recommending charges against Clinton -- despite calling her handling of classified information "extremely careless."
EX-AG LYNCH: CLINTON TARMAC TALK WAS ABOUT 'INNOCUOUS THINGS'
Lynch said in an interview with NBC News this week that they discussed only "innocuous things" but acknowledged that her "speaking to the former president raised concerns in people's minds about whether or not there was going to be any impact on the email investigation."
Lynch was asked if she ever thought of recusing herself after the Clinton tarmac meeting.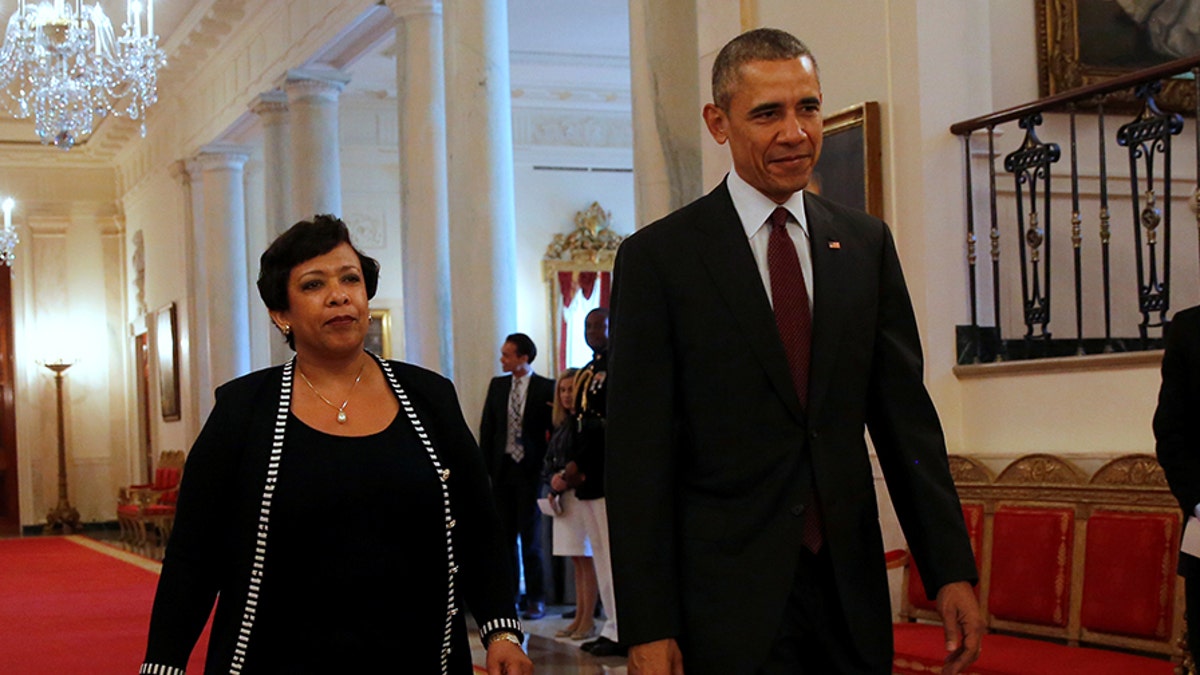 "What you do is you always consult the legal experts," Lynch said. "You always get a legal answer as to whether or not recusal is required. … And had it been, then that's what I would have done."
Rep. Trey Gowdy, R-S.C., said on "Fox and Friends" Friday that Comey's book was a hint at the real reason for his July press conference.
"There were a lot of things that called into question the legitimacy of that investigation, including what he's now making reference to, some of us have alluded to a lot in the past which is the real reason he had the July 5 press conference," he said. "It wasn't the tarmac, it was information he had about Loretta Lynch that if it became public, people would question their objectivity."
The New York Times first reported in April 2017 that the FBI received a batch of documents picked up by Russia as part of the country's hacking campaign. Those documents reportedly included a memo and email from a Democratic operative who expressed confidence that Lynch would keep the Clinton probe from going too far.
The Times reported that Comey believed that if Lynch closed the case and Russia leaked the document, it would raise doubts about the independence of the investigation. But former DOJ officials told the Times the FBI never uncovered evidence tying Lynch to the author of the document, and think Comey wanted an excuse to put himself in the spotlight.
Sen. Chuck Grassley, R-Iowa, subsequently asked Comey about the document at a Senate hearing, but Comey said he couldn't answer the question in that forum as it would call for a classified response.
Lynch did not immediately return a request for comment from Fox News on Friday.
According to ABC, Comey says he didn't sense that Lynch interfered with the investigation but said that the tarmac meeting between Lynch and Clinton also pushed Comey to give his own account of the Clinton probe.
But according to The Washington Post, Comey criticized Lynch's "tortured half-out, half-in approach" to the Clinton investigation and considered calling for the appointment of a special prosecutor.
Fox News' Catherine Herridge and Brooke Singman contributed to this report.