College plaque in Land of Lincoln labels Abe a 'Democrat'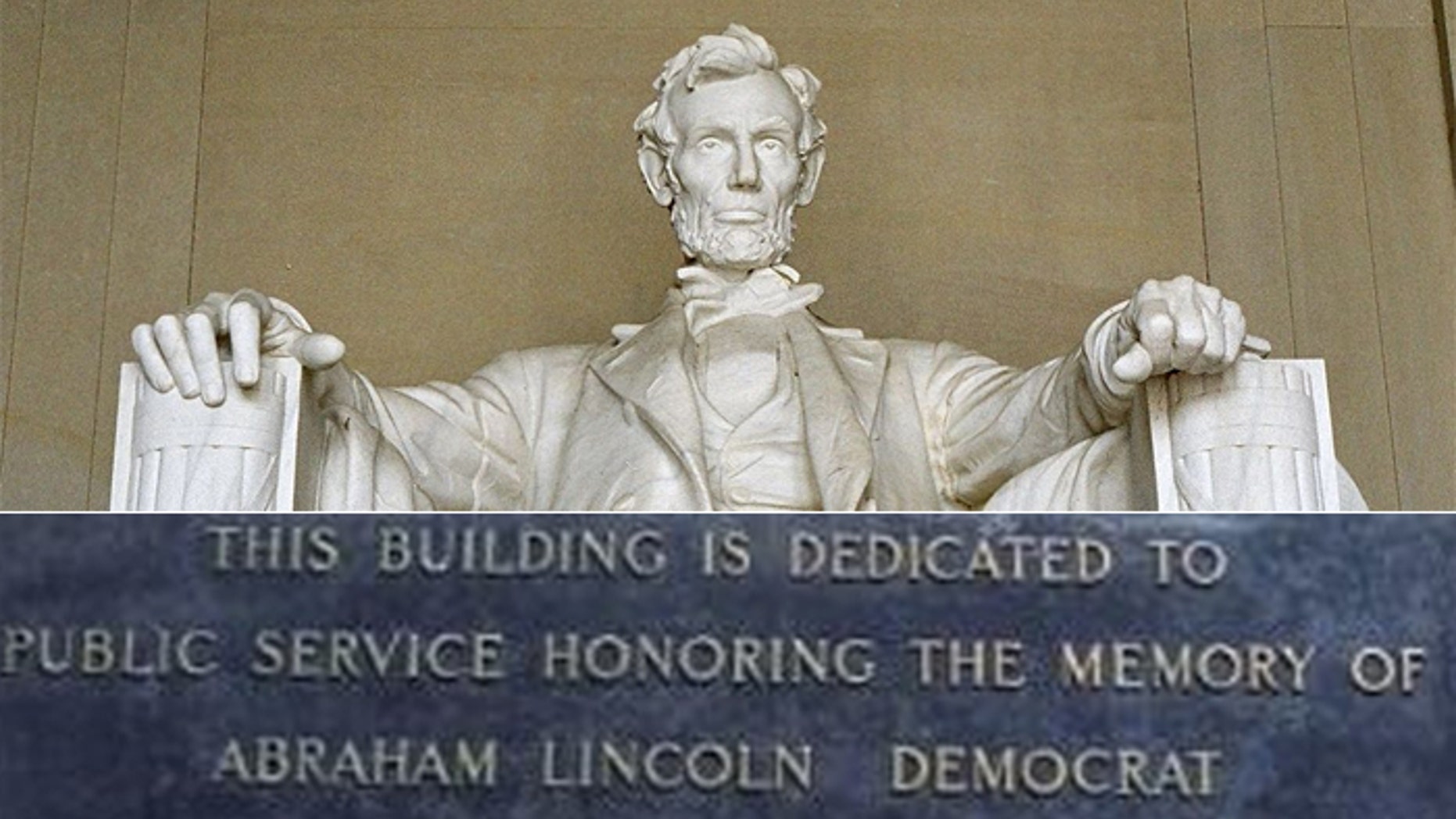 Abraham Lincoln, a Democrat?
So says a plaque at a public university in Lincoln's home state of Illinois, where, since 1905, students at Northeastern Illinois University in Chicago have seen the nation's 16th president — and quite possibly its most influential — honored as a democrat.
"This building is dedicated to public service honoring the memory of Abraham Lincoln," the inscription reads. "Democrat."
Lincoln, the son of Kentucky frontiersman who began his political career as a Whig Party leader, won the White House in 1860 as a Republican and was later re-elected in 1864 before being assassinated on April 14, 1865. A synopsis of his political career at WhiteHouse.gov notes that Lincoln "built the Republican Party into a strong national organization" as president.
[pullquote]
But Northeastern Illinois University officials insist there's more to the word "democrat" at the Carruthers Center for Inner City Studies.
"From time to time, the integrity of a plaque honoring the memory of Abraham Lincoln is questioned," school officials said in a statement to The College Fix. "According to building archives, the word democrat was used because Lincoln was an advocate for democracy — the political or social equality of all people. The word was not chosen to reflect a political affiliation."
The building, which was initially designed by Frank Lloyd Wright for his uncle, the Rev. Jenkin Lloyd Jones, became a point of controversy when Jones and Wright disagreed about its design. In 1902, the project was handed off to Dwight Perkins, who made several alterations to Wright's original concept.
Then, in 1969, the Abraham Lincoln Center was purchased by the Illinois Board of Governors of State Colleges and Universities for Northeastern Illinois University. Since that time, the building has housed the university's Carruthers Center for Inner City Studies, now in its 47th year. The center is designed to be a place where students can focus on the "political, economic, cultural and social forces" that impact inner cities.
"The academic programs housed in this building promote political and social equality, the same values espoused by Abraham Lincoln," the statement continued. "Northeastern Illinois University recognizes the context that this plaque was created and intends to uphold its integrity."
One nonprofit group in the state, however, intends to see that the plaque be changed to better reflect Lincoln's political affiliation and legacy.
Charlie Kirk, founder and executive director of Turning Point USA, told FoxNews.com that the plaque represents "fallacious miseducation" in the purest form.
"It's very deceiving, especially in the political climate we're in," Kirk said Tuesday. "And since this is a publicly-funded university, we really felt that we had to do something."
Kirk said the plaque could be amended with a footnote or, better yet, replaced altogether.
"There are many different ways to go about it," Kirk continued. "We just want it replaced with one that's historically accurate."
FoxNews.com's Joshua Rhett Miller contributed to this report.