Clinton Says Saudi Women Are 'Brave,' Acting of Their Own Will For Driving Rights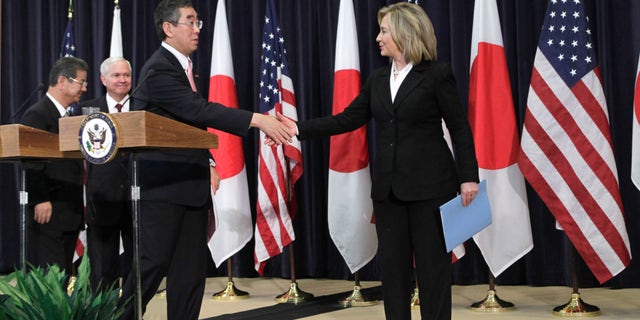 NEWYou can now listen to Fox News articles!
WASHINGTON -- Secretary of State Hillary Rodham Clinton on Tuesday lent her support to "brave" women in Saudi Arabia who are protesting the Islamic kingdom's ban on female drivers, making her first public comments on an issue that has become an irritant in complex ties between the U.S. and Saudi governments.
A day after the State Department said it was handling the issue through "quiet diplomacy" and not public pronouncements, Clinton praised the protesters, but stressed they are acting on their own, on behalf of their own rights, and not at the behest of outsiders like herself. Clinton's comments came after the activists appealed for her to use her position as America's top diplomat and standing as a well-known advocate for women's equality to speak out in support of their aim.
"What these women are doing is brave and what they are seeking is right, but the effort belongs to them," Clinton told reporters at a State Department news conference with Defense Secretary Robert Gates and their counterparts from Japan. "I am moved by it and I support them, but I want to underscore the fact that this is not coming from outside of their country. This is the women themselves, seeking to be recognized."
The protests have put the Obama administration, and Clinton in particular, in a difficult position. While Clinton and many other top U.S. officials personally find the Saudi ban on women drivers offensive, insulting and anathema to a modern and just society, the administration is increasingly reliant on Saudi authorities to provide stability and continuity in the Middle East and Gulf amid uprisings taking place across the Arab world. Thus, some officials have been reluctant to antagonize the Saudis over the driving issue.
On Monday, a coalition of Saudi activists urged Clinton to publicly support the campaign to end male-only driving rules in the ultraconservative Muslim country. The activists said they were dismayed by the fact that Clinton had remained silent on the matter, particularly after about 40 Saudi women last week challenged the restrictions by getting behind the wheels of cars. Although there were no arrests in that case, a woman driver was arrested last month and held before being released.
In response to questions about the appeal, State Department spokeswoman Victoria Nuland noted that Clinton had raised the matter with Saudi Foreign Minister Prince Saud al-Faisal in a phone call on Friday, but she declined repeated opportunities to be specific as to what the secretary had told him.
"She is making a judgment on how best to support universal human rights for women," Nuland said. "There are times when it makes sense to do so publicly and there are times for quiet diplomacy."
That explanation did not sit well with the activists who countered on Tuesday with a letter to Clinton that rejected the use of "quiet diplomacy" and renewed their call for public support.
"Secretary Clinton: quiet diplomacy is not what we need right now," the group known as Saudi Women for Driving said. "What we need is for you, personally, to make a strong, simple and public statement supporting our right to drive."
The activists said they understood the complexity of U.S.-Saudi ties but maintained that their movement is the largest women's rights campaign in Saudi history and its creation "constitutes a moment that calls for public diplomacy, a moment in which it is incumbent upon champions of women's rights like yourself to deviate from the norm."
Clinton said Tuesday that she and other U.S. officials had raised the matter "at the highest level of the Saudi government."
"We have made clear our views that women everywhere, including women in the kingdom, have the right to make decisions about their lives and their futures," she said. "They have the right to contribute to society and provide for their children and their families, and mobility, such as provided by the freedom to drive, provides access to economic opportunity, including jobs, which does fuel growth and stability."
"And it's also important for just day-to-day life, to say nothing of the necessity from time to time to transport children for various needs and sometimes even emergencies," Clinton said. "We will continue in private and in public to urge all governments to address issues of discrimination and to ensure that women have the equal opportunity to fulfill their own God-given potential."