Calderon Appeals for More U.S. Focus on Drug War Amid Fresh Violence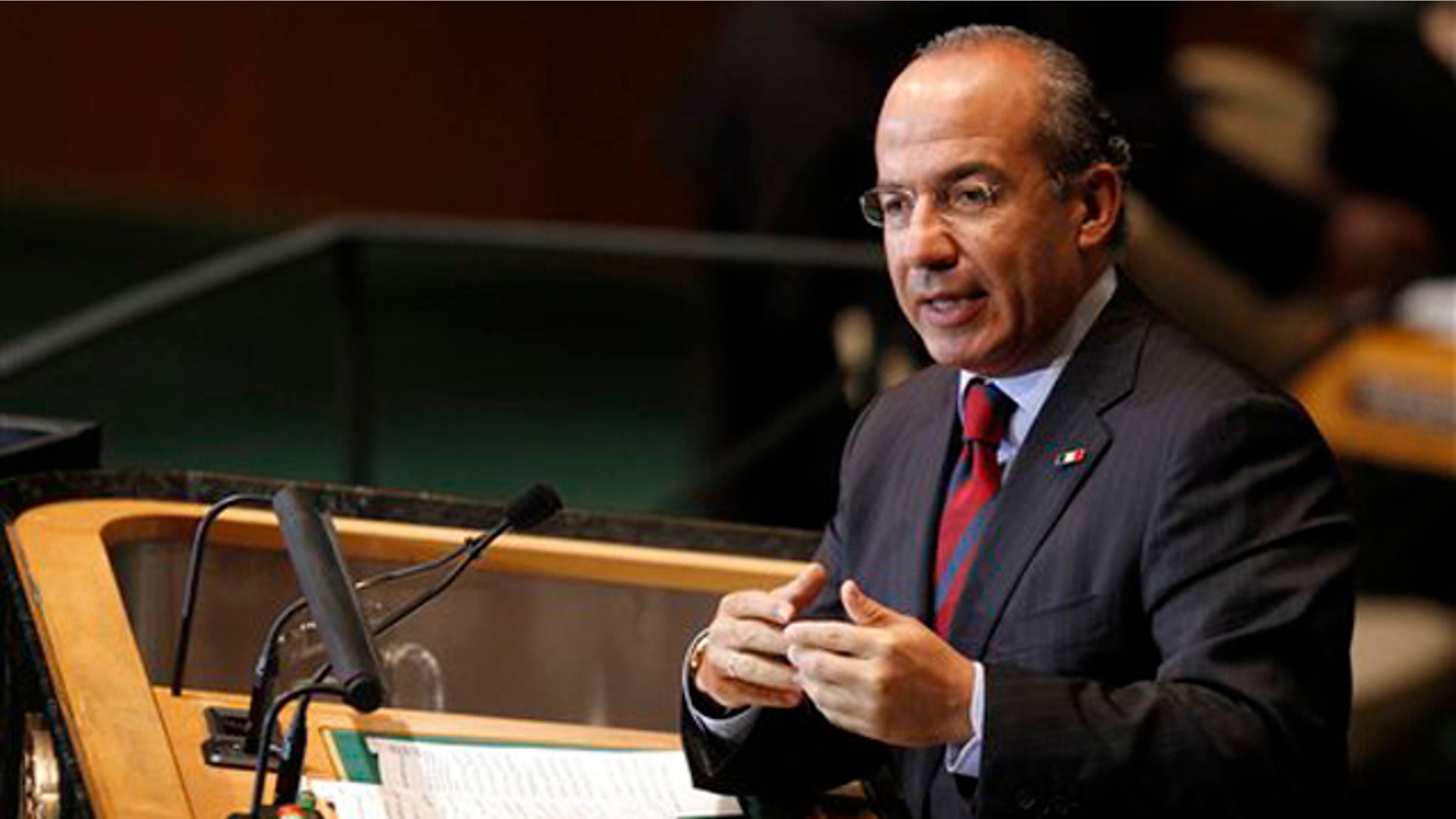 Mexican President Felipe Calderon is using his brief time in New York this week to cry out for greater cooperation from the U.S. in the drug war -- at a time when casualties from that war are being dumped in the streets while the Obama administration's attention is consumed by tumult in the Middle East.
At the U.N. General Assembly on Wednesday, Calderon said consumer nations must do more to reduce demand. He directed his criticism squarely at the United States in remarks two days earlier, blaming the violence in Mexico in part on the fact that the U.S. is the world's largest consumer of illegal drugs.
In response, the White House pledged to sustain "our historic level of cooperation with Mexico as we work to protect the public health and safety of citizens on both sides of the border."
But Calderon's remarks suggest he doesn't think the U.S. is doing enough to recognize and address the problem. The sentiment came tumbling out in August, after a deadly arson attack on a Monterrey casino that killed more than 50 people. At the time, Calderon declared the U.S. is also responsible for the "tragedy we are living in Mexico."
The fire was followed by another gruesome incident Tuesday, when suspected drug traffickers dumped 35 bodies on a road in the state of Veracruz.
While Obama issued a statement after the casino fire last month condemning the attack and affirming U.S. commitment to fighting the drug war, this week the president was busy with other pressing international matters.
He did not mention Mexico in his speech to the U.N. General Assembly on Wednesday, nor did he issue a written statement on the most recent violence. Calderon was not on the schedule for one-on-one meetings with the president in New York -- instead, Obama and his advisers were scrambling to head off a Palestinian statehood vote. He spent the day meeting separately with Israeli Prime Minister Benjamin Netanyahu and Palestinian Authority President Mahmoud Abbas, as well as European allies and other officials. His meetings reflected a focus on the Middle East peace process, the Libyan revolution and the Afghanistan war, but not a drug war in Mexico.
"My government has been working with President Obama's administration with increased cooperation. However, it is necessary as a part of a wider debate to address a key issue -- the American demand for drugs," Calderon said in remarks Monday, according to a transcript. "Our neighbor is the largest consumer of drugs in the world. And everybody wants to sell him drugs through our door and our window. ... We need to increase our cooperation and devise much more effective regional responses to this threat to our democracies and our societies."
He lamented the demand for drugs in the U.S., as well as the availability of weapons - he claimed 85 percent of weapons seized over the last five years by his government were sold in the United States. Obama administration officials have acknowledged the role that U.S. guns and demand for drugs plays in Mexico's battle against cartels -- though Obama has said he will not push for a new assault weapons ban. The scandal over a U.S. program that allowed illegal weapons to "walk" across the border has also raised serious questions in Mexico about the methods the country is using to address the problem.
As he has before, Calderon also suggested this week that officials look at "market alternatives" to reduce demand -- a term some have suggested is a reference to legalization.
If nothing else, Calderon's remarks reflect a frustration over the course of the military crackdown he has waged on the cartels since taking office. Cartel violence has been blamed for more than 40,000 deaths since 2006.
Though the campaign may not be at the same priority level as the Israeli-Palestinian peace process, the White House says it's making a profound effort to work with Mexico and reduce demand.
"The Obama administration is working in unprecedented ways to address both the consumption and supply sides of this challenge because we know each feeds on the other," Rafael Lemaitre, a spokesman for the Office of National Drug Control Policy, said in an email to FoxNews.com, praising Calderon's fight as a "vivid demonstration that we are not powerless against our shared drug problem."
He said drug use in the U.S. has fallen by 30 percent over the last three decades.
"Our commitment is serious and unwavering. Last year alone, we provided more than $10 billion in drug education and treatment programs to reduce drug use. These efforts will not only make the United States healthier and safer, but reducing U.S. consumption denies the revenues that fuel violence and organized crime," Lemaitre said.
The U.S. also just supplied Mexico with three Black Hawk helicopters for its drug cartel fight. The assistance was part of the 2007 Merida Initiative, an agreement through which more than $1.5 billion has been committed to Mexico from the U.S. for the drug war. The U.S. has also tried to step up efforts along the border to intercept traffickers.
But on the drug prevention and demand side, recent statistics show U.S. hunger for illegal drugs is not abating.
According to the 2010 National Survey on Drug Use and Health, nearly 23 million Americans were estimated as "current" illicit drug users -- meaning they had used an illicit drug within one month prior to the survey. That represents 8.9 percent of Americans age 12 and older, up slightly from 2009 and 2008, when the rate was 8 percent. The number of marijuana users has gone from 14.4 million in 2007 to 17.4 million in 2010. Drug czar Gil Kerlikowske said in a statement earlier this month while there were no "significant increases" in drug use, it "remains at unacceptable levels."