5 things to know about Brett Kavanaugh
Long before Judge Brett Kavanaugh was thrust into the national spotlight as his nomination to the Supreme Court became bogged down by decades-old accusations, he was well known in Washington circles.
Kavanaugh, 53, who was confirmed to court on a 50-48 vote on Oct. 6, is a graduate of Yale Law School and a former clerk to Justice Anthony Kennedy, whose retirement from the nation's highest court left the open seat on the bench Kavanaugh will fill.
With approximately 300 opinions issued in 12 years as a judge and a raft of legal articles and speaking engagements, Kavanaugh was the most prolific of the nominees Trump was said to be considering for the role.
His confirmation was all but certain until a few women publicly came forward to accuse Kavanaugh of engaging in sexual misconduct during parties and social gatherings in high school and college. Christine Blasey Ford, a California psychology professor, testified before the Senate Judiciary Committee regarding her allegations.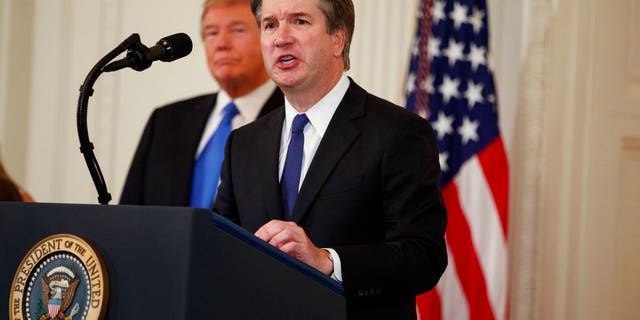 Ford claimed Kavanaugh held her on a bed, attempted to forcibly remove her clothes and covered her mouth with his hand while at a house party in the early 1980s. Kavanaugh has repeatedly – and at times emotionally – denied the allegations.
Read on for a look at Kavanaugh's career.
He worked on the investigation that led to Clinton's impeachment
Kavanaugh co-wrote independent counsel Kenneth Starr's report in the 1990s. He laid out the legal framework supporting Clinton's impeachment for his affair with then-White House intern Monica Lewinsky. Clinton could have been impeached for misleading the public and lying to staff members, Kavanaugh argued then, according to The New York Times. However, he later wrote that he thought presidents shouldn't have to deal with criminal investigations or civil lawsuits while in office.
Kavanaugh's abortion stance has been highly scrutinized
Kavanaugh has never directly ruled on abortion as a judge, so it's unclear how he would decide the subject. He did, however, dissent on an appeals court decision that allowed a pregnant undocumented teenager in federal custody to have an abortion.
KAVANAUGH CONFIRMATION DERAILED BY SEXUAL MISCONDUCT ALLEGATIONS: A LIST OF HIS ACCUSERS
During his confirmation hearing, Kavanaugh called Roe v. Wade an "important precedent" that has been "reaffirmed many times." He was questioned about his stance on abortion multiple times by lawmakers.
He has close ties to the Bush family
Kavanaugh was nominated to the federal appeals court by former President George W. Bush, who said he selected Kavanaugh "because of the force of his mind, the breadth of his experience and the strength of his character."
Serving as a lawyer and staff secretary during the Bush administration, Kavanaugh traveled in top D.C. legal and political circles, earning the confidence of key players such as Karl Rove. He's also married to Bush's former personal secretary, Ashley Estes Kavanaugh, and has two daughters.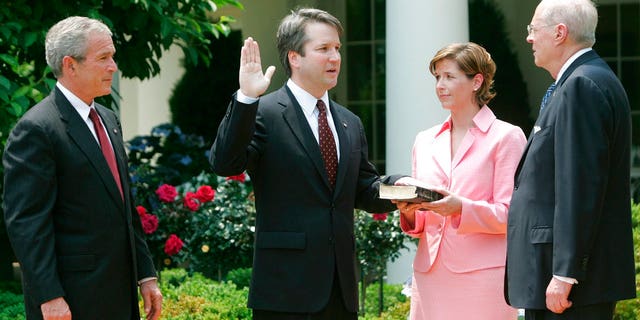 Bush said Trump's choice to nominate Kavanaugh was "an outstanding decision."
"Brett is a brilliant jurist who has faithfully applied the Constitution and laws throughout his 12 years on the D.C. Circuit," Bush said. "He will make a superb Justice of the Supreme Court of the United States."
Kavanaugh credits his mother for his career path
Kavanaugh, as an only child, points to his mother, Martha, for his career trajectory.
Martha Kavanaugh taught high school history before returning to school for her law degree. She later became a prosecutor and a judge in Maryland.
"She's instilled in me a commitment to public service and a respect for the rule of law that I've tried to follow throughout my career," Kavanaugh said at his 2006 Senate confirmation hearing for a spot on the U.S. Court of Appeals for the District of Columbia Circuit.
He ran the Boston Marathon
An avid runner, Kavanaugh lists his two Boston Marathon finishes on his court website biography: 3:59:45 in 2010 and 4:08:36 in 2015. His team, D.C. Circuitry, regularly wins medals in an annual 5K charity race along the Anacostia River.
The judge currently coaches his daughters' basketball teams. Kavanaugh also has tutored children at a D.C. elementary school, volunteered for Catholic charity groups and is a regular participant in services at his Catholic church.
Fox News' William Mears, Matt Richardson, Adam Shaw and The Associated Press contributed to this report.