Brazil President Dilma Rousseff asks for patience amid weak economy, corruption scandal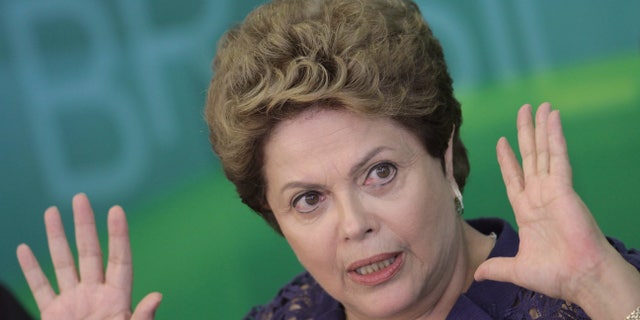 NEWYou can now listen to Fox News articles!
RIO DE JANEIRO (AP) – President Dilma Rousseff on Sunday asked Brazilians for patience as the country deals with a flagging economy and a widening corruption probe involving the state-run oil company and dozens of top politicians.
In a nationally televised address, Rousseff said her government will move to fix a serious fiscal problem after posting a primary budget deficit for the first time in more than a decade. She insisted the economic hurdles are only temporary.
"You have every right to be angry and worried, but I ask for patience and understanding because this situation is temporary," she said in the 15-minute message.
Brazil's president briefly mentioned a kickback investigation involving state oil giant Petrobras that has kept the country on edge for days. Last week, the attorney general expanded the probe to include 54 top politicians, in perhaps the most anticipated step in the Petrobras corruption saga.
Rousseff assured the country that she has learned she must "bring the corrupt to justice with a heavy hand."
Prosecutors say the country's largest construction and engineering firms paid at least $800 million in bribes and other funds to Petrobras' executives and politicians in exchange for inflated contracts.
Rousseff has not been implicated in the scandal but her popularity has suffered because of how close she was to Petrobras, leading its board for several years. In some cities, residents banged pots and shouted against Rousseff as her message was playing in their living rooms.
The scandal is creating friction between the president and the legislative chambers, including among Rousseff's allies who feature prominently on the list of politicians under scrutiny. The legislative conflicts are playing out as Brazil desperately needs to pass bills to reduce tax breaks and decrease its debt.
Analysts say Brazil's economy is stalling into recession and some fear the country's sovereign debt could lose its coveted investment-grade status, as the Petrobras investigation spreads across vital industries and ensnares powerful politicians.
Credit-rating agency Moody's Investors Service downgraded the company to junk status in February citing an "increasing concern about corruption investigations."
In an apparent plea for unity to pass needed legislation, Rousseff said in her address that she is "sure that we will have the decisive participation of the national congress, which has always fulfilled its historic role in the moments Brazil needed."