Bolton threatens to pull aid for 'unproductive' UN missions in Africa, vows reform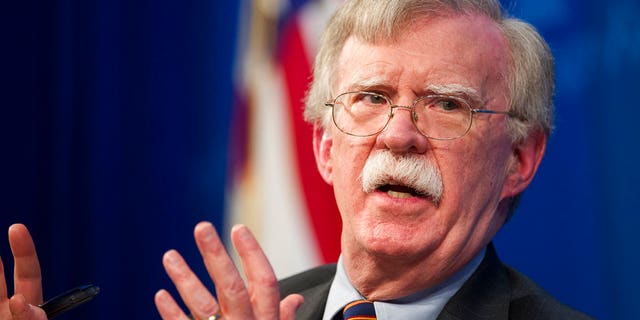 National Security Adviser John Bolton announced the Trump administration's strategy for Africa on Thursday, warning that the U.S. would no longer support "unproductive" United Nations peacekeeping missions, and promising to advance U.S. interests on the continent.
"The United States will no longer provide indiscriminate assistance across the entire continent, without focus or prioritization," Bolton, a former U.N. ambassador, said in a speech at The Heritage Foundation in Washington, D.C. "And, we will no longer support unproductive, unsuccessful, and unaccountable U.N. peacekeeping missions. We want something more to show for Americans' hard-earned taxpayer dollars."
The strategy struck an "America First" tone, a cornerstone of the administration, and Bolton promised that every decision, policy and dollar of aid "will further U.S. priorities in the region."
As part of the strategy, he said the administration is developing a "Prosper Africa" initiative to support U.S. investment in Africa, advance trade links, grow the African middle class and "improve the overall business climate in the region."
The strategy also seeks to challenge increasing Chinese and Russian influence in the region, countries Bolton accused of "deliberately and aggressively targeting their investments in the region to gain a competitive advantage over the United States.
But Bolton in particular focused on making U.S. investment in the continent worthwhile, and was critical of the status quo. He said that the State Department and USAID spent about $8.7 billion in 2017 in development, security and aid to Africa, but that decades of U.S. investment had not stopped Islamic terrorism, gains from China and Russia, or encouraged regional development.
"From now on, the United States will not tolerate this longstanding pattern of aid without effect, assistance without accountability, and relief without reform," he said.
As an example, he said that the U.S. is currently reviewing its aid to South Sudan, promising not to give more U.S. resources to a government he said was led by "morally bankrupt leaders" who perpetuate violence and suffering in the conflict-torn nation. He also focused on support for peacekeeping operations run by the U.N, where he argued that the operations have a habit of freezing a conflict, rather than resolving it.
BOLTON BRANDS CUBA, VENEZUELA, NICARAGUA A 'TROIKA OF TYRANNY' IN SANCTIONS ROLLOUT
In particular, he noted that the peacekeeping force in Western Sahara (MINURSO) has been there 27 years -- and he himself helped write the mandate in 1991 when he worked at the State Department as Assistant Secretary for International Organizations.
"All too often, establishing a peacekeeping force and deploying it is the end of creative thinking [at the U.N.]," Bolton said in a Q&A after his speech.
Both President Trump and outgoing U.N. Ambassador Nikki Haley have said that the U.S. will not be contributing more than 25 percent to the peacekeeping budget next year -- a budget the administration has pushed to decrease. The U.S. currently pays 28.47 percent of the $6.7 billion budget. Budget negotiations at the U.N. for next year's budget are expected to be completed by the end of the month.
In his remarks on Thursday, Bolton said that the U.S. will only support "effective and efficient operations, and we will seek to streamline, reconfigure, or terminate missions that are unable to meet their own mandate or facilitate lasting peace"
As part of a larger Africa strategy, Bolton said the administration's strategy would help African countries take control of their own economic and security needs.
"We are not among those powers that pursue dollars for dependency. However, we draw the line at funding causes that harm our interests and our citizens," he said.