Blumenthal Claims He Misspoke About Vietnam Military Record, Defends Service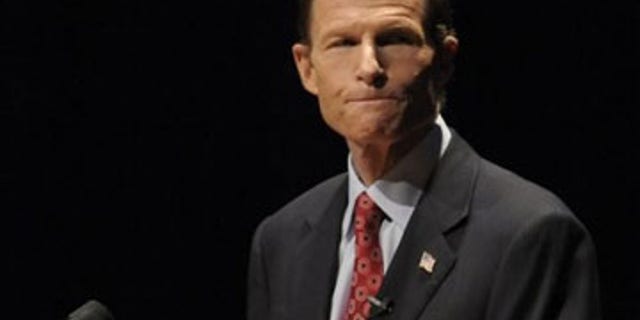 NEWYou can now listen to Fox News articles!
Connecticut Attorney General Richard Blumenthal, faced with allegations that he misled voters about his military service during the Vietnam War, on Tuesday acknowledged that he has "misspoken" about his record but described those instances as few and far between.
The New York Times reported that Blumenthal, the front-running candidate for U.S. Senate in his state, has on several occasions suggested -- and in at least one instance, flat-out claimed -- that he served in Vietnam even though he did not.
"On a few occasions, I have misspoken about my service and I regret that and I take full responsibility," Blumenthal said Tuesday. But he described those remarks as "absolutely unintentional," and said the mistake has only happened a few times out of "hundreds" of addresses he's given.
He said he was "proud" of his service in the United States Marine Corps Reserve.
"Unlike many of my peers, I chose to join the military and serve my country," he said. "I will not allow anyone to take a few misplaced words and impugn my record of service."
Blumenthal, a Democrat, is in a battle for the U.S. Senate seat held by retiring Sen. Chris Dodd. Linda McMahon of World Wrestling Entertainment fame, former Rep. Rob Simmons and financial analyst Peter Schiff are competing for the Republican nomination. Both McMahon and Simmons called the allegations in the Times report troubling.
Simmons, who is a Vietnam veteran, told Fox News the issue could put Blumenthal's campaign in "serious jeopardy." He said he was also offended that Blumenthal chose to hold his press conference at a local Veterans of Foreign Wars post. Blumenthal, who was invited to appear at the VFW, was surrounded by veterans who applauded and cheered him as he spoke and loudly scolded reporters who asked critical questions.
One reporter who asked whether Blumenthal thinks he should apologize was shouted down.
The New York Times report delivered a sudden jolt to the Connecticut race. Sen. John Cornyn, R-Texas, head of the National Republican Senatorial Committee, called it a "blockbuster revelation."
The newspaper reported that on several occasions, Blumenthal has referred to his service in Vietnam though he never actually served there.
"We have learned something important since the days I served in Vietnam," Blumenthal, a Democrat, told a veterans group in March 2008, according to the article.
But the Times found that Blumenthal received five deferments from 1965 to 1970 while studying at Harvard and pursuing other educational and career opportunities. He finally landed a spot in the Marine Reserve that nearly guaranteed him that he wouldn't be sent to the war zone.
The New York Times reported that Blumenthal has on several occasions left the impression that he served in Vietnam. At a 2003 rally, Blumenthal reportedly told military families gathering to show support for U.S. troops that, "When we returned, we saw nothing like this."
In 2008, he talked about his service during the "Vietnam era" and said he remembered "the taunts, the insults, sometimes even the physical abuse."
A number of local newspapers in Connecticut have claimed, incorrectly, that Blumenthal served in Vietnam. According to the Times report, Blumenthal did not appear to make an effort to correct those reports.
Blumenthal said Tuesday that he can't be held responsible for mistakes in newspapers.
But the issue has fed his opponents' campaigns. McMahon spokesman Ed Patru said the article "has raised a litany of very troubling questions, and they are questions that cannot be dismissed or easily answered."
Democratic Senatorial Campaign Committee Communications Director Eric Schultz said McMahon is in no position to swing at Blumenthal.
"It's no surprise Republicans would want to smear Dick Blumenthal, considering all of the debauchery at the WWF under Linda McMahon's watch," Schultz said.