Bill and Hillary Clinton selling discounted tickets on Groupon after sparse crowds on speaking tour
Bill and Hillary Clinton are selling discounted tickets to events on their speaking tour after reports of sparse crowds at their premiere performance.
Discounted tickets for at least nine "An Evening with The Clintons" events have appeared on the Groupon website, which offers discounted deals on activities, goods and services. On Monday, discounted tickets were being offered in a number of Democratic friendly locations, including New York, Detroit, Philadelphia and Boston.
Among the deals: Tickets to an April 11 talk at the Beacon Theatre in New York – normally priced $287 – are going for $145 on Monday. Tickets to an April 12 Detroit talk, originally listed for $220.70, are going for $95. And tickets in Philadelphia for an April 12 talk have been reduced from $208.20 to $85.
The Groupon is apparently working: Tickets to a May 4 appearance in Inglewood, Calif., that were normally priced $77 and reduced to $35 a pop were sold out by Monday.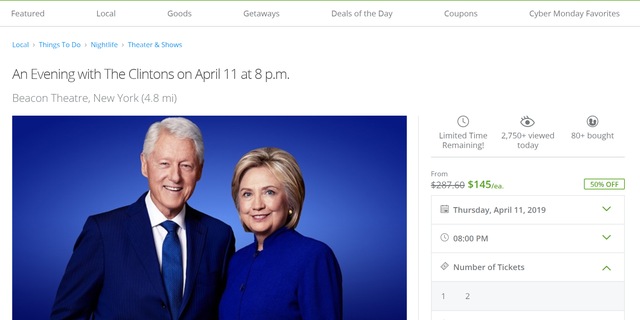 STRUGGLING CLINTON TOUR TAKES A BREAK AFTER BUSH'S DEATH, DELAYS TEXAS STOP
The Texas stop's postponement for the funeral of former President George H.W. Bush comes after the Clintons' premiere performance in Toronto last month, which drew critical coverage over its sparse attendance as well as comparisons with the sold-out book tour of former first lady Michelle Obama. The liberal New York Times columnist Maureen Dowd wrote an Op-Ed after attending the Toronto tour, saying she felt "sorry" for the Clintons, who had to look out at "large swaths of empty seats."
Hillary Clinton tweeted Dec. 3 that "Bill and I will be traveling to Washington to pay our respects to President George H.W. Bush and his family at the funeral this week. We were greatly looking forward to being in Houston for our event this week, and are excited to come back next year as soon as we find a date."
Ticket prices for that event seemed to reflect slumping interest in the Clinton tour.
For the Houston-area event originally slated for Dec. 4, tickets on the official venue website were going for between $29.50 and $399. But a search on second-party sites, like StubHub, revealed tickets going for as low as $7.
By contrast, Michelle Obama is on her own speaking tour to promote her memoir "Becoming." Tickets to see Obama reportedly have ranged from $300 to $2,500. Obama also canceled her event stops in Paris and Berlin last week to attend Bush's funeral.
Fox News' Brooke Singman contributed to this report.