Backlash builds against CNN for interviewing George Zimmerman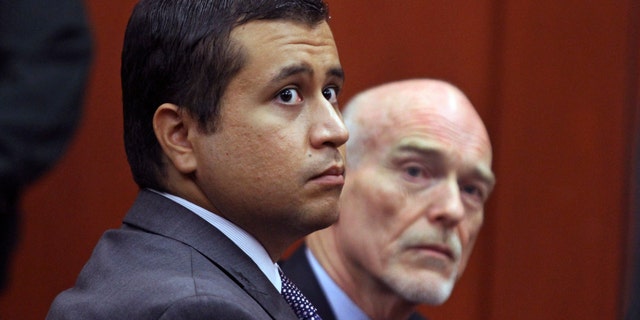 George Zimmerman is stepping back into the media spotlight — and that is generating sparks of controversy.
It's understandable that plenty of people never want to see his face again. He is the man who killed Trayvon Martin, and while he was acquitted of murder in their fatal street encounter, the fact remains that an unarmed black teenager is dead.
Since the Florida trial that became a media sensation, Zimmerman has had several run-ins with law enforcement. After his wife left him, his 27-year-old girlfriend called police and said he had aimed a shotgun at her, and authorities arrested him and temporarily confiscated a shotgun, assault-style rifle and three handguns.
But whatever his polarizing behavior, is Zimmerman a newsworthy interview subject? Absolutely. And he was, like it or not, found not guilty.
CNN anchor Chris Cuomo taped an interview with Zimmerman that ran on "New Day" this morning. Zimmerman dodged questions about whether he regrets killing Trayvon and said he'd been made a "scapegoat" for "the government, the president, the attorney general."
In a sitdown that aired Sunday, Zimmerman told Univision that he is homeless, deeply in debt and fighting post-traumatic stress disorder.
Cuomo told viewers that "it's important to hear from the man at the center of it ... Has there been fame and fortune? Has he benefited? What matters to him? Why is he still around?"
But word of the interview caused an explosion online, particularly from African-Americans. Here are some of the angry tweets, as compiled by the site Global Grind:
Hey @ChrisCuomo, what do you think #Trayvon's killer could say that would be "meaningful" to his parents? When will they be allowed peace?
— April (@ReignOfApril) February 14, 2014
.@ChrisCuomo I will not watch, read or in anyway support @CNN due to attempts to keep Trayvon Martin's killer in the public eye.
— Lilith (@GrimalkinRN) February 14, 2014
There is even a hashtag, #CanceltheInterview.
I understand the emotion behind these complaints. But journalists interview bad guys all the time, including people who have been convicted of terrible crimes and butchers on the international stage. Local ABC and Fox reporters talked to Jodi Arias, in one case during jury deliberations and in the other after she had been convicted of killing her boyfriend. Journalists vied to talk to O.J. Simpson after his acquittal, even though they presumed he was a murderer.
Dan Rather famously sat down with Saddam Hussein. Mike Wallace interviewed Ayatollah Khomeini. Fox News' Greg Palkot and Dennis Kucinich questioned Bashir al-Assad.
Cuomo asked Zimmerman tough questions--Is he haunted by the killing?--and often had to pull the answers out of him. What should be judged, in this case and others, is the quality of the interview, not the fact that it took place.
PBS returns controversial funding
An investigative report on the Pando Daily website has tarnished PBS's reputation for objectivity.
"On December 18th, the Public Broadcasting Service's flagship station WNET issued a press release announcing the launch of a new two-year news series entitled 'The Pension Peril,'" David Sirota wrote. "The series, promoting cuts to public employee pensions, is airing on hundreds of PBS outlets all over the nation. It has been presented as objective news on major PBS programs including the PBS NewsHour.
"However, neither the WNET press release nor the broadcasted segments explicitly disclosed who is financing the series. Pando has exclusively confirmed that 'The Pension Peril' is secretly funded by former Enron trader John Arnold, a billionaire political powerbroker who is actively trying to shape the very pension policy that the series claims to be dispassionately covering."
PBS ombudsman Michael Getler says the effort went "seriously wrong," and PBS and WNET have now issued a statement:
"While PBS stands by WNET's reporting in this series, in order to eliminate any perception on the part of the public, our viewers, and donors that the Foundation's interests influenced the editorial integrity of the reporting for this program, WNET has decided to forego the Arnold Foundation support and will return the gift. 'We made a mistake, pure and simple,' said Stephen Segaller, Vice President of Programming at WNET. 'The PBS NewsHour Weekend is a new production and while we thought we were following the guidelines and the correct vetting processes, we were incorrect.'"
That's an expensive mistake, but PBS did the right thing in giving back the money.