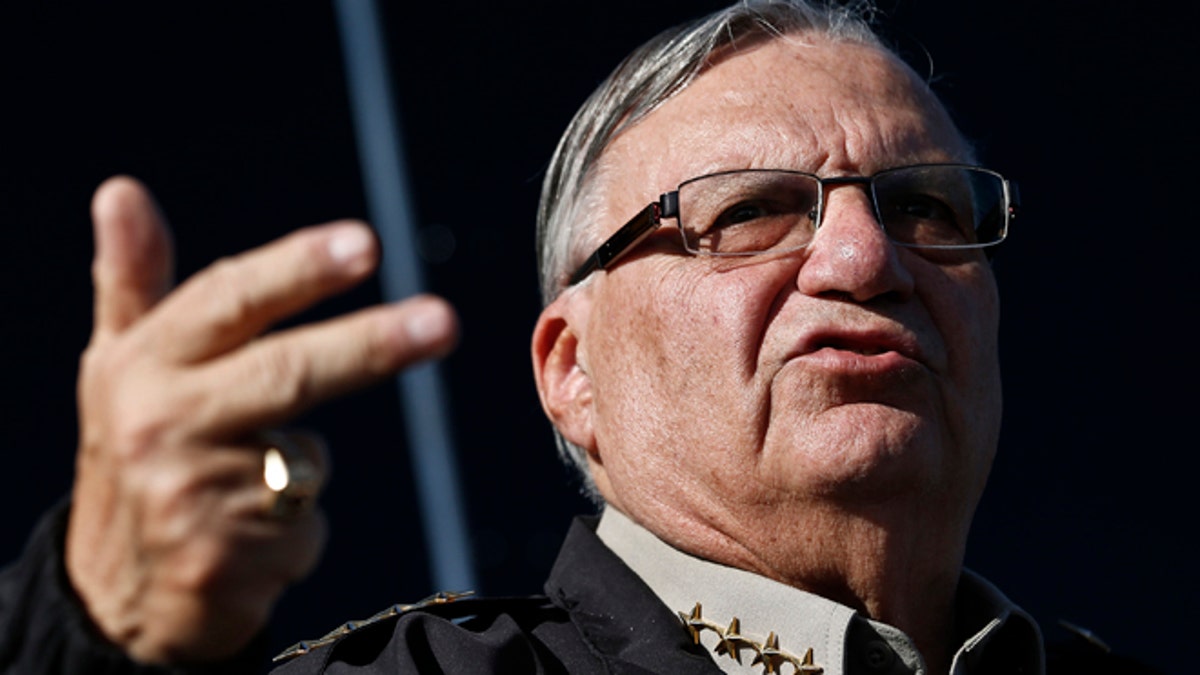 A longtime thorn in the side of the Obama administration's immigration policy got the first chance to stick it to the president Monday, arguing in court that his sweeping immigration order -- designed to spare nearly 5 million people from deportation -- is unconstitutional.
Arizona county Sheriff Joe Arpaio and his attorney Larry Klayman argued before U.S. District Judge Beryl Howell in Washington, D.C., in the first courtroom hearing for a case against the immigration actions.
"We have serious issues of constitutionality involved," attorney Larry Klayman told reporters, after the hearing.
Howell, during the hearing, seemed skeptical of the lawsuit brought by Arpaio, the Maricopa County sheriff known for his tough approach to illegal immigration.
Howell repeatedly questioned whether Arpaio has legal standing to challenge Obama's action. She told Klayman that Congress is in a better position to question the president's authority rather than a federal court.
A lawyer for the Obama administration called Arpaio's case a "political dispute" that should be dismissed. Howell, an Obama nominee, said she would issue a ruling soon.
But Klayman voiced confidence in their case afterward and suggested they might take their suit to a higher court if necessary. Their case is separate from one filed by two-dozen states against Obama's immigration actions -- and separate from one in which a federal judge last week declared Obama's immigration plans "unconstitutional." The latter opinion, though, stemmed from an unrelated immigration case; Monday's hearing is the first to consider a direct challenge to Obama's orders.
Klayman and Arpaio say the president violated the Constitution by doing an end-run around Congress and say drastic changes in immigration programs should be stopped.
"President Obama and others recite that the immigration system of the United States is broken," Klayman wrote in a court filing. "It is unmistakable that the only thing that is broken about the nation's immigration laws is that the defendants are determined to break those laws."
Klayman is a conservative who has previously targeted the president, alleging that Obama falsely claimed U.S. citizenship. In October, Klayman petitioned the Homeland Security Department to start deportation proceedings against Obama.
Under the immigration program, the Homeland Security Department would prioritize the removal of immigrants who present threats to national security, public safety or border security.
DHS officials could deport someone if an Immigration and Customs Enforcement field office director determined that removing the person would serve an important federal interest.
In the lawsuit, Klayman and Arpaio portray the administration's policy change as a way for more people to enter the country illegally and commit crimes, adding to the burden of law enforcement.
"This theory is speculative and unsubstantiated," the Justice Department argued in its own court filing. Obama's program places greater emphasis on removing criminal aliens and recent border crossers, the government countered.
Among the evidence in the case is a set of Arpaio press releases and letters to Homeland Security officials that say more than 35 percent of immigrants living in Maricopa County illegally who wound up in Arpaio's jails in 2014 were repeat offenders, signifying in the sheriff's view that DHS has done a poor job of deporting criminals.
Jennifer D. Elzea, a spokesperson for Immigration and Customs Enforcement, says that as a matter of policy, ICE does not comment on pending litigation.
ICE, a DHS agency, can and does release immigrants who have been arrested on criminal charges, including those who have yet to be convicted, for a variety of reasons. In some instances, immigrants are released from immigration jails because they are from countries that won't provide travel documents or otherwise are not likely to be deported within a reasonable time.
The Associated Press contributed to this report.