Army to Cut Yearlong War Tours to 9 Months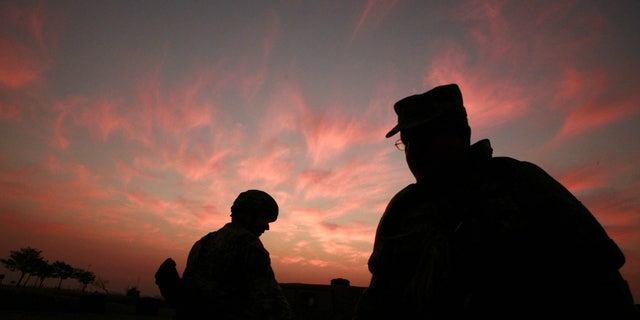 NEWYou can now listen to Fox News articles!
Aided by the shrinking troop requirements for the wars in Iraq and Afghanistan, the Army is cutting the current yearlong deployment tours to nine months for most of its units beginning next January.
The change will not affect any of the Army troops deploying this year, and some high-demand units -- such as aviation and military police -- will continue to serve 12-month tours.
The move comes as the Iraq war continues to wind down and as the U.S. begins what is to be a slow, deliberate withdrawal from Afghanistan.
And it reflects a reduced demand on the military as the Pentagon looks to shrink the size of the Army and Marine Corps and slash budgets in line with the administration's attempt to rein in spending.
As part of that effort, the Army is also planning to cut more than 8,700 civilian jobs over the next year, with about half coming from support staff at bases and installations around the world. Those could include maintenance, administrative and security staff.
Troop deployments to the warfront were lengthened from one year to 15 months in early 2007 as the Bush administration surged forces into Iraq to quell the escalating violence. Army leaders, however, acknowledged that the longer tours, many with just 12 months rest at home between them, seriously stretched the service.
By late 2008, most units were back to serving one-year deployments, but many were still were not getting much more than a year's break at home before returning to war.
The goal has been to give soldiers two years at home between deployments, and officials said that while home breaks are increasing, they are not quite at 24 months on average for the combat brigades.
Aviation units are in particularly high demand and are not likely to see the shorter schedules for a while. And Army headquarters units will also continue to have 12-month deployments so that top leaders can better oversee the combat operations.
Under the shorter deployment schedule, soldiers will no longer get automatic leave to go home, but emergency leaves will still be considered. Most National Guard and Reserve troops will also see their deployments shortened to nine months, but they may be mobilized for the full year.
The Navy, Air Force and Marines all routinely serve shorter deployments, but many of those units also have been rotating in and out of Iraq and Afghanistan at a rapid rate.
The civilian personnel cuts will be done over the next 14 months and completed by Sept. 30, 2012. The Army will use voluntary separations and retirements first to meet the goals and then stop filling slots as they become vacant, with layoffs being a last resort.
As many as 800 positions would be cut from the Army headquarters staff in the Pentagon, while the bulk of the cut will come from the Army Installation Management Command, Training and Doctrine Command and Materiel Command.