Amid rising tide of protectionism, North American leaders meet in Canada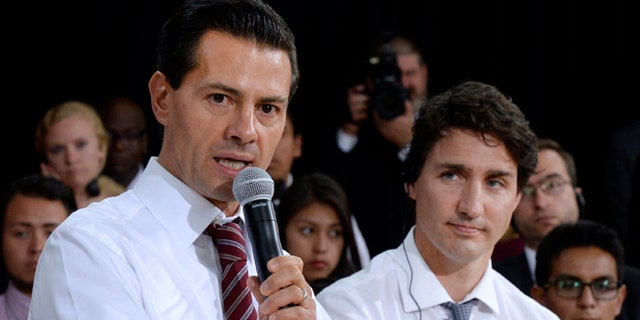 OTTAWA, Ontario (AP) – The leaders of North America confront a rising tide of economic protectionism and nationalism as they hold a summit Wednesday in the Canadian capital.
Canadian Prime Minister Justin Trudeau for the first time is hosting U.S. President Barack Obama and Mexican President Enrique Peña Nieto in Ottawa for the North American leaders' summit. Obama will also address the Canadian Parliament.
The meeting comes one day after presumptive Republican presidential nominee Donald Trump in the United States blamed globalization for the loss of millions of manufacturing jobs, and he threatened to extricate the U.S. from the 2-decade-old North American Free Trade Agreement.
Trump also vowed to withdraw from the Trans-Pacific Partnership, an agreement among 12 Pacific Rim nations that has yet to take effect, if he were elected president. And it comes less than a week after Britain voted to exit the European Union.
Canadian International Trade Minister Chrystia Freeland, chair of the Canada-U.S. cabinet committee, noted that the meeting of the three pro -trade leaders comes at an important moment.
"This is a time when a lot of leaders in the world are talking about building walls," Freeland said in an interview with The Associated Press. "What you are going to hear from the leaders of Canada, the United States and Mexico is that we are a continent and we believe in building bridges. We really believe in the open society. Those are core Canadian values, open to immigration, open to visitors and open to trade." Trump has also advocated building a wall along the U.S.-Mexico border.
Trudeau pointed to the North American example of economic integration on Tuesday and warned of the risks of protectionism and nationalism.
"Better collaboration, better partnerships are a path to prosperity," Trudeau said. "And that's a compelling example that we want to showcase at a time where, unfortunately, people are prone to turning inwards which will unfortunately be at the cost of economic growth and their own success."
Trudeau and Peña Nieto announced measures to reduce barriers during the Mexican leader's state visit to Canada ahead of the summit. Trudeau said Canada will lift visa requirements for Mexican visitors as of December 2016, while Peña Nieto agreed to open Mexican markets to Canadian beef.
The deadly attack at Istanbul's Ataturk airport on the eve of the summit also adds urgency to discussions on how the three nations can collectively enhance security.
Efforts to curb global warming will also be a big part of the summit agenda. White House officials said the three leaders will pledge to rely on renewable energy to generate 50 percent of North America's electrical power by 2025 and Mexico will also join the United States and Canada in tackling methane emissions.
White House spokesman Josh Earnest said Tuesday that he anticipates Britain's vote to leave the EU will come up in the leaders' discussions, but "I don't anticipate that it will be the focus of their conversations."
He said the major difference was that the North American countries focused on trade, while the EU also moved to establish a common currency, the euro.
"The countries of North America have pursued a different strategy and one that has worked well for us," Earnest said. "It is a strategy that has enhanced the economies of all our countries. It's enhanced the national security of all our countries, and it certainly has made North America the most successful continent in the world."