ACLU sues on behalf of atheist who opposed 'In God We Trust' display
NEWYou can now listen to Fox News articles!
A self-proclaimed atheist who was recently removed from a city council meeting in Missouri after objecting to an "In God We Trust" display is now getting some help from the ACLU.
The American Civil Liberties Union's Missouri chapter announced a lawsuit Thursday, claiming that officials in Wentzville, a St. Louis suburb, violated Sally Hunt's First Amendment rights.
Hunt, of Maryland Heights, was forcibly removed from the Feb. 14 meeting after opposing the "In God We Trust" sign, the St. Louis Post-Dispatch reported.
"The right to disagree with public officials without retribution is at the heart of a thriving democracy," the civil liberties group said in a statement. "Just because a public official does not like what someone says about his decision it does not give him the right to intimidate someone or censor constitutionally protected speech."
Hunt posted a video of her confrontation with the council. It shows a police officer asking her to leave. City officials denied she was removed because of her opinions, claiming instead that she exceeded her speaking-time limits and was being disruptive.
'IN GOD WE TRUST' SIGN GETS LOUD SUPPORT AMID OUTSIDERS' OPPOSITION
The "In God We Trust" motto display has been on the council dais since November, but Hunt -- who lives about 27 miles away from Wentzville -- contends it doesn't belong there.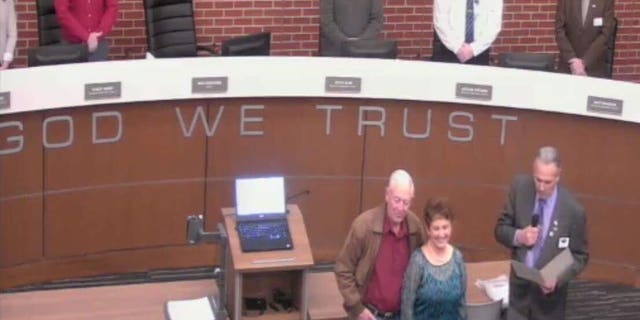 "It's offensive to a lot of people. I'm outspoken about it but there are a lot of people like me that are afraid to speak out publicly," Hunt said at the meeting, according to KMOV-TV. "It says 'In God We Trust' when it should say 'In God some of us trust."
Wentzville Mayor Nick Guccione said at the council meeting that before the sign – paid for by private funds – was put on display, he consulted with legal expert and the city's board voted in favor of posting it.
At a rally last month, hundreds of supporters seemed to agree.
"The overwhelming majority is in support of what we've done," he said. "I don't understand why it is offensive, but you can't please everybody. I will not take it down. I will stand strong on it. I do believe it's our national motto and it promotes patriotism."