2020 presidential election ballots cast so far
5 states surpassed their 2016 voter turnout
Many Americans voted early in the 2020 presidential election amid concerns regarding the coronavirus pandemic and U.S. Postal Service timing.
Total ballots cast as of Wednesday morning soared to an estimated 160 million, and absentee votes are still being counted after Nov. 3 in some states, according to data from the United States Elections Project.
If estimates are correct, that means voter turnout reached a new record in 2020 after 138 million people voted in 2016 -- the majority of which voted in-person on Election Day. The coronavirus pandemic, however, created record demand for mail-in ballots and participation in early voting.
"I posted PRELIMINARY estimates of the 2020 state and national turnout and voting-eligible population turnout rates," Elections Project founder and University of Florida political science professor Michael McDonald tweeted early on Wednesday. "160 million people voted. Turnout rate: 66.9%. Highest turnout rate since 1900: 73.7%."
He continued: "That is not a typo. The 2020 presidential election had the highest turnout rate in 120 years. There is still a fair amount of guesswork involving outstanding ballots to be counted. I will continue to refine these estimates over the coming weeks."
McDonald said in a Nov. 1 blog post on the project website that he had been predicting for the past year that 2020 would have a record number of voters, estimating 150 million, but that he can now expect even more.
"Examining each state in turn, and rolling up the state estimates to a national estimate, I arrive at a total turnout rate of 160.2 million votes, or a turnout rate for those eligible to vote of 67.0%," he wrote.
CLAWING BACK VOTES: 7 STATES ALLOW VOTERS TO RESUBMIT BALLOTS
McDonald noted that in 2016, 40% of voters voted early. That number would have to be higher in 2020, he said, because otherwise, that would mean 250 million people would vote when he estimates that only 239 million are eligible.
"One strong signal is that turnout will be higher than in 2016," he said, "because some states have already exceeded their 2016 turnout or are close to doing so."
Several states surpassed their 2016 voter turnout, including Texas, Montana, Washington, Oregon and Colorado.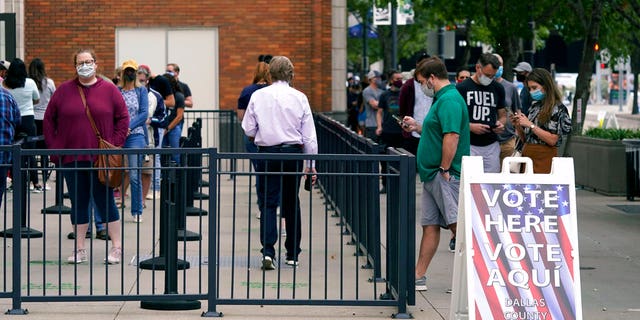 California saw the largest voter turnout with more than 16 million ballots cast. Texas and Florida trailed behind with 11.6 million and 11.5 million ballots cast, respectively. Minnesota and Wisconsin have seen the highest voter turnout rates so far at 82.9% and 82.4%, respectively, according to the Elections Project.
McDonald previously told Fox News that he "expected some things to be different since states changed their laws" to accommodate voters amid the pandemic. More than 92 million absentee ballots were sent to voters so far this year.
FIRST PRESIDENTIAL VOTE CAST USING BLOCKCHAIN TECHNOLOGY
"People did not have to take advantage of this," he said of mail-in ballots and early voting. But many people did.
California recorded the highest number of mail ballot requests at 22 million compared to Florida's 6 million as of Monday morning. Voters in New Jersey have also requested more than 6 million.
Democrats requested 25 million ballots while Republicans have requested 14.8 million — giving Democrats roughly a 10 million ballot request lead based on data from states reporting party registration including California, Colorado, the District of Columbia, Flordia, Iowa, Maryland, Maine, North Carolina, New Jersey, Nevada, Oregon, Pennsylvania and Utah.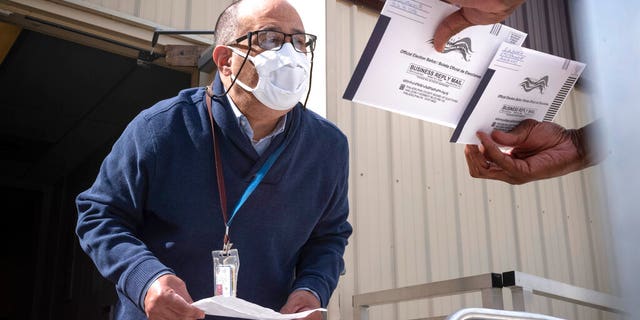 Republicans met expectations by turning out in higher numbers on Election Day.
CLICK HERE TO GET THE FOX NEWS APP
Colorado, Hawai'i, Oregon, Utah and Washington send mail-in ballots to every registered voter, and California, D.C., Montana, Nevada and New Jersey did the same this year as an alternative to voting in person during the COVID-19 crisis.