Tom Shillue: Sing with someone you love, whenever you can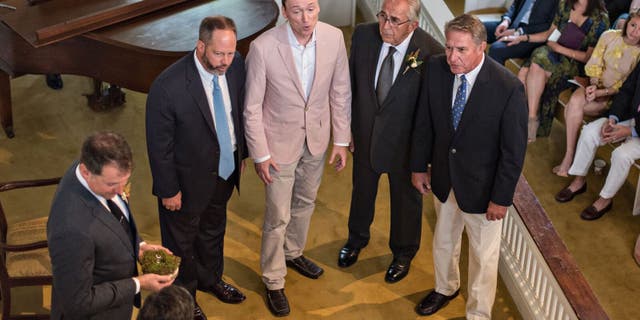 NEWYou can now listen to Fox News articles!
Great songs often contain great life lessons, like "Money can't buy me love" or "You've got to know when to hold 'em, know when to fold 'em." But oftentimes, we just sing along without paying attention to their real meaning.
I was reminded of this recently, as the barbershop quartet community lost one of its heroes.
Maybe you didn't even know there was a barbershop quartet community. Well there is, and we're a pretty interesting bunch. Unlike many communities, this one's not divided by class, race, gender, political party, or any quality really – other than the desire to sing.
And nobody sang quite like Terry Clarke – the bass singer of the greatest barbershop quartet of all time, The Boston Common.
Listen here for my tribute to Terry.
You can watch here as the Boston Common won the international championship in 1980, and the song they sang when they won the gold medal provides a lesson that's really hitting home for a lot of people in our world.
I first saw the Boston Common in the early 1980's when I was a young barbershop singer in high school. I'd never seen singing like that – it came straight from the heart.
But even though Terry Clarke was a champion, he always had time to sing with anyone who was willing. He took me and my buddies under his wing and showed us a thing or two about how to sing the old songs he loved so much.
So began a decades-long friendship. Over the years I've had the pleasure of singing with Terry at conventions, jamborees – any barbershop gathering.
If the word got out that Terry Clarke was going to be there all my buddies would make an extra effort to make it. It was worth the trip to get the chance to sing one song with Terry.
And one of the favorite songs to sing at the end of a long night is the one that The Boston Common sang the night they won the gold medal. Many a hoarse barbershopper has closed out the evening with these words:
And if someday we ever meet again
I will smile and stand in line
Just to sing one song
Just one more time
With that old quartet of mine.
Terry Clarke was recently at an annual quartet gathering in Florida, and according to his son Lawson Clarke, passed away after a long night of singing.
Lawson told me: "If there's any consolation to be had, it's knowing my Dad went out laughing and singing, which, if you knew him, was exactly how he went through life."
Of course, if I'd have known that weekend would be Terry's last, I'd have been there. I'd have hopped on a plane, taken a bus, or hitched a ride – anything for the chance to sing one more with my mentor and friend.
So here's the lesson: don't wait. You never know what day will your last, so if you get a chance to sing one more song with someone you love, take it.