The cult of religion and personality threatening Turkey's constitutional order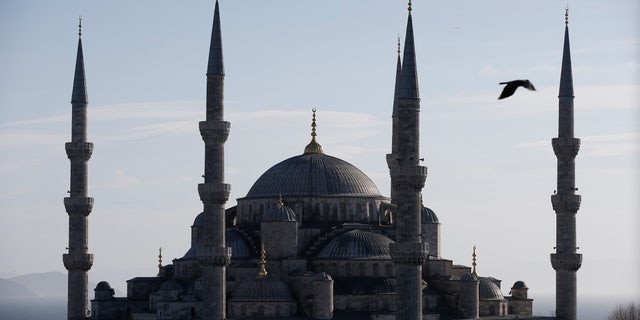 NEWYou can now listen to Fox News articles!
For more than three decades, Turkey has been an influential actor in the Middle East. A largely democratic Turkey enjoys complicated but strategic relations with the United States, Europe and Israel.
Several Turkish domestic and foreign policy issues have significant relevance for U.S. interests, especially given its location among Arab neighbors increasingly hostile to the West.
One might assume that Turkey's on again, off again chilling toward the West and Israel is a direct result of the actions and sentiments of President Recep Tayyip Erdogan and his and his Justice and Development Party (AKP).
But Erdogan is also the President who reached out directly to Israeli President Reuven Rivlin following the March 19 terror attack in Turkey that killed three Israelis. In a letter he expressed condolences, termed the attack "cruel," and called on the international community to "unite in its struggle against terrorism that threatens all of mankind and our basic values."
"I want to send my deepest condolences to the Israeli people and the families that lost their loved ones in this traitorous attack in Istanbul, as they were visiting the city and wanting to get to know our culture better. I wish a speedy recovery to the wounded," Erdogan wrote.
That is because Erdogan is not the root of the problem. Rather, it is a wolf in sheep's clothing, a Turkish emigrant living in seclusion in the Poconos of Pennsylvania, who has been for the last decade responsible for slowly but strongly influencing Turkish society toward Islamism (Islamic fundamentalism). That person is the shadowy and mysterious cult leader Fethullah Gulen.
Multiple sources point to Gulen's purposeful and systematic takeover by his followers of Turkey's political leadership, the police, the judiciary, the education system, the media, social networks and local administrations. The goal is no longer to influence the government, but rather to take it over.
Who is Gulen? He is a powerful global businessman with somewhere between three and six million followers. According to a 2012 article published by City Journal, the worth of just the American institutions "inspired" by Gulen range from $20 billion to $50 billion. A 2007 article published by fgulen.com itself reported the cloudy imam-prophet's budget at $25 million.
The center of Gulen's movement is his network of private or semi-private schools, founded by him or his followers. According to Wikipedia, estimates of the number of schools and educational institutions vary widely, from about 300 schools in Turkey to over 1,000 schools worldwide.
During a 2006 interview on Kanalturk television, it was reported that 75 percent of Turkey's 2 million preparatory school students are enrolled in Gulen institutions. He controls thousands of secondary schools and dozens of private universities. He targets and recruits youth, indoctrinates them and prepares them for a future career in legal, political and educational professions, creating the ruling classes of a future Islamist Turkey.
It's an "educational jihad," as a Sabah columnist wrote in 2004.
Fethullah supporters have made inroads into Turkey's 200,000-strong police force, reported the Middle East Quarterly – "There are imam security directors; imams wearing police uniforms."
They've entrenched themselves in the military – "The Fethullahist military officers were once our students, who we financially supported, educated and assisted. When these grateful children graduated and reached influential positions, they put themselves and their positions at the service of Fethullah Gulen," said one of Gulen's assistants in a 2006 interview.
"We open a house somewhere and, with the patience of a spider, we lay our web to wait for people to get caught in the web; and we teach those who do," Gulen said in a sermon uncovered by MEMRI in 2007.
"You must move in the arteries of the system without anyone noticing your existence until you reach all the power centers … until the conditions are ripe, they [the followers] must continue like this," Gulen said in a sermon that was publicized on Turkish TV in 1999. "The work to be done is [in] confronting the world."
Despite these statements (and others), he has managed to captivate and capture many in his web – including Western leaders, and members of the U.S. and foreign government .
Gulen's website describes him as Muslim scholar, thinker, author, poet, opinion leader and educational activist. His English-language speeches and articles report his interest in exploring multiculturalism in the language of diversity, peace and co-existence. He has even been compared to Gandhi.
So is it simple paranoia? A conspiracy theory ready to be debunked by the better intentioned? Or is Gulen responsible for the accelerated destabilisation of Turkey, something which impacts not only the Turkish, but the United States, Israel and other allies?
The real question is why are some many important officials waiting silently instead of finding out and giving us answers?