The Crazy Stuff I Saw In Copenhagen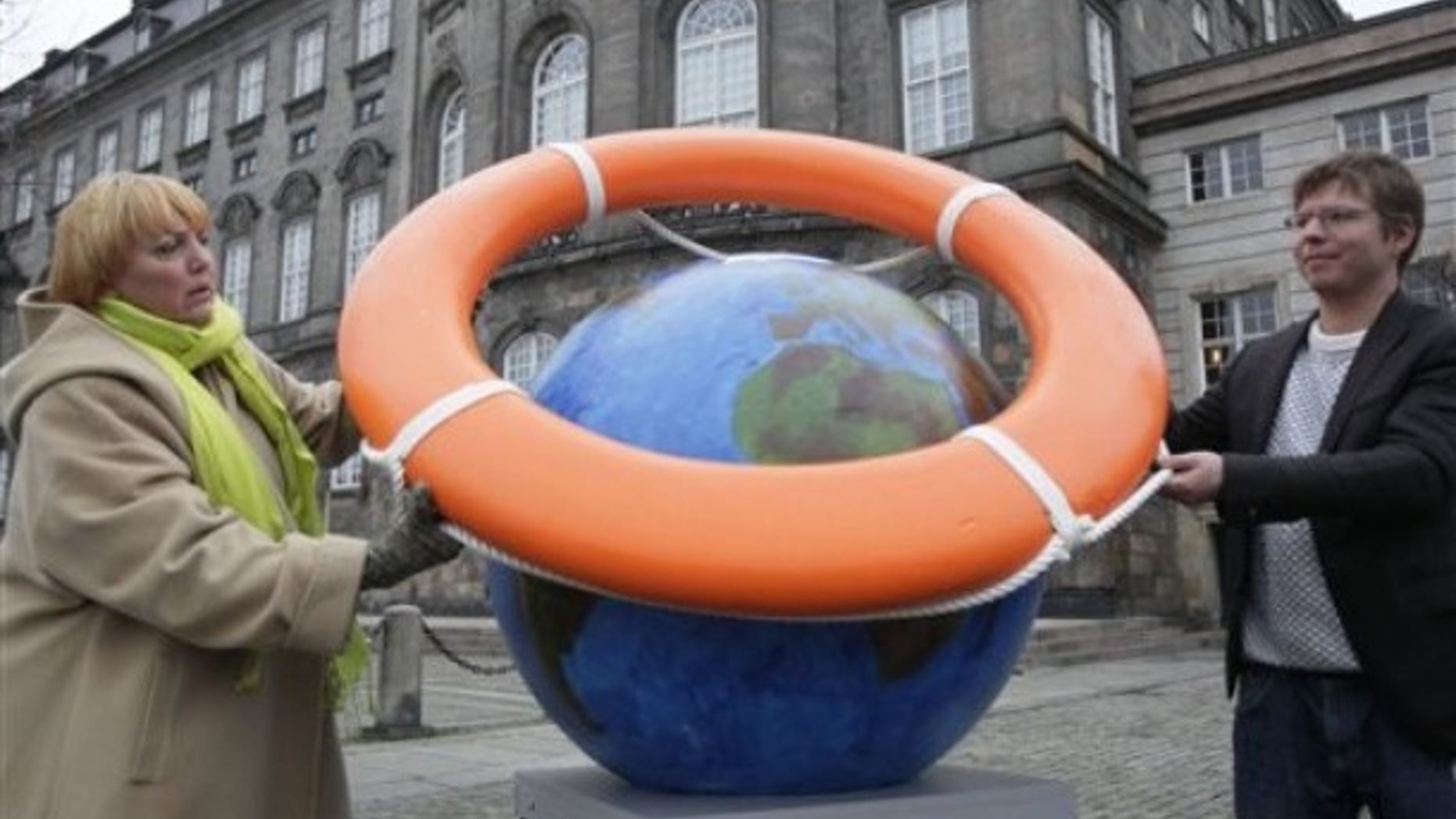 Visiting the UN climate conference in Copenhagen has been an eye-opening experience. On my way from the airport to the hotel I could tell from the gas station signs—over 10 kroner per liter, which is about $7.50 per gallon—that attitudes about energy prices were a little different here.
There were two groups of protestors outside when we arrived at the conference. The first, a talented (we'll have a video of their rap routine up soon) group of Danish youth from Climate Debt Agents argued for a huge transfer of wealth from the developed to the developing world, to compensate for greenhouse gas emissions and to finance adaptation. How to pay for it? With a global financial transaction tax of the sort supported by Nancy Pelosi.
The second, a group of predominantly Vietnamese followers of "Supreme Master Ching Hai" picketing with signs calling for adoption of a vegan lifestyle. To their credit, they said they believed it is a personal choice and that they want to educate and persuade, not force people to their views.
Inside the conference was an exhibit hall with everyone from Yale University to the Girl Scouts (did you know when you buy their cookies you help support their global warming efforts?) to the International Trade Union Confederation, who explained to me that their needs to be a "just transition" which includes a global jobs retraining program as well as a global welfare program for displaced workers who cannot be retrained.
A prominent NGO called the Global Canopy Programme was handing out a book called "The Little REDD Book" that provided an overview of proposals to reduce emissions from deforestation and degradation. Apparently they were perfectly comfortable with a playful pun on the title of Chairman Mao's infamous "Little Red Book."
Speaking of REDD, I was also instructed to "Just say NO!! to REDD" by the Indigenous Environmental Network, whose flyer on the issue says "many indigenous peoples call REDD 'CO2lonialism of forests.'" The flyer goes on to argue, I think correctly, that turning over forest management to government bureaucrats, green groups, and Wall Street bankers will violate their rights and lead to more, not less, forest loss.
The group AVAAZ.org was causing lots of trouble with demonstrations and protests, including having some of their members dressed up as aliens walking around and demanding to meet with "real climate leaders." There were, apparently, none to be found.
At a side event hosted by Greenpeace, the Center for Biological Diversity presented its new paper: "Yes, He Can: President Obama's Power to Make an International Climate Commitment Without Waiting for Congress." They laid out a frightening blueprint for precisely how the president can negotiate and enforce an agreement with just a simple majority of Congress instead of 67 Senate votes for treaty ratification, or how, if he chooses, he can instead bypass Congress entirely and simply rely on EPA action under the Clean Air Act for enforcement.
I asked Kassie Siegel, one of the authors of the report about the apparent illegality of the EPA Tailoring Rule, which arbitrarily requires permitting for sources emitting over 25,000 tons, even though the Clean Air Act sets the threshold at 100 tons. Her response was that regulation is simply being phased in and that she sees no merit in the argument that it would be a bureaucratic nightmare for millions of homes and business to ultimately be subject to EPA permitting requirements. As radical as that sounds, it's worth noting that Center for Biological Diversity has a $10 million plus litigation war chest to find judges sympathetic to their views.
The panelists all agreed that the growth-crushing emissions reductions of Waxman-Markey, which is already stalled in the U.S. Senate, are far less than they would like to see and expect from Obama, who is still the great hope for the world among these far-left groups. Several times it was explained that he was elected not by the United States but by the whole world to be the great leader who will solve problems like climate change.
Unfortunately, the move to bypass Congress is not simply a radical wish anymore, but firmly within the mainstream of the official U.S. delegation. A pamphlet from the EPA given out at the United States pavilion was titled "Working Domestically to Drive Innovation and Greenhouse Gas Reductions." It details EPA actions including endangerment, auto regulations, reporting requirements, and regulation of large stationary sources under the tailoring rule. The pamphlet promises "EPA will continue to work with international partners, states and localities, as well as Congress, to put climate solutions into action." -- What can I say? It reads like Congress is an afterthought, and full steam ahead.
That impression was confirmed by a briefing I attended by EPA Administrator Lisa Jackson, who called for legislation to supplement EPA's regulatory action, but during a Q&A session explained that the real reason she wants legislation is for broader political buy-in—not because she needs, in her view, any new statutory authority to pursue sweeping regulations of the whole U.S. economy. Moreover, she said the administration would oppose any effort to block Clean Air Act regulation in a cap-and-trade bill, preferring to simply overlay cap-and-trade on top of command-and-control regulation. So while Fox News was breaking the story of a White House official saying EPA regulation is leverage to force Congressional action, our official delegation in Copenhagen was saying we should be prepared for "command-and-control" regulation either way.
At 6 p.m. on Wednesday we held our Americans for Prosperity "Hot Air Tour Copenhagen" event, broadcasting back live to thousands of free market activists at two dozen sites in the U.S. and thousands more online. -- A juvenile attempt by left-wing activists to disrupt our event failed, and we were able to convey everything we saw to activists back home.
After a few very eventful days in Copenhagen, I'm now in New York now for some meetings. The most important takeaway is that the Obama administration appears determined to stretch the limits of U.S. law to please its global constituency. With that in mind, it's essential the Congress take control of the situation by insisting on a full review of any agreement that comes out of Copenhagen, as well as actions already being taken by the EPA. Bureaucrats and diplomats don't answer to voters, members of Congress do. Now more than ever we need to remind them that if they allow this administration to destroy our economy for the sake of world opinion we will hold them responsible.
Mr. Kerpen is director of policy for Americans for Prosperity. He can be contacted through PhilKerpen.com. Follow him on Twitter and Facebook.  His free two-minute Podcast is available daily.