Super Bowl MVP Nick Foles gives America a game plan for life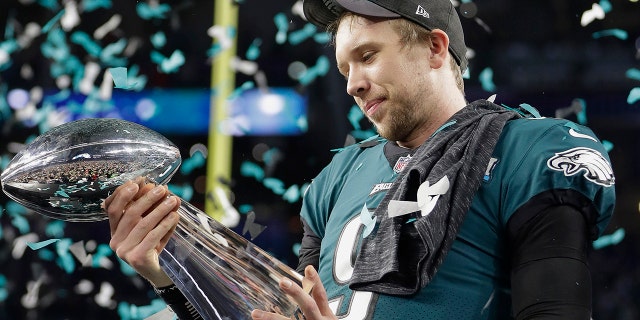 NEWYou can now listen to Fox News articles!
In Super Bowl LII, backup quarterback Nick Foles led the Philadelphia Eagles to a 41-33 win over the New England Patriots, outdueling Tom Brady and earning recognition as Most Valuable Player. During the game, Foles—not Brady—earned the highest passer rating in NFL postseason history and completed 28 of 43 passes for 373 yards, three touchdowns, and one interception as he delivered the Eagles franchise its first championship.
As if that weren't enough, he caught a touchdown pass thrown by tight end Trey Burton during a specially designed play in which Foles had lined up as an H-back before slipping unnoticed into the end zone for the score. Foles became the first player in NFL history to throw and catch a touchdown pass in a Super Bowl.
All of this from a backup quarterback who had been ready to retire from football just two years ago.
But the most amazing thing about Foles' night may have been his post-game interviews. In the immediate moments after the game, surrounded by dozens of reporters and cameras, this unheralded and until-recently-backup quarterback had the world's attention.
And in that moment—as he stood front and center on the international stage—he decided to draw attention to God instead of himself, articulating a "game plan for life" to anybody who would listen.
In a pre-game interview, Foles said that he wants to be a pastor someday. With sincerity and humility he said he had failed spiritually or morally many times in the past and wanted to help young people not to fall into the same temptations.
Standing for the interview, Foles could have told us that he had always believed in himself. He could have used the moment to hot dog or take a few shots at the NFL teams who had rejected him or underestimated his abilities.
He could have told us those things, but he didn't.
Holding his toddler daughter Lily, he opened the interview by saying "All glory to God" before going on to give credit to his coaching staff and teammates and to acknowledge his wife and family.
To give "glory" to God is to honor God as the source of all good things, including his creation of a world that would have the excitement and pleasure provided by sports such as football.
Eagles fans know that Foles was not posturing. He describes himself on Twitter as a "believer in Jesus Christ, husband, father, son, and brother." In a pre-game interview, he said that he wants to be a pastor someday and is taking online seminary courses even now. In the same interview, he demonstrated sincerity and humility by saying that he had failed spiritually or morally many times in the past and wanted to help young people not to fall into the same temptations.
Foles' teammates vouch for his spiritual leadership. A number of them pointed out that he leads Bible study and prayer sessions with the team. Special teams ace Kamu Grugier-Hill even pointed out that Foles memorizes Scripture and uses his knowledge of the Bible to encourage and lead his teammates.
By giving glory to God during the season and especially during the post-game interview, Nick Foles teaches every American a couple of things about football and life.
First, football is more than a mere game. Like other cultural activities, it is an opportunity for athletes to please God by utilizing the talent he's given them. Football should bring out the best in an athlete, as they compete in the game of football, which is different than every other sport in its combination of goals, rules, obstacles, and options.
Second, football is less than a god. That's right. We should be careful not to elevate football to the status of a deity in our lives. The Bible teaches that humans often elevate some aspect of God's creation—sex, money, power, and even sports—to a status of ultimacy that God alone deserves.
And when football is deified, the outcome is obnoxious and even harmful. Some athletes become strutting and preening narcissists, taking every opportunity to perform some type of ego-driven, self-congratulatory ritual. Others feel free to break the rules and ruin the game by taking illegal substances to enhance their natural abilities.
But athletes are not alone in this. Some coaches are tempted to cheat by stealing game plans from opposing teams, by encouraging players to injure their opponents, or by otherwise deflating or altering the game illegally. Commentators and fans often give themselves permissions to ridicule and degrade opposing athletes and coaches on social media, or to do the same to their own teams' coaches and athletes when their team doesn't live up to expectations.
So, football is more than a game and less than a god. It is, as Foles put it so well, an opportunity to glorify God.
And for that reason, we should take a moment to tweet out a "thank you" to Nick Foles for reminding us the most important "play" in any American's gamebook: to glorify God in everything we do.