Pope Francis And The Beauty Of His Message, His 'Abuelo' Charm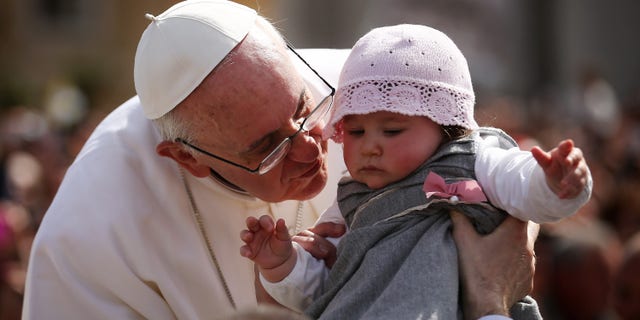 NEWYou can now listen to Fox News articles!
Almost exactly a year ago, I wrote an article about what it felt like to see the election of the world's first Latin American Pope. I wrote about the surge of pride that we felt in our culture and traditions, which could produce so learned and wise a man. And I also wrote about his personal impact on us. The way his gentle smile, warm tones, his very evident affection for all of us were just perfectly recognizable to us, very Latin. We identified in him right away the wise Abuelo that some of us are lucky enough to have near us, or even lucky enough to have living in our homes, helping us "con cariño" with the children and with our busy lives.
His is the joy of knowing the awesome truth that God loves each and every one of us and is full of mercy toward us, no matter what our condition.
I can safely say that this first year of life with Francis has been so much more than even our pride and joy on that first day led us to expect. His way of expressing himself so frankly and with such openness has led to all sorts of confusion, mostly amongst those who don't understand the Church very well to start with. I think part of the reason is cultural. He is very much a man of our culture, which is warm, urgent, and emphatic, less "politically correct" than American culture. My American husband is always shocked at how frank we Latinos are, about all sorts of things that in his culture are taboo subjects. I think we give each other more room to be spontaneous and open. I see that very much in Pope Francis. And it's a spontaneity that is always coupled with a warm affection, the kind that invites hugs, the kind of hug you hunger for after a long journey.
Also familiar to us is the way he carries himself like a Hispanic father: totally approachable, totally "a su servicio" — at your service. It's a kind of gentlemanly generosity that is so recognizable to Hispanics, the generosity of a man who could never sit while a woman or older man is standing, or drive by someone trudging in the rain without stopping and offering a ride. A generosity that doesn't stand on its own dignity, a magnanimity.
I am very excited, too, about the way Pope Francis talks about women. While I don't believe there will be any changes as to the priesthood, which he has said is impossible, I do believe that he has an understanding of the feminine genius which will lead to a whole new Theology of Women. He has called for this, saying that even after 2000 years, the Church needs to deepen and broaden its appreciation of women. After all, the Church herself is feminine and the Virgin Mary the first of the apostles. I think this awareness of the Pope's must also be cultural. Our Hispanic cultures are much more in tune with the tremendous power of women, which includes their rich femininity and motherhood.
Of course what he is teaching me and the rest of the world is not really about culture, but rather about the beauty of his message. He has made very clear that the first order of business for the Church is to transmit, in a way the modern world can understand, the joy that infects him. His is the joy of knowing the awesome truth that God loves each and every one of us and is full of mercy toward us, no matter what our condition. Francis calls that the Joy of the Gospel. Proposing and explaining this truth has to come first, before doctrinal matters that can be tough and divisive, precisely because we can never understand the doctrine if we don't understand the way God loves us. This new emphasis may take us off guard, but it is filling lots of us with new energy, new hope, and a deeper faith.