Peggy Grande: Remembering Barbara Bush. What a lady.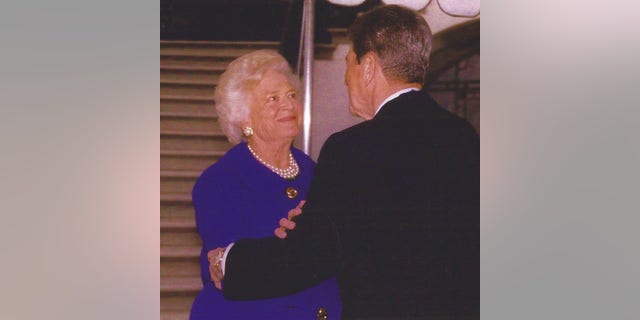 When I was young, little girls didn't really imagine they could grow up to be President of the United States, so instead we dreamed of being The First Lady. As I grew older, though, I eventually realized that role is not one you can aspire to or choose – instead you choose a spouse – and choose to share in their life path - wherever it takes you. And for a special group of ladies, that choice has taken them to 1600 Pennsylvania Avenue, to live in the White House.
On November 4, 1991, The Ronald Reagan Presidential Library was dedicated with great fanfare and I had the opportunity to interact with six of these remarkable women. Each so different in style and stature and presence, yet all sharing a very unique and special bond of having served in one of the most prominent and important roles, supporting and encouraging the President of the United States.
Barbara Bush was the sitting First Lady at the time and was understandably in charge, though I have a feeling she was usually in charge of any situation she walked into. She carried herself with a confidence and a kindness that knew no strangers, and knew no barriers. (And yes, of course, she was wearing her signature pearls, just as she was every subsequent time I saw her!)
As I looked into the eyes of each of these women - Barbara Bush, Nancy Reagan, Rosalynn Carter, Betty Ford, Pat Nixon – and even Lady Bird Johnson – I couldn't begin to imagine all they had seen and experienced and done and endured. From the height of celebration as victories were shared, to the depths of despair as tragedy struck or crisis emerged, each had remained a pillar of strength, not only to their husbands, but also to the nation. And each had risen to the occasion beautifully – with poise and grace and an elegance I'm sure even they never imagined they could summon
Some may say Barbara Bush received a double dose of personality, and I mean that in the most endearing way. When she entered the room you knew it. Engaged and enthusiastic, talking to anyone and everyone and unafraid to voice her opinion, she was a warm and powerful presence.
I don't know what each one of them had imagined their life would be – or who they thought they would become – yet I'm fairly confident none of them imagined joining this elite sorority of women who helps shape the course of history.
In fact, most first ladies probably never gave thought to a political life.
Martha Washington married a surveyor.
Melania Trump married a businessman.
Nancy Reagan married an actor.
Others have married lawyers, teachers, engineers, judges – even a postmaster and a tailor.
And Barbara Bush married a Naval Officer. Or so she thought. So perhaps being The First Lady of The United States of America, or FLOTUS for short, was something she couldn't have imagined then, yet she seemed perfectly suited for the role once she inherited it.
First Ladies are not elected, nor are they paid, yet the expectations and demands placed upon them are enormous. They are the hostess of the White House, attend ceremonial and social events with the president and most importantly, are a companion and confidant for the President of the United States as he fulfills his formal duties. With so few guidelines, every First Lady has the opportunity to embrace the role with their own style and approach it with their unique skills, talents, background and personality.
And personality is certainly something Barbara Bush brought to the role. Some may say she received a double dose of personality, and I mean that in the most endearing way. When she entered the room you knew it. Engaged and enthusiastic, talking to anyone and everyone and unafraid to voice her opinion, she was a warm and powerful presence.
The next time I saw Barbara Bush was when she and President Bush came to visit President and Mrs. Reagan at the Reagan's home in Bel Air. I always thought that was a very special gesture, since it would have been much simpler for the Reagans to visit the Bushes at their hotel. Moving the sitting President anywhere is logistically challenging, and doing so through the winding streets of Bel Air and up the long narrow driveway of the Reagans' home with a presidential motorcade was quite a spectacle.
With the whirr of the helicopters overhead and the screech of sirens heard in the distance, then quickly approaching, there was no doubt their arrival was imminent. The parade of cars pulled up the driveway as the Reagans exited their front door to welcome the Bushes. The four greeted each other warmly and enthusiastically, practically all talking simultaneously, as if needing to make up for lost time. There were smiles and hugs and an invitation to come inside while the multitude of security and staff lingered outside in the driveway and Secret Service navigated turning the motorcade around for departure, which proved to be quite a feat!
While outside was organized chaos, inside was warm and comfortable, relaxed and gracious. Especially while in the midst of the Bush presidency, there was a comfort and a camaraderie that can only be found and understood by someone else who has been there. And the Reagans, early in their post-presidency years, were supportive and sympathetic, and clearly relieved to be on the other side of those exhilarating, but demanding years.
Watching these two couples interact, casually, as friends, was so special. Mrs. Reagan used to love to perch on a little stool that pulled out from under the coffee table rather than sitting on the sofa or one of the stuffed side chairs. Deep in conversation, leaning in closely to Barbara Bush, I got the feeling that these two first ladies could solve any problem or overcome any obstacle that came their way. To think of all the people they had graciously hosted and entertained on behalf of the United States, from kings and queens to war heroes and everyday patriotic Americans and now to see them talking, laughing and catching up on life and just enjoying each other's company was memorable indeed.
Over my years of working with the Reagans I was blessed to see President and Mrs. Bush on numerous occasions, some sad and somber, like at the funeral for President Nixon, where once again the presidents and first ladies gathered to say goodbye to one of their own. Other times were much more celebratory, like when she welcomed President and Mrs. Reagan to the White House for President Reagan to receive the Presidential Medal of Freedom from President Bush. To witness Mrs. Bush as the true White House hostess was especially interesting to watch as the Reagans certainly didn't need a tour, but she made sure to point out Mrs. Reagan's new official portrait hanging on the wall, knowing President Reagan especially would want to see it. This home they all had lived in that was already full of so many memories was now adding one more on this very special day.
As the Reagans were departing, Barbara Bush stopped Ronald Reagan, still wearing his medal, and took him by both arms, looking admiringly up at him and told him how good he looked, how wonderful it was to see him, how happy she was to share in this special day and how proud she was to have had him honored in this well-deserved way. She then added an invitation to come visit her and George anytime. And by the look in her eyes you knew she meant it.
Another time I saw Barbara Bush was up in President Reagan's post presidency office. She and President Bush dropped by for a brief visit with President and Mrs. Reagan and as Barbara Bush walked into the office she looked at me, nearly nine months pregnant, and in her very straightforward Barbara Bush style walked right up to me and said, "When are you due"? I replied, "In just a few weeks", to which she responded, "I can't believe tiny pregnant people like you – I was as big as a house." And with that she turned and followed her husband in to visit with the Reagans. Classic Barbara Bush – opinionated, straightforward, didn't mince words.
This type of authenticity that endeared her to people. It was 1996 and President Reagan had already announced to the world he had Alzheimer's. That visit was a particularly difficult one as it was likely among one of their last with President Reagan. There was kindness and tenderness in the visit, but it was much more subdued than previous visits, the air full of the lingering reality of loss ahead. I saw the sadness in her eyes and in the eyes of her husband. She remained outwardly cheerful, yet hugged Mrs. Reagan extra tightly as she was leaving, looking deeply into her eyes, saying with her expressions all that she didn't want to say aloud in front of President Reagan.
Yet Barbara Bush was not one to wallow in emotions, so as the two presidents were saying what may have been one final goodbye, she turned and lovingly grabbed her husband's hand, pulling him along, knowing he didn't want to leave. I can only imagine their conversation in the car as they left, Barbara once again providing comfort and support to her husband, as he would eventually face the personally sad and devastating loss of his dear friend, Ron.
And that's how I'll remember Barbara Bush, a take charge, no nonsense lady whose curiosity for those around her was uninhibited, and her love for her husband was unlimited. She served our country with great passion and patriotism. And even raised a little boy to believe that he, too, could become President of the United States as well. She advanced the cause of literacy, knowing that through reading, the world becomes attainable. And knowing that through books some little girl somewhere, unlike me, could not only dream of becoming a First Lady, but could dream of becoming the President. I'm sure that someday nothing would please this tireless symbol of poise and power more.
Thank you Barbara Bush for your service to our great nation. You are remembered with admiration and celebration.