Paris Uber protests: It's government vs the consumer and not just in France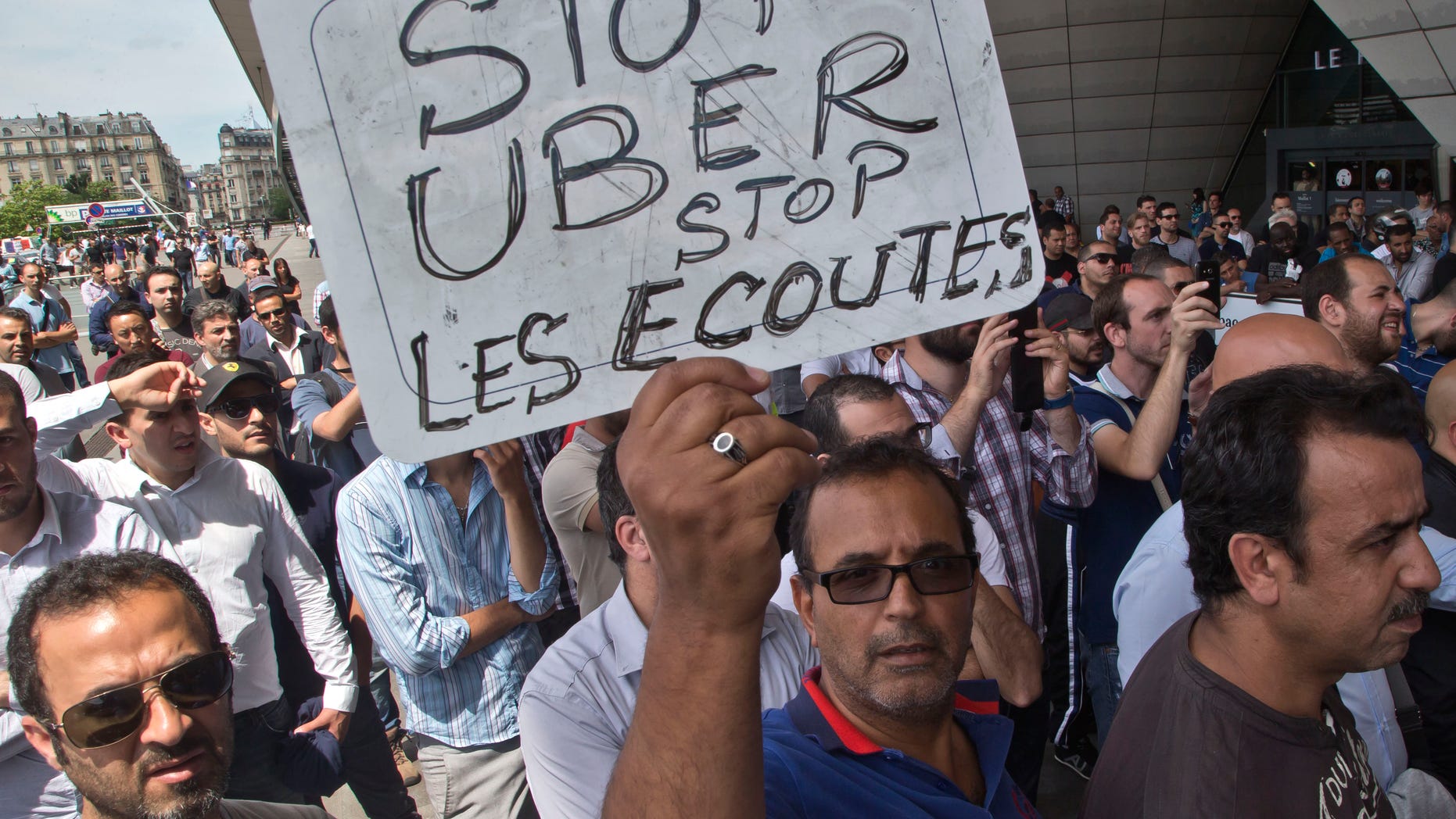 Violent protests are erupting against Uber in Paris. Taxicab drivers, threated by Uber's innovative business model, have blocked access to airports and railway stations, overturning suspected Uber drivers' cars. With massive travel delays frustrating Parisians, taxi drivers have given up trying to be popular or providing better service—they are instead pushing for political favors to protect themselves from competition.
The mayhem caused by taxi drivers was sparked by Uber's non-compliance with a recent court ruling that prohibited matching unlicensed drivers with potential passengers using an app. Uber, which appealed the ruling, is not suspending operations in Paris, and will pay fines levied on drivers. This resistance should be welcomed: if Uber wins, so do consumers and entrepreneurs.
Only 17,702 taxis roam Paris, far below customer demand. Each time the city attempts to expand the number, French cab drivers respond with "Operation Escargot." They drive slowly along Paris's main roads, causing major traffic problems. When taxi drivers feel threated by new competition, they vandalize Uber drivers' vehicles. Paradoxically, taxi-driver strikes help Uber's reputation and earnings, because fewer taxis on the road mean that Uber trips are in higher demand and cost more.
In 2009, the French government authorized a new kind of transportation called Véhicule de Tourisme Avec Chauffeur, a black-car service. These cars could not be hailed in the street, so the taxis were not threatened. When Uber was introduced in 2011, the black car business expanded, enraging cab drivers, who can pay up to $200,000 for a license on the secondary market. The introduction of low-cost UberX in 2013 further increased customers' demand for alternatives to taxis, as did the launch of ultra-low-cost UberPop in 2014.
Rather than attempt to improve service and quality to compete with Uber, established taxi businesses have resorted to pressuring the government to do their dirty work.
In an attempt to combat Uber, the government passed the Thévenoud Law, which requires all black car drivers to have professional licenses and prohibits them from using the geolocation software essential to Uber's business model, though taxis were exempt from this ban. This law allowed a special branch of police, the Boers, to fine and arrest Uber drivers.
In another blatant attempt to harm consumers and protect taxis, France also issued a presidential decree termed the "15-minute law," which required chauffeurs hailed by Smartphones to wait 15 minutes to pick up customers. Even this was not enough for taxi drivers, who pushed for a 30-minute wait and a minimum fare of €60 ($68).
Despite the wishes of French taxi drivers and government, both Uber passengers and drivers have no intention of suspending their use of the app. For Parisians, Uber is cheaper and more convenient than a standard taxicab. Under the guise of employee protection, the government is acquiescing to the powerful taxi lobby—against the wishes of the people.
France is well-known for its heavily-regulated labor market, including the 35-hour work week. Uber goes against this system since drivers are considered independent contractors, not employees. Traditional labor regulations do not apply. Drivers only need to pass background checks and vehicle safety requirements.
As Uber cars are overturned and set ablaze in France, Uber has long been under fire in America as well. State legislatures, in cahoots with the taxi industry, have placed burdens on ridesharing companies such as Uber, even if consumers' best interests are harmed in the process.
Since its inception, Uber has provided a technological platform to connect self-employed drivers to potential passengers. Uber has revolutionized the market for public transportation. Rather than attempt to improve service and quality to compete with Uber, established taxi businesses have resorted to pressuring the government to do their dirty work.
The Paris taxi cartel's actions show that, though it continues to benefit from political favor, the public prefers the convenience and low price of Uber. On both sides of the Atlantic, as long as politically-powerful special interests are allowed to triumph over innovation, consumers will lose.