Opinion: With All The Immigration Fireworks, Why Does The Government Seem So Surprised?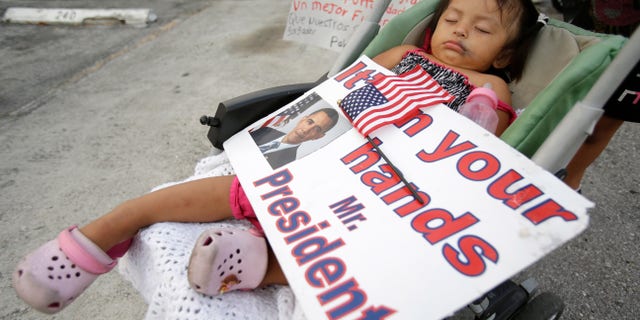 NEWYou can now listen to Fox News articles!
While the drama unfurled on Capitol Hill in the past few weeks on what to do about an emergency border bill, the public became aware that various high level departments within the administration had been sending warning flares of what was coming — and yet the administration chose to ignore the signals.
Meanwhile, for those who have been vigilant and following along, this was no surprise. Central to this discussion is the a presidential executive order issued on June 15, 2012 by president Obama known as DACA (Deferred Action for Childhood Arrivals). The memorandum grants differed removal status to tens of thousands of immigrants, known as "DREAMers," who grew up in the United States and were brought here as children by no fault of their own.
The unintended fallout of the Obama administration's self-righteousness to act on their own has created this problem that we must now address. 
For many, the order was the battle cry to head north. With human traffickers spearheading the advertising campaign of misinformation, coupled with poor reporting from local foreign media, the word on the street was that the United States was giving free passes to minors to come to the land of opportunity.
The steady increase of unaccompanied minors apprehended at the border illustrates that months after the enactment of DACA is when things started to change. In fiscal year 2013 (October 1, 2012 - September 30, 2013) there were over 27,000, and so far this year there are over 57,000 — an increase of over 100 percent. The administration was very well aware of what was happening yet ignored the internal warnings.
There is no question that we need our immigration system fixed but it must be grounded in firm policy and not one-offs. We need a plan that is long-term and gives those affected certainty to what the future holds for them. But issues like the one now only fans the flames of frustration on both sides of the isle and only guarantees that solutions are stalled.
Republicans in Congress are adamant that no immigration bill will pass unless we secure our border first, but certainly all parties can agree on that. However, what does that mean? Everyone wants border security, but no matter who I speak to, each has their own definitions.
The biggest misconception of the border is that we need more hands on deck to help curb the immigration crisis. It is very clear that our system cannot handle massive amounts of people at the same time, especially when most of those are not from Mexico and must be processed differently. Unless we are willing to stop people from crossing halfway over the Rio Grande river, so they never touch the United States, we need better mechanisms to treat those apprehended individuals.
The frustration begins from the inability of Congress to agree on a plan that the president will sign, and the president blaming Congress for not bringing him something he can sign. In response, the president declares that he will take action without Congress — classic chicken and the egg. Except that Obama cannot continue to act on his own without possible congressional fallout.
We can't do this alone. It is paramount that we enlist the assistance and cooperation of the Mexican government in securing their southern border, which would go a long way in the fight against human trafficking and drug smuggling.
Yet with only about 125 law enforcement officers on station on Mexico's southern border with Guatemala, there is no way of ever hoping to curb illegal entries. We need the Obama administration to put pressure on Mexico to do their part along with our Central American neighbors for the sake of these children and ultimately of us all.
What we need is leadership and cojones to do the right thing in Washington. It may not the most popular thing to do but it is the right thing to do. The unintended fallout of the Obama administration's self-righteousness to act on its own has created this problem that we must now address. This should serve as a lesson of what happens when Congress and the White House can't agree on issues and one decides to take matters on their own. In the end we all pay, in this case also children.