Opinion: The U.S. Should Extend A Hand To El Salvador's New President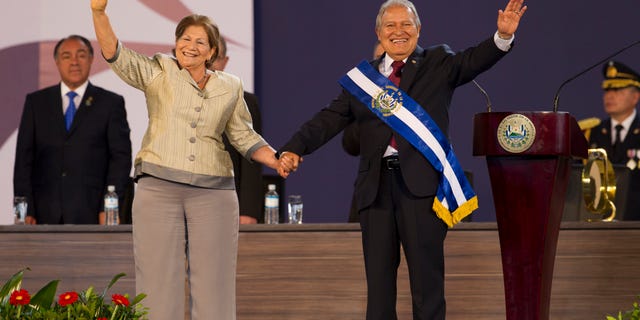 NEWYou can now listen to Fox News articles!
Less than three months after being declared El Salvador's new president, Salvador Sánchez Cerén accepted the presidential sash of a deeply polarized nation on June 1. The wounds of a divided campaign had yet to heal as half the nation celebrated President Sánchez Cerén's inauguration and the other half cautiously watched his inaugural address.
The festive inauguration ceremony – marked by singing, chants, and flag waving in support of the ruling Farabundo Martí National Liberation Front (FMLN) political party – had the feel of a victory party. Attendee enthusiasm, in sharp contrast to the event's more staid protocol, bubbled over with excitement for the new president, but also praise for his predecessor, Mauricio Funes, the television journalist turned president.
The United States has the opportunity to be a partner in what will be a difficult road ahead. A positive story line for this Central American country is a win for the United States and will improve national security.
Salvadorans of all walks of life traveled to the packed amphitheater in downtown San Salvador along with some of the nearly 2 million who reside in the United States. Beyond individuals, groups such as the Washington D.C.-based Salvadoran Business Civic Committee (COCIES), a group of Salvadoran business leaders committed to advancing U.S.-El Salvador policy, organized delegations of policy influencers to attend the inauguration and discuss the government's plans for the next five years.
One challenge will be balancing the relationship with the United States and Latin American countries less friendly to U.S. interests. Fear in some U.S. policy circles is that the new Salvadoran government is further to the left than its predecessor, with the potential of impeding a strong bilateral relationship marked by U.S. assistance in the form of the Partnership for Growth economic plan and a Millennium Challenge Corporation compact.
A quick look at some of the high-level attendees (president or vice president level) at the inauguration is exhibit A that hemispheric leaders who generally disagree with the United States see the new government as a potential ally. It's also evidence of the United States' wariness of immediate high-level, in-country engagement. Ecuadorian President Rafael Correa walked down the red carpet to join world leaders on the stage with fists pumping as the crowd shouted his name. Bolivian President Evo Morales followed suit.
The United States, which sent then-Secretary of State Hillary Clinton to Funes' inauguration in 2009, opted for a delegation led by the head of a domestic-focused U.S. agency, Small Business Administration Administrator Maria Contreras-Sweet. Yes, she's Latina and a competent SBA administrator, but this is not an agency that deals with the many pressing bilateral issues that our competent ambassador in El Salvador, Mari Carmen Aponte, faces everyday.
Although no U.S. delegation was announced, President Sánchez Cerén gave an inaugural address that could largely have been written by a U.S. speechwriter. He highlighted plans to stamp out corruption, implement necessary structural reforms, and focus on three key pillars for national growth: security, employment, and education. The president reinforced his commitment to commercial relations and to the country's deep ties to the United States. Only then, in a swift political pirouette, was it announced that El Salvador would join Petrocaribe (an oil alliance with Venezuela) the following day.
After a contested election, Sánchez Cerén and his very capable vice president, Óscar Ortiz, inherit a divided nation that shows little signs of political reconciliation. In nine months, Salvadorans go to the polls again for legislative elections. The new government has tried to reach out to the opposition but with campaign season about to start again, a grand dialogue to tackle pressing security and fiscal issues will be virtually impossible.
The United States has the opportunity to be a partner in what will be a difficult road ahead. A positive story line for this Central American country is a win for the United States and will improve national security.
A first move should be to send a cabinet secretary to San Salvador whose portfolio is relevant to bilateral relations. One option is Commerce Secretary Penny Pritzker who could engage in substantive conversations with government and business leaders on how to maximize the benefits of our free-trade agreement and increase foreign investment. A second Millennium Challenge Corporation compact, currently pending, should also be quickly approved.
President Sánchez Cerén punctuated his campaign and inaugural address with the phrase "Unidos Crecemos Todos" (United, We Grow Together). This vision must be applied to the U.S.-Salvadoran agenda.