Opinion: Midterm election record-breaking spending falls short in reaching Hispanics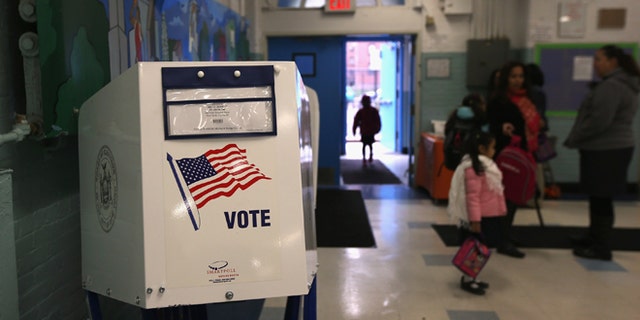 NEWYou can now listen to Fox News articles!
This year's record-breaking midterm election campaign will cost $3.67 billion, which the Center for Responsive Politics reports is the most expensive midterm campaign ever.
Beyond the impressive spending numbers, the attention on winning the Hispanic vote continues to become a more prominent message in the agendas and rhetoric of both parties. There are 25 million eligible Latino voters which is an increase of 2 million since 2012. Every month in fact approximately 50,000 U.S. born Hispanics turn 18.
After President Obama's impressive win of the Latino vote at 71 versus 27 for nominee Mitt Romney, the Democratic Party enjoys a greater level of comfort with the group that could influence key battle grounds. In Colorado for example, Latinos make up 15.4 percent of the eligible voting population, according to 2013 American Community Survey statistics analyzed by the polling firm Latino Decisions, and a fierce battle between incumbent Mark Udall (D) and Cory Gardner (R) for the senate could grant Republicans one of the six seats needed to regain control.
While Democrats have historically reported a wide advantage; however this number is declining vs. 2010 with 65 percent of Hispanic favoring Republicans in 2010 down to 57 percent this year. More than half of registered Latino voters (53 percent) say the Democratic Party takes their vote for granted. On the other hand, Republicans are also making their best attempts to reach the community and gain a relevant voice that balances accusations of amnesty versus the need for proper immigration reform. Their struggle in keeping the base aligned while gaining new Hispanic voters puts their positions at odds at times.
The good news for both parties is that Latinos #1 reason to vote is to support the Latino community, not either party, according to a Latino Decisions poll. A plurality of Latino voters nationwide, 37 percent, said they were voting in 2014 to "support the Latino community," while 34 percent said they were voting to support the Democratic candidate and 16 percent said they were voting to support the Republican candidate.
This year Latinos have seen some olive branches extended by both parties recognizing the importance of their support. Jeb Bush (R), who is married to a Mexican-American immigrant, impressed Hispanic voters with his flawless Spanish language television spots as he endorsed Republican colleagues and numerous Democrats have also nudged to the community with emotional campaigns like Somos Familia, We are Family, by Texas Democratic governor candidate Wendy Davis (D), among others. But is their intention matching with their investment?
Univision Communications Inc. reports that more campaigns than ever are buying Spanish-language (SL) media but the percentage investment in SL remains at a marginal 4 percent; way below the 12 percent of registered voters who are Hispanic nationally. For example, in CA, where approximate 23 percent of registered voters are Hispanic, the biggest propositions spent less than 3 percent in SL media and Zero was spent in SL media for the Governor's race.
However there are some surprises in media spend. In this year's midterms through September, Republican investment in SL media now exceeds the Democrat's, which has declined by 50 percent since 2012 (Cmag). This may be an indication of their comfort with the Latino vote while Republicans struggle in their attempts to find a relevant and consistent voice with the community.
In statewide and gubernatorial races in Florida, Texas, Arizona, and Illinois, where Spanish-language media investment could swing each election with Hispanics, investment in SL is up from 4 years ago, yet the share of spending relative to total market spending is a fraction of what it should considering the voter representation.
While many may argue that Latino voters are bilingual who are captured by the English media messaging, a recent Nielsen TV Brand Study reports that Spanish ads resonate better among both English dominant and Spanish dominant Hispanics delivering higher message recall and likeability. Among English dominant Latinos 35 years-old or older, Spanish ads perform almost 2 times better for likeability; therefore confirming that language does matter to get to the heart.
Hispanics are America's fastest growing segment of the population and this trend will continue to compound in the years to come. It is births, not immigration what is driving the impressive growth, and with a population that is on average 10 years younger than non-Hispanic, Latinos represent the future that is reshaping the face of American politics.
Without the proper time, investment and resources to do the outreach great speeches and promises may not translate into the support and vote that makes a winning difference.
Follow us on twitter.com/foxnewslatino
Like us at facebook.com/foxnewslatino