Opinion: Jennifer Lawrence Scandal Tells Us It's Time To Redraw Freedom, Privacy Frontier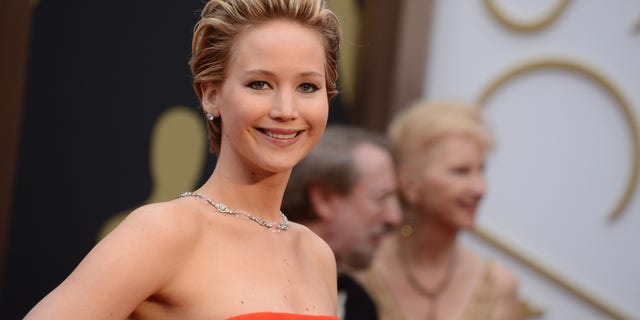 NEWYou can now listen to Fox News articles!
It was not a good weekend for Jennifer Lawrence. A trove of intimate photos of the star of the "Hunger Games" film series was posted to 4chan, an anonymous online message board. Nude photos of Kate Upton, Rihanna, Jenny McCarthy and others were also reportedly circulated throughout social media, in what is shaping up as the largest celebrity hacking scandal to date. Apple is looking into allegations that its iCloud service may have been compromised, and the FBI is investigating as well.
Despite its salacious nature, this story deserves to be treated with sensitivity. It is critical that we remember who is to blame, and recognize what is at stake. It may be time to reconsider the balance between the First Amendment guarantee of free speech and an individual's reasonable expectation of privacy.
Unless the owners of 4chan were directly involved in hacking Lawrence (unlikely), they are not liable to her or other hacking victims for damages. Even worse, those once-private photos will probably be out on the Internet forever.
Latinos, who use social media at higher rates than any other demographic, ought to pay attention to this controversy. Because we are so active on sites like Facebook and Twitter, we too are vulnerable to unauthorized use of our photos and private information.
On television and online, commentators have been quick to judge Lawrence for taking the photos. But blaming the victim is not only misguided, it is just as offensive as suggesting that a woman who dresses provocatively is inviting assault. Lawrence had every right to take those photos, and to expect that they would remain private. Others have wondered whether Apple has flaws in its cloud technology (the company has denied that the photos were leaked as a result of a security breach). Questioning Lawrence's judgment and Apple's security takes the focus off where it should be: on those who obtained and then posted the celebrity photos.
"What was done seems clearly illegal, and a clear invasion of privacy," Erwin Chemerinsky, a constitutional law professor at the University of California, Irvine told Politico. "If those responsible can be found, they could be criminally prosecuted and civilly sued for invasion of privacy." He is correct, at least in theory.
Unfortunately, pursuing and prosecuting those involved in the photo leak will not be easy. Under the Federal Communications Decency Act (FCDA), a website or Internet service provider cannot be held responsible for information posted by another party. Section 230 states that "No provider or user of an interactive computer service shall be treated as the publisher or speaker of any information provided by another information content provider."
Unless the owners of 4chan were directly involved in hacking Lawrence (unlikely), they are not liable to her or other hacking victims for damages. Even worse, those once-private photos will probably be out on the Internet forever.
In 2012, Scarlett Johansson succeeded in sending the "Hollywood Hacker" to prison for tapping into her private photos. Because the man who hacked her was working off his home computer, it was relatively easy to link him to the crime. Finding Lawrence's hackers will be much more difficult, especially since users of 4chan are anonymous, with no traceable IP addresses. And anonymous forums on the Internet are considered a form of protected free speech under the First Amendment.
The Supreme Court has consistently held that all Constitutional rights come with limits. So free speech on the "wild wild web" should be no different. The challenge, however, is agreeing upon what those limits should be.
Tweaking the FCDA would be a good place to start. At the very least, website owners should be required to make good faith efforts to ensure that they are not hosting stolen photos. Third-party storage companies (like Apple's iCloud) should also face greater liability for security breaches. And more states should follow the lead of California and 11 other states that have made the posting of private photos online without consent illegal.
True, increased regulation of the Internet is a polarizing idea to liberals and conservatives alike. Yet consider that the posting of private material can have tragic consequences; in 2010, college student Tyler Clementi was outed on the Internet and committed suicide shortly thereafter. Or that the celebrity victims of hackers, like Lawrence, former President George W. Bush, and Paris Hilton, have the financial and legal resources to go after their hackers. Most Americans are not so lucky.
No person, famous or otherwise, should have their intimate photos on the Internet without their consent. If we learn nothing else from the Lawrence hacking scandal, it should be clear that our legal system must keep pace with the digital age.